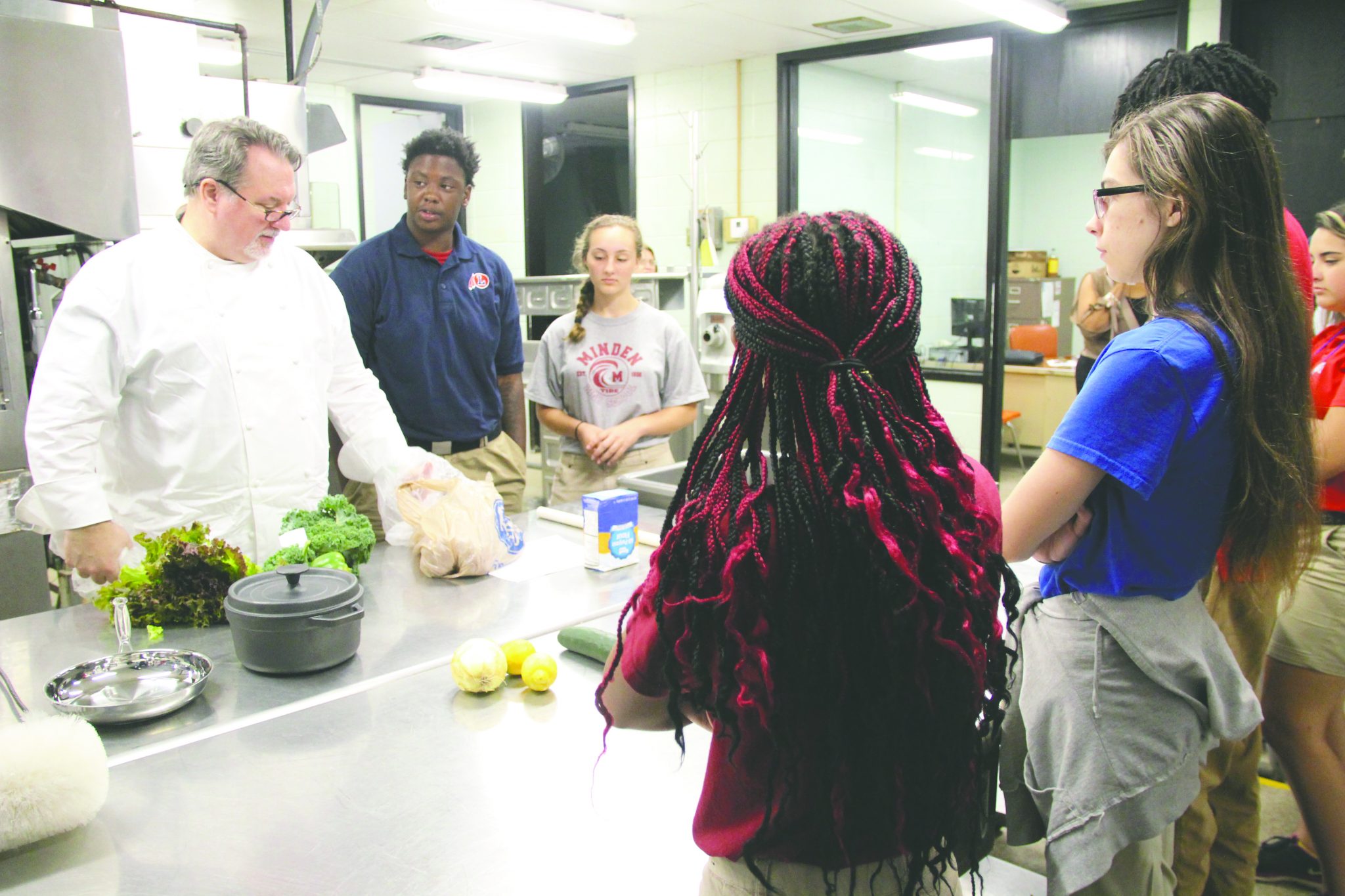 Partnership with NWLTC brings dual enrollment to Harper center
Last week, high school students across Webster Parish began new learning opportunities at the repurposed J.E. Harper school facility, now known as the J.E. Harper Pathways to Excellence Center.
Among other things, the facility now houses a support center for the Jump Start program in the form of three "pathways" of coursework made possible by a partnership with Northwest Louisiana Technical College.
Northwest LTC has supplied instructors for three dual enrollment pathways offered at the Harper center: Certified Nursing Assistant, industrial instrumentation with a focus in electrical, and microenterprise with a focus in culinary arts.
The Webster Parish school district pays for the students' tuition at a reduced rate offered by the college, and students are bussed to and from their courses at the Harper center within the regular school day.
Dr. Beverly Smith, Jump Start coordinator for the district, said the first class of students enrolled in these new opportunities is close to 70 strong, and the first week of class was an encouraging sign.
"So far so good," Smith said. "We do still have some things we're trying to work out, and that's why some of the personnel from LTC are here with me [Monday morning]. Our target was 60 students, so we met our goal and we're excited about that. Now we're working through some of the little quirks that came up over the last five days. But overall I think we've made a very good start with the program."
Smith said the school district and Northwest LTC worked together to create a class schedule that worked for both parties, and the college has been accommodating throughout the process.
"In the mornings we have the schools from the south end of the parish, Minden, Lakeside, and Doyline, coming here," she said. "The principals at those schools work their schedules so the students will have enough traveling time as well as instructional time. They go to their base schools in the morning, then they travel here, we do the instruction, and we get them back on the campuses in time for lunch."
Similarly, North Webster High School students arrive in the afternoon, with their schedules arranged so they are able to eat lunch beforehand. They are then returned to NWHS campus in time for pickup or extracurricular activities.
Webster Parish Superintendent of Schools Johnny Rowland said this new avenue of partnership with Northwest LTC has been an enjoyable and beneficial one.
"The technical college has been a pleasure to work with under the leadership of [Director] Dr. Earl Meador, [Chief Academic Officer] DeDe Griffith, and [Director of Curriculum] Treva Askey," Rowland said. "We're so thankful that a district our size is able to be a part of this brand new partnership with the technical college, which goes hand in hand with the workforce development initiative that we are a part of."
At the close of their tenth-grade year, Webster Parish students choose to follow either the university pathway or enter the Jump Start program to prepare for a career. Regardless of which pathway they enter, Smith said all 11th and 12th-grade students are allowed to enroll in the dual enrollment programs at Harper.
"It's extremely important for us to offer these opportunities for our students," she said. "For instance, in the CNA program, a lot of those students are interested in becoming Registered Nurses. This gives them the groundwork and lets them figure out if this is something they really want to do."
In addition to traditional classroom settings, each course also has a lab where students will engage in practical activities related to their course.
"It's important to me for these students to be able to come and get that hands-on experience," Smith said. "It's really important for them to understand what they're getting from the theory portion. I think it's going to make a huge difference with them as far as motivation as well."
As of now, students in the CNA program can take it to completion on the Harper campus, while the electrical and culinary pathways require additional courses at the Northwest LTC campus.
"I definitely want to thank our students who are participating," Rowland said. "I've been over and observed several times, and it's been so refreshing to see the excitement and eagerness our students exemplify. There's just so many positives that can come from this not only for our students, but also for the individual school communities involved and eventually for the workforce of Webster Parish."
Each of the four Webster Parish high schools has students enrolled in each pathway, and Smith noted there are even multiple male students in the nursing course as well as females in the industrial implementation course.
The three current pathways were chosen based on an interest survey given to students last spring. Smith said expanding to new pathways is a possibility, and she is currently considering programs like early childcare and barber styling.
When the plan for the Harper facility was first proposed to the Webster Parish School Board in June, the biggest concern discussed was the logistics of transporting students from across the parish to two sessions each day.
However, with one bus and driver for the north end and another for the south, Smith said there have been no problems.
In addition to the Jump Start classes, which are located on the lower floor of Harper, the facility is also planned to be the home of several other departments and services for the school district. These include the district's professional development offices, media center, and Odysseyware lab. The Odysseyware lab, which allows students access to online coursework, is set to receive students after Labor Day.
"I anticipate having the other sections virtually complete by the end of the fall semester," Rowland said.
Rowland said many people had a hand in the facility's plan being implemented.
"We'd certainly like to thank our school board for supporting this initiative and allowing this plan to become reality," he said. "Mrs. Linda Hudson, our secondary supervisor, and Dr. Beverly Smith have done a lot of the legwork for the school system there. I'd like to thank our principals and counselors at the four high schools who did an excellent job working with our students and working out the logistics that are allowing our students to take advantage of this wonderful opportunity."
Overall, Rowland said the first week of executing this new partnership was exceeded all expectations.
"We are so happy and proud of the number of students participating in this first class," he said. "We're certainly thrilled by what we've seen so far and excited for what the future potentially holds."