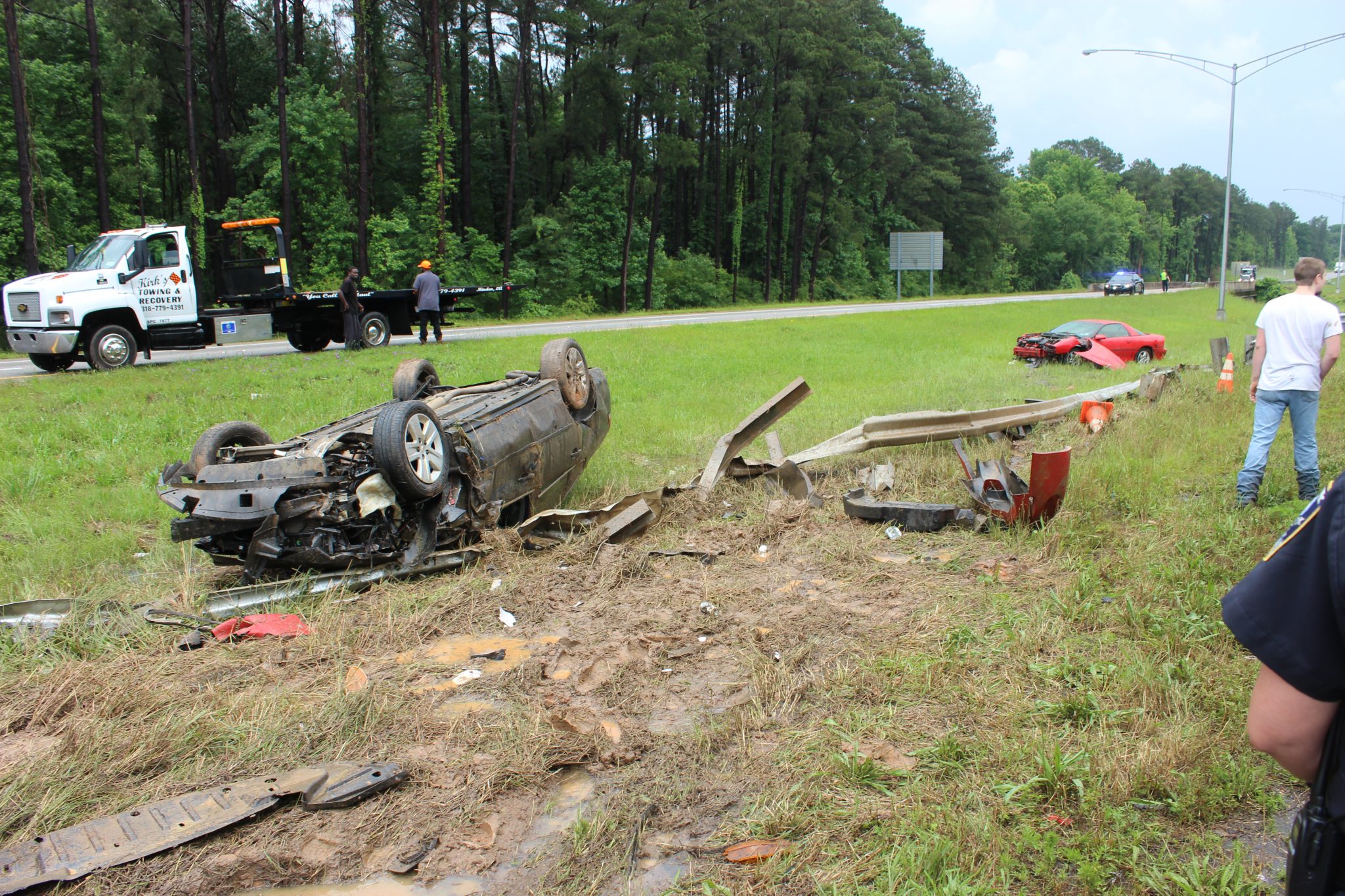 Minden Police were busy working multiple wrecks around lunchtime Thursday during a thunderstorm that sent two vehicles hydroplaning at the 47-mile-marker on Interstate 20.
Minden Police Sgt. Chris McClaran says the first wreck was called in just a little after noon when a vehicle hydroplaned. A second vehicle hydroplaned in the same spot, and with traffic backing up, an 18-wheeler stopped just under the underpass.
The subsequent wrecks happened while police were working the first two wrecks.
McClaran says a red 2006 Ford pickup, driven by Henry Lambert Jr., of Raymond, Mississippi, rear-ended a black 2006 GMC pickup driven by Kellie Cook of Ringgold, shoving the pickup into the 18-wheeler. Cook and her passenger, Megan Pitman of Doyline were transported by Advanced Ambulance to University Health in Shreveport.
Jerry Murray, of Brookhaven, Mississippi, was a passenger in the vehicle driven by Lambert. He refused medical transport, McClaran said.
Lambert's vehicle, after rear-ending Cook, continued to the left, sideswiping the 18-wheeler all the way to the front, coming to rest in front of the big rig. The 18-wheeler was driven by James Jenkins of Verona, Pennsylvania.
The first wreck occurred when a 2010 Chevy Impala, driven by Joe Gorham, of Monroe, hydroplaned in the right lane, going to the left lane and into the cable barriers, rolling the vehicle. The exact same thing happened in the second accident, McClaran says. Stephen Chennault, of Atlanta, Louisiana, was driving his 1998 Chevy Camaro when he hydroplaned as well, going through the cable barriers and coming to rest in the median.
"It looks like the second vehicle actually went through the cable barrier a little bit further up, past where the first vehicle hit," he said.
Gorham was transported to Minden Medical Center by Advanced Ambulance.
The extent of injuries to all parties involved is unknown as of press time. No citations have been issued pending further investigation, he said.
The Minden Fire Department was called in for extraction of the two women in the GMC pickup. McClaran, Officer First Class Shawn Jenkins, Officer Jamie Franklin, Officer Brandon Curry, Officer First Class Jeremy Sitter and Officer Terry Stephens worked the multiple scenes.