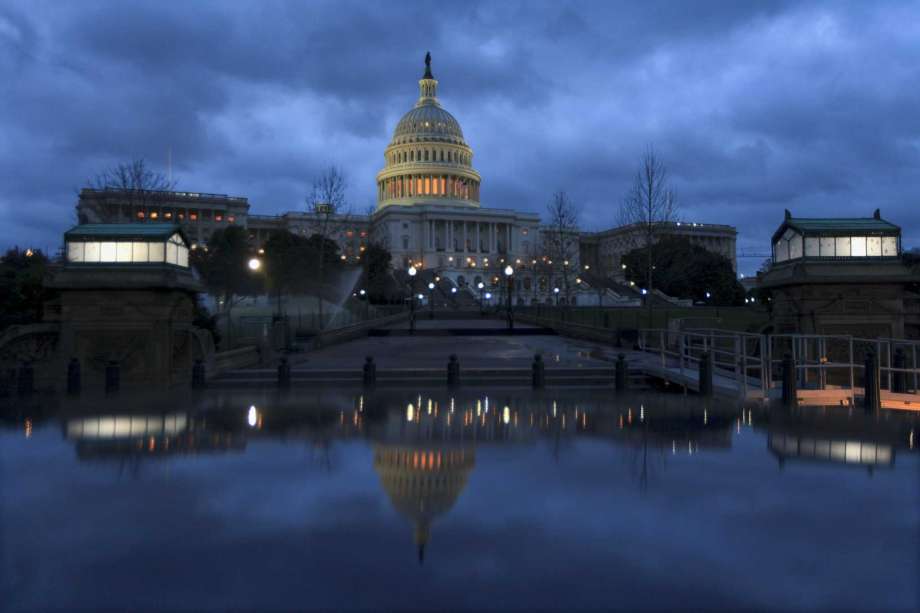 WASHINGTON — Republicans were entertaining a White House offer Tuesday to revise the party's failed health care bill, as the GOP tried to resuscitate a measure that crashed spectacularly less than two weeks ago. The proposal was getting mixed reviews from conservative and moderate lawmakers alike, raising questions about whether the legislative rescue mission would work.
"We're at the concept stage right now," House Speaker Paul Ryan told reporters. The Wisconsin Republican said he believed his party was moving toward consensus, but conceded he didn't know if the House would vote on the measure before beginning a two-week recess later this week.
Vice President Mike Pence and two top White House officials made the offer Monday night in a closed-door meeting with members of the House Freedom Caucus, participants said. Opposition from the hard-line group, which has around three dozen conservative Republicans, contributed to circumstances that forced House Speaker Paul Ryan to withdraw the bill from a March 24 vote that would have produced a certain defeat.
Under the White House proposal, states would be allowed to apply for federal waivers from several coverage requirements that President Barack Obama's 2010 health care law imposes on insurers.
These would include waivers from an Affordable Care Act provision that obliges insurers to cover so-called "essential health benefits," including mental health, maternity and substance abuse services. The current version of the GOP legislation erases that coverage requirement, but would let states reimpose them on their own.
"The biggest change was putting the essential health benefits back in," said Rep. Chris Collins, R-N.Y. "That really took some Tuesday Morning group folks to yes from no," he said, using the name of an organization of House GOP moderates.
The White House offer would also let states seek an exemption to the law's requirement that insurers must offer coverage to people with serious diseases. Conservatives have argued that such requirements have the effect of inflating insurance costs.
Freedom Caucus members said they wanted to see the White House offer in writing — which is expected Tuesday — before deciding whether to accept it.
Caucus chairman Rep. Mark Meadows, R-N.C., said the group would make no decisions until it reviews the language but called Monday's session a "good meeting."
One member of that caucus, Rep. Mo Brooks, R-Ala., said Tuesday he remained an opponent of the legislation. He said states should be allowed to unilaterally opt out of Obama's insurance requirements, not seek federal permission to do so.
"It is wrong to require the states to come to Washington D.C. on bended knee," Brooks said.
Another — Rep. Scott Perry, R-Pa. — said he wouldn't commit to anything until he saw legislative language in writing, citing past problems.
"We've had the same kind of conversations in the past. And then when you see the language, it isn't what you spoke about," Perry said.
Moderates expressed a reluctance to vote quickly on a new bill.
"If leadership hasn't learned the lessons of the failures of two weeks ago, then they'll bring something forward where nobody knows about it and try and get it passed," said Rep. Jim Renacci, R-Ohio.
When Ryan pulled the legislation from the House on March 24, he faced opposition from moderate GOP lawmakers upset that it went too far with cuts in Medicaid coverage for the poor and higher premiums for many low earners and people in their 50s and 60s.
Also at the evening meeting with conservatives were White House chief of staff Reince Priebus and budget director Mick Mulvaney.
The details of the conservatives' meeting with Pence and others were described by Meadows and another participant who spoke on condition of anonymity to describe the private strategy session.
The Freedom Caucus has drawn the most wrath from the White House for its opposition to the bill. President Donald Trump has tweeted threats of opposing their re-elections in 2018, and fellow House Republicans have accused them of inflexibility that led to the downfall of the bill to replace "Obamacare," a top GOP legislative priority.