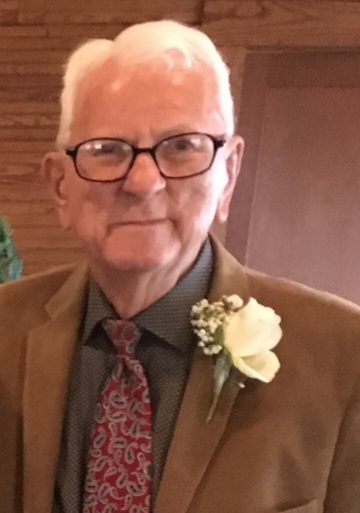 On the evening of October 24th, 2023, William Arnold Fritz celebrated his 93rd birthday and then went to his Eternal home in Heaven. He was born in Minden, Louisiana in 1930 to William and Aubyn Fritz. He leaves a wife of 5 years, Syble Fritz. He is predeceased by his first wife of 67 years, Shirley Gwendolyn Hull Fritz who passed in 2018. He resided 50 years of his retirement in Minden and Doyline. This past year he has enjoyed being a resident at The Oaks in Shreveport.
Surviving are his two daughters, Dr. Elizabeth Bell and husband Roger of Las Vegas, NV and Jean Kowaleski and husband Rory of Doyline, five grandchildren, Statler Hasley and wife Erin, Erin Hasley and husband Doug Wever, William Bell and wife Cecillia, all of Las Vegas. Of Bossier City Keri Lee and husband, Brian, David Kowaleski and fiancee Kristian. He has 3 great-grandchildren, Karoline Lee, Slater and Sloan Hasley. His brother, Don Fritz of Shreveport and his late sister, Betty Booth of Doyline, held a special place in his heart. He has one adoptive son, Thomas Randers and wife, Eva Lou of Lubbock, Tx.
Arnold honorably served in the U.S. Navy as chief petty officer and was assigned to a few aircraft carriers. He played an integral role during the Cuban Crisis in 1962. He and his family were stationed along the Eastern coast in Florida, New York, and Virginia. He spent some of his earlier years in Hot Springs at the Navy recruitment office. In addition, he and his family were sent to Europe where he was assigned at the MAAG in Lisbon, Portugal and NATO in Oslo, Norway. After his retirement, he came to Minden, attended school and became a qualified draftsmen. He was employed at Minden Lumber Company and Howard Lumber Company. If he weren't drawing house plans, he and his wife traveled extensively in the United States. He spent tirelessly hours talking on his ham radio, W5GDD, following in his father footsteps, W5BZR. Arnold loved building and even learned to enjoy having a garden. He was genuinely devoted to his grandchildren and family. He was a member of the Doyline United Methodist Church. He was also instrumental in constructing a Fellowship Hall for the church with other members and many volunteers he knew in the construction business.
Pallbearers will be Statler Hasley, William Bell, David Kowaleski, Paul Fritz, Randy Watson, and Kyle Carter. Honorary pallbearers with be Doug Wever and Brian Lee.
A special thanks to the devoted staff at The Oaks. Cassandra and Bridgett at the community center and Sarah, Rebecca and Lajavia at Grumpy's all went the extra mile to make his life special. Also, Dr. Kennedy Lim, his physician of many decades, the nursing staff at Willis Knighton in Bossier City as well as the Carpenter House of St. Joseph Hospice all took part in caring for him. Too, a special heartfelt thanks to his brother, Don Fritz, his granddaughter, Keri Lee, and his great-granddaughter, Karoline Lee, for their time and enduring support his last 14 months for meeting his basic and daily emotional needs. Actually, he was surrounded by a loving family and friends throughout his life. Graveside services will be held Saturday, November 4th, at the cemetery behind Westlake Baptist Church in Doyline. Visitation will be at 10 a.m. and funeral at 11 a.m. under the direction of Rose-Neath Funeral Home in Minden. Officiating will be Bro. Bruce Lee. There will be a fellowship immediately afterwards with refreshments served by the family and church members. All are welcome to come and share memories and visit with family at the Fellowship Hall at Doyline United Methodist Church.