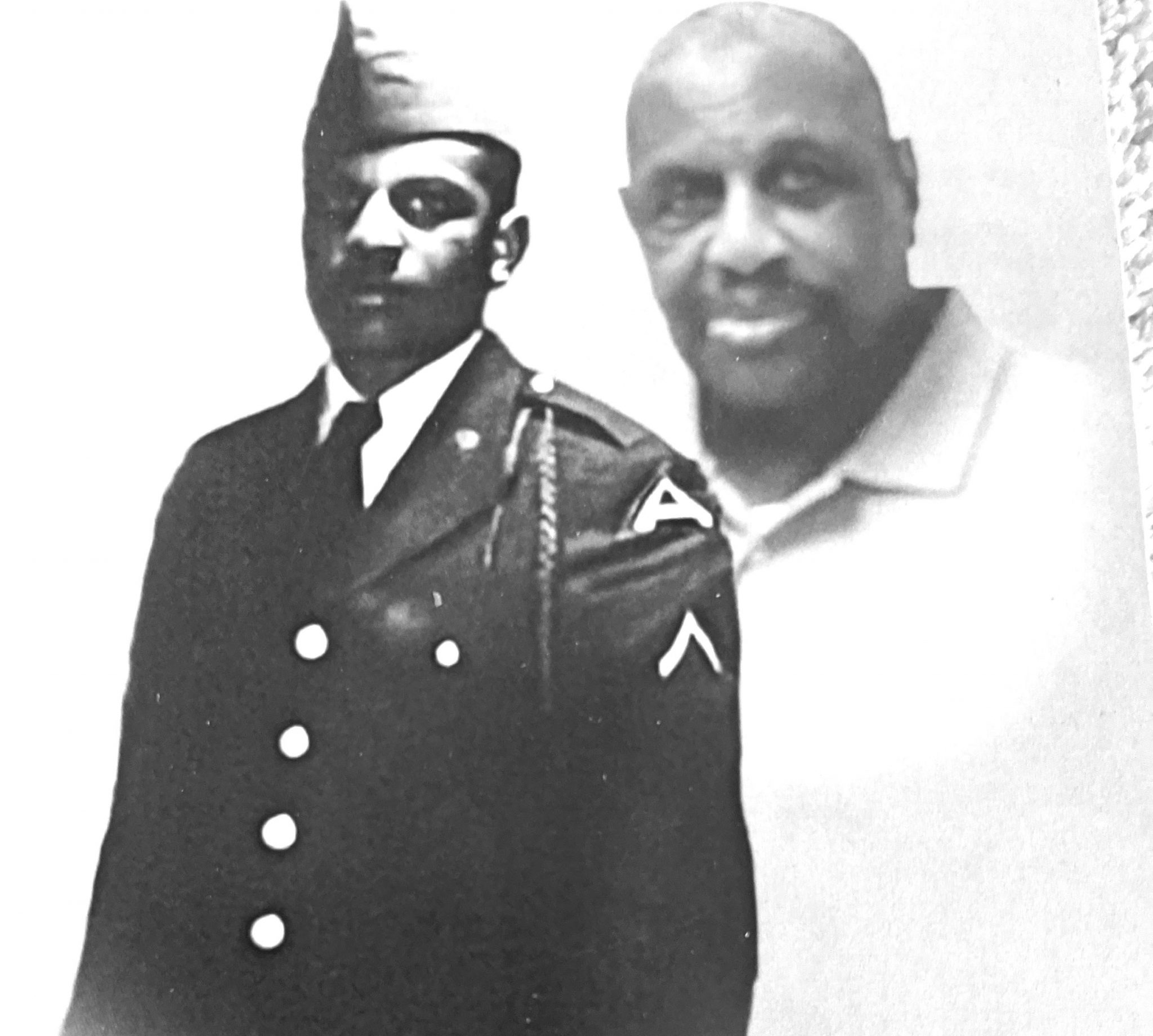 William Bernard Jackson was born in Minden,Louisiana to the late Fannie Parker Jackson and Robert Lee Jackson. His maternal grandparents were Mary Magdalene and John Sykes with paternal grandparents Alan and Victoria Jackson.
William joined Mount Pisgah Church in Homer ,Louisiana at a young age.
William served four years in the United States Army. He then worked over 40 years at the Louisiana Army Ammunition Plant as a security guard.
William is preceded in death by his wife Charlotte Jackson, his parents Robert Jackson and Fannie Parker Jackson, 2 sisters Azzie Parker Blow and Jewell Jackson and 2 grandsons Batron McClendon and Jawoski Ferrell.
William leaves many loved ones to cherish his life and memory: six children, Iris Respert(Alton), Joyce Ferrell, Audrey Jackson, Malia Joy(Tim), Travis Jackson and Annissa Edwards(Demedric); nine grandchildren and six great-grandchildren; one sister Gladys Parker McGee and a host of Neice's,. nephews and cousins as well as numerous extended family members and friends.
Funeral services were held at 3pm on June 12, 2021 at the NW Fourteenth District Bldg in Minden,La. under the direction of Memorial Funeral Home of Homer. The service was officiated by Rev.Billy Joe Hawkins and Rev.Elmer T. Jones. Interment followed at the Mt Pisgah Church Cemetery in Homer.
Pallbearers were Chardrick Jackson, Jakenneth Ferrell, JaQuail Jackson, Christopher Fudge, Kevin(KC) Ferrell, Jaylenn Jackson, Alton Respert ,Demedric Edwards, Tim Joy, Rufus Shelton, Douglas Walker and Rodney Rogers
WilliamB."Sonny"was always a hard worker recalls one of his sisters Gladys Parker McGee. Gladys gets tickled when she remembers one time Sonny "pitched a fit" and fell tumbling off the house porch but says he was a big help to BigMama Fannie as his mama was often called. He helped out in the fields with the crops and was a back up to Bigmama if intruders tried to come around . Gladys told daughters Jasmine ,Bonnie and Rhoda that every school day, she, and Azzie,and Jewell,and Sonny would cross the fields to walk to the one-room Long Springs achool. Afterwards,they would often gather straw to make broomsticks and cheerfully collected letters in the mail for Aunt Trudy. Gladys recalls how they enjoyed getting a taste of Bigmama's salmon croquettes and around Christmastime looked forward to chewing those wonderful raisins which were packed in a jumbo wooden box. And,Bigmama would have some pound cake,gumdrops a a jumbo peppermint roll to set on the kitchen table. Gladys remembers that Sonny would play with Elbert McDay( not long agoJasmine heard her uncle Sonny speak about a time when Elbert was ill) ..There was an old photo of Sonny on a bike with Elbert,Frank,Ray and Jr.
Well,during the last few years,between.2014 to Sonny's passing on June 4th 2021, Neice Jasmine and her mother (Sonny's sister have enjoyed phoning and visiting when they could. It was a chance to grow closer After all, Sonny and Gladys were the only remaining siblings. Jasmine says that talking to Sonny was just like talking to Bigmama when she was alive. They were both so strong, so steadfast, rarely complained and they were a listening ear when you needed someone . Jasmine has had Sonny's former co- workers say how they enjoyed the times they worked together and really miss him…Glenell Moore, Edna Hill,Mr Rhodes and others. Sonny is remembered by Virginia Jefferson,Linda Baker and mom Bertha Hunter, Mary Johnson and Andrew Woodfork. Can't help but think of Willie Jones ,Jr. his recent roommate and the Allums family . Sometimes people have asked if he was still engraving tombstones– that was a trade he did when not busy at the Louisiana Army Ammo plant and was something his dad Robert taught him ,Jasmine was told..Sonny knew all about Bigmama's cousin Abner Cole and Jasmine could go to him to fill in answers to any questions.
Jasmine and Sonny's cousin Mablean Grigsby Morgan have shared talked long about Sonny and the extended relatives. We reflected on MaeDrew,Jeanetta,Nora Jean, Evadean, Herbert,George Lee, Philip Jackson,Rogers "Big Jack" ,Johnny "Sugar"Harris, Shirley Manning, and so many others. Jasmine is happy to discover Dorothy Webb Lewis connection, Joene McWoodsin,deceased Avery Webb Britt ,and Jamie
Benton and more.
Will miss you Sonny but will hold on to the memories.