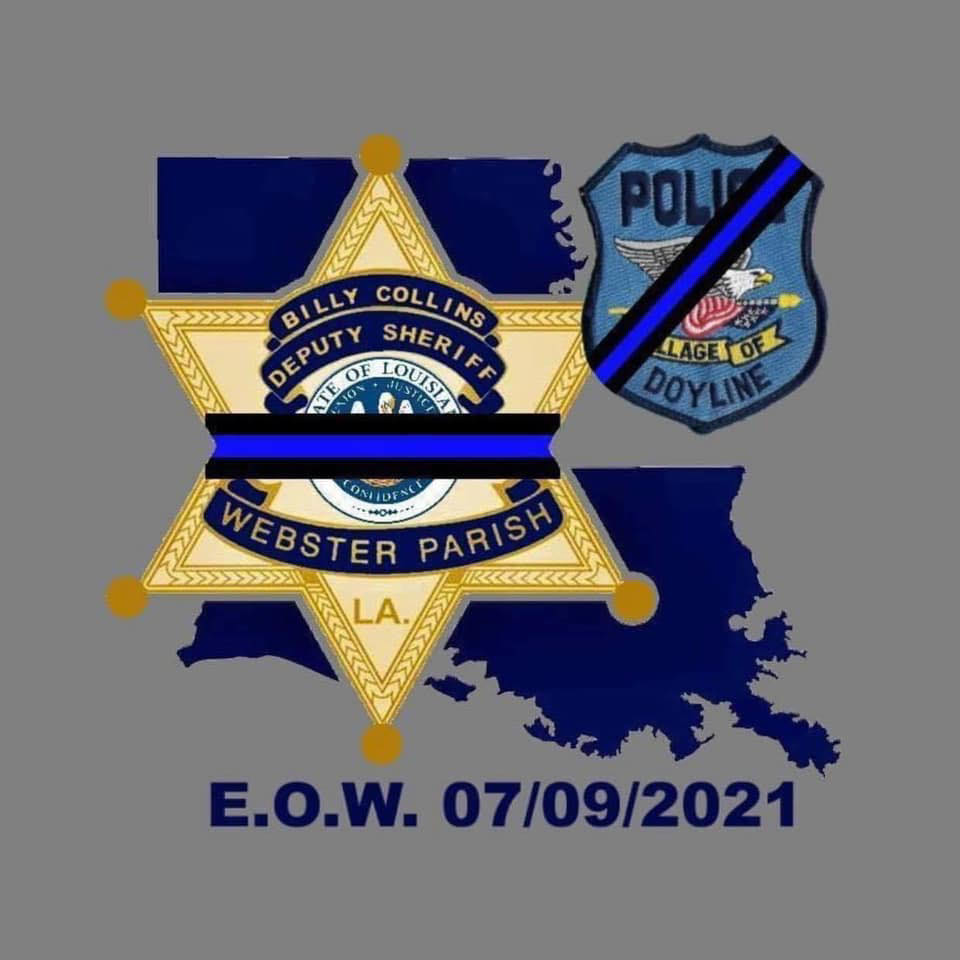 Late last night during a news conference, Webster Parish Sheriff Jason Parker confirmed that William Earl Collins Jr., a Webster Parish Deputy and Patrol Officer for the Village of Doyline, lost his life as a result of a gunshot wound sustained after being the first on the scene to respond to a disturbance call at the 400 block of Green Tree Road.
"It's a very sad event for me to be able to come up here and speak to y'all, but I've got to give somebody justice. I'm very sad to say tonight, around 7:43 p.m., we lost a good man. The family lost a good husband, a good father, a good Webster Parish deputy, and a good patrol officer for the City of Doyline, that loved and served his citizens well," said Sheriff Parker.
"It just breaks my heart, because every time we put on this uniform, and we go out and try to serve the public, this could happen to any one of us."
Deputy Collins had served with the Webster Parish Sheriff's Office for nearly ten years. Deputy Collins also leaves behind a family as a result of this tragic incident.
"My heart goes out to the family, my main focus over the next few days, next few weeks, months, is going to support them, and give them all that I can to help make this better and give them some closure," said Sheriff Parker.
Sheriff Parker was reluctant to name the suspect responsible for taking the deputy's, instead choosing to put the focus of the night onto Deputy Collins, honoring his memory.
"We have the suspect in custody, but the only name I'm going to mention tonight is Deputy, Doyline Police Officer, William Earl Collins Jr., also known as Billy. He will be truly missed, and I cannot say how hard it is for me to say that for us tonight."
The suspect has been taken into custody and has been transported to a local hospital with life-threatening injuries.
"I've lived in this quiet community just about all my life, and this has got to be the most tragic day that I've experienced here, and I never thought I'd see this here, in our community," said Mayor of Doyline, Steven Bridwell.
"Billy was loved in the community. Leaves behind a family. All we can do is ask for support, thoughts, to keep the family in your prayers, and pray that things like this don't happen again."
Parker stated that over 200 law officers from all over the parish, and some outside of the parish, responded to the incident, a lot without having to be called, and took the time to thank them for their support.
"I cannot leave here tonight without thanking all of the resources, all of the Sheriff's from other parishes, all of the patrol city officers coming and responding, EMS, fire. It's just overwhelming. If I tried to start naming everybody, I'd leave somebody out. Everybody knows who they are, and I cannot imagine I could do this without them," said Parker.