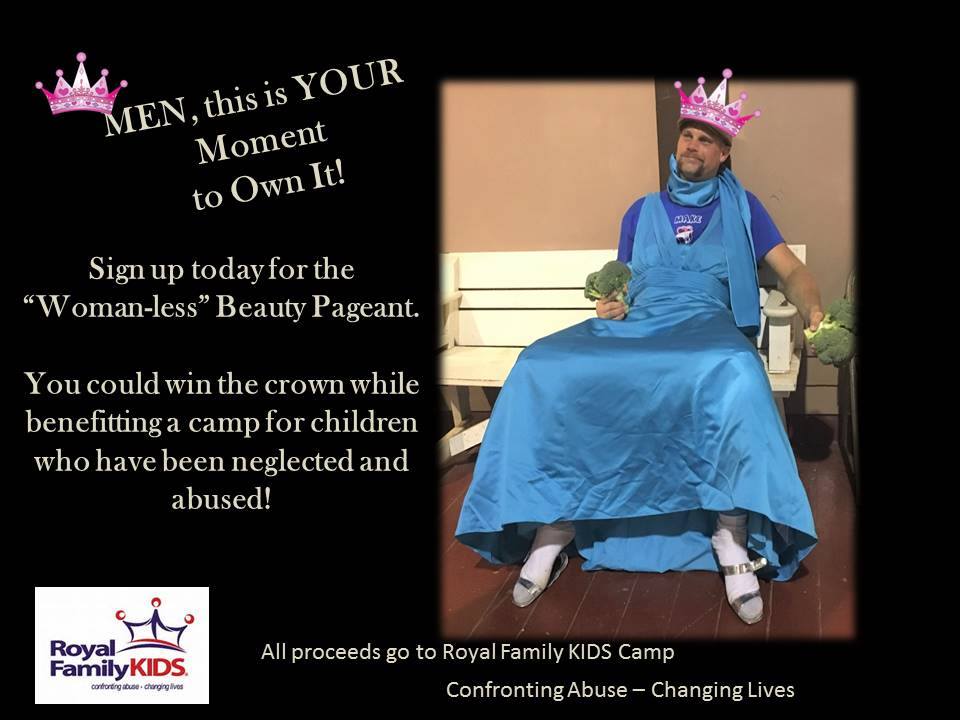 The Minden-Royal Family Kids Camp will host a pageant, but it isn't a pageant for women.
Minden-RFKC is calling all men to volunteer for a womanless pageant set for 6 p.m., Saturday, March 25, at Minden High School's auditorium. Sandra Samuel, director of Minden RFKC, said funds raised will sponsor children ages 6 through 12 currently in foster care to attend the camp this summer.
"The way children are chosen to go to camp are through our counselors with the Department of Children and Family Services," she said. "We are inviting children who attended last year, because we want to continue the work with them that we've already started."
Entry fee is $25, and an evening gown is required. Talent is preferred, and a prize will be given to the talent winner and people's choice. The people's choice award will go to the contestant who raised the most money for the camp. It costs $600 to sponsor one child.
"The contestants can just ask people to donate money, and the night of the pageant, we'll have envelopes for each contestant, and for anyone who wants that contestant to win, put money in that envelope until a certain time during the pageant," she said.
A crown will be bestowed on the one named Most Beautiful. Miss Minden Abby Reynolds will be the mistress of ceremonies.
Samuel said they are still seeking volunteers for camp, which is set for June 26-30. They must have one counselor per every two children.
RFKC is a national faith-based, non-denominational camp specifically for children who have been neglected, abused and are currently in foster care. Camp is free to campers and all volunteers.
Other ways people can contribute is to donate money for certain items each child will receive at camp. Among the items to be purchased are memory bags for the campers and training materials for the counselors. The memory bags include a RFKC water bottle, a RFKC Bible, activities book, camp t-shirt, photo album,
purple fleece blankets with monogrammed names, an RFKC duffle bag and RFKC "play away" with all the camp songs and Bible stories. Each camper will receive a camp T-shirt when they arrive at camp and the one in their memory bag.
"This is going to be a fun night to bring awareness about what we're trying to do in a fun, light-hearted way," Samuel said. "We want some fun participation."
For more information, to volunteer for the camp, or to volunteer for the pageant, call Samuel at 318-707-4726.