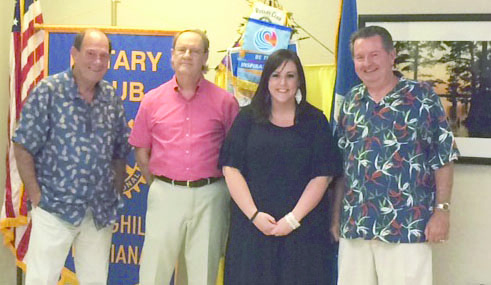 Gerald Holland
Special to the Minden Press-Herald
Nikki Reeves, president of Women Helping Others (WHO) of North Webster Parish, told a full-house of Springhill Rotarians about their mission and their successes in assisting people who are confronted with needs that they can't meet on their own. She said WHO was founded in 2014 by Casey Warford. Casey's husband, Heath, had been severely burned in an industrial accident. She grew up in another region of the United Stats and she was "blown away" by the outpouring of support she and Casey got from the people of the North Webster community. Casey wanted to respond to that kindness by giving similar aid to others, but realized there was no aiding organization in North Webster for her to work through. So she started a Facebook post to get one started and the rest is history.
WHO started with 13 members and has grown to 38 women strong. Nikki Reeves was one of the original thirteen. She said, "We do big things."
Their first fundraiser was Maddy Matters, a rodeo and silent auction, to help Madelyn Mouser pay for a lung transplant that she would have to pay for because of cystic fibrosis. They did a raffle for Kenneth Maples to buy a handicap-equipped vehicle that he could drive with his disability.
At their first annual WHO Matters event they raised over $17,000 to help the Pay It Forward Network (similar to Make a Wish) for kids in our area.
The next yearly event was called Decades and Divas and WHO raised over $41,000 to buy a handicap-accessible van for Josh Branton and pay for two years' insurance on it. This year the WHO Matters party is Babes and Bayous. Excitement is so high that the event sold out with 400 women planning to be there.
WHO does a chili fundraiser early in each year. With chili funds this year they contributed to the Dante Coleman Scholarship, and donated over $1,000 to both elementary school libraries in North Webster in honor of Katie Grantham. Katie lost her life in a car wreck at Benton. Her parents want to keep her memory alive by donating books in her name to groups all over the nation. Each book donated will have Katie's name on the front.
WHO's helping meets big and small needs. They paid medical bills for nine people. In two fundraisers they took in $7,000 to help a man fighting cancer.
WHO helped pay for 2 funerals and a cremation. Three times this year they aided fire victims. Fuller Center got their help in building a house for a needy family.
Since WHO was formed in December 2014 they have raised over $300,000 to help meet needs right here in North Webster Parish. They believe that when God shows them a need, He'll provide a way to meet it. Never once has He let them down, and they, "See God in everything we do," said Nikki Reeves, "I mean how else could we raise $10,000 from a chicken spaghetti dinner?"
WHO is a selective group with a screening process for women wanting to join the organization. They accept women who are motivated to work for the of the well-being of individuals in the North Webster community. Women interesting in helping the community through WHO may contact Nikki Reeves at 318 455 1193 or email whoofnorthwebster@yahoo.com.