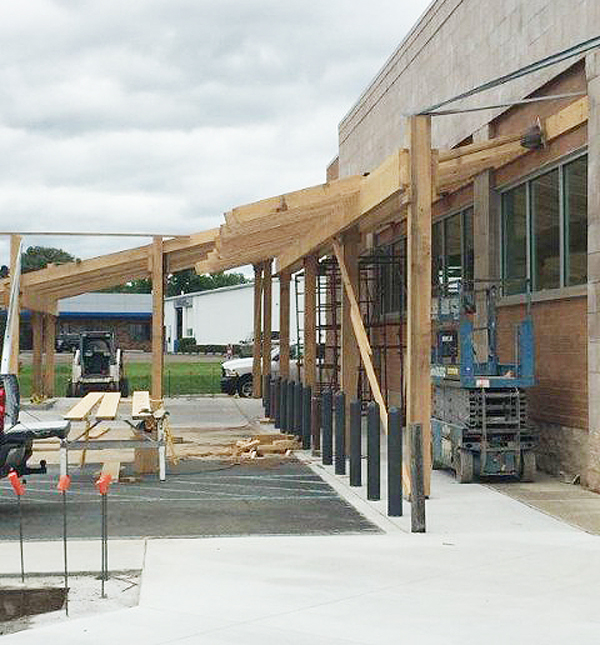 SPRINGHILL – The citizens of Springhill are beginning to see tangible progress on the new Springhill branch library.
Library Director Beverly Hammett said renovations are coming along as expected, and now the outside of the former Walgreen's building is getting a new look. Paying homage to the timber industry in Springhill, the front will be made from cypress and include a covered entrance with a patio designated as an outdoor reading area.
"We have a real strong wood feature across the front," she said. "That way it doesn't look so much like a Walgreen's building, but at same time it pays homage to the lumberjack and timber industry."
The interior of the building has been completely redone. It will offer about 2,500 square feet of space they don't have at the current location downtown. Hammett said the library will offer more programming and have areas dedicated to children, teens and young adults, plus all the amenities and services it already offers.
"The building we're in was built in the 1930s," she said. "Even though we renovated the inside of the current building, the new building was built in 2007, so it's practically a brand new building. We'll have a meeting room with a full kitchen, computers, books and all the things a regular library would have."
Some new furniture, including more comfortable chairs, will be purchased. The new building also comes with 40 "off-street" parking spaces. This means patrons will not have the anxiety of having to back out into oncoming traffic downtown, she said.
"We're just really excited about what we think people will enjoy," she said.
Hammett said a grand opening will take place once everything is moved to the new location and tested to make sure everything works properly.
The new branch is expected to open by the end of the year.