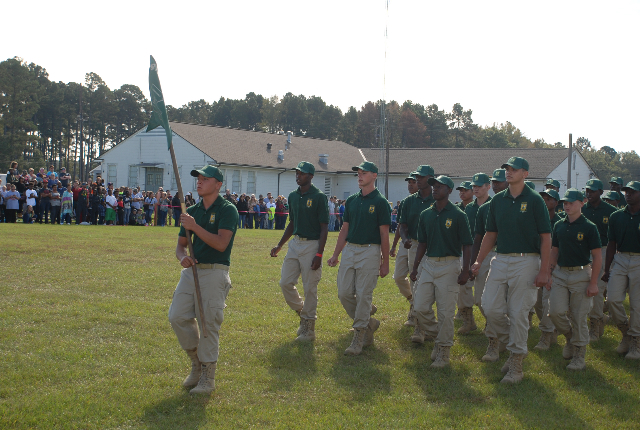 Thanksgiving Day is a day for families to gather and fellowship, but the 286 cadets at the Louisiana National Guard's Youth Challenge Program will not be able to go home.
YCP Director Capt. Jason Montgomery said the cadets took the news rather well, however, it is still difficult for some to be away from their families. He said he expected more difficulties from the cadets, but that didn't happen.
"A lot of times, what we find, is they are enjoying the cycle so much that it's like another day for them," he said. "A lot of the kids don't have traditions. For a lot of the kids who have traditions, it will be the same for them, minus the grandmothers, and aunts and family. In that regard, yes, it is tough for them, but they are more resilient than even I gave them credit for."
Cadets expressed their disappointment because they would not be with their families, but they all said they were OK with it because they are going home for Christmas.
"I was a little surprised, but I wasn't that worried about it, because we'll get to go home for Christmas, and we just had family day before," Cadet Hilary LeBlanc, 17, of Houma, said. "I usually just stay home and have a little Thanksgiving feast with my family. Then we go to my grandma's, and go back home and watch TV and play football with my brothers for the rest of the day."
Cadet Alfre Wilson, 16, of Shreveport, said he was depressed after he learned he would not go home for Thanksgiving.
"Family day made me feel a little bit better about it when all my family came, but I feel like Thanksgiving here will be fun," he said. "I hear there's a lot of food."
Montgomery said he cut the Thanksgiving home pass because he felt it was more important for the cadets to graduate on time so if they wish to continue their education, they can enroll as soon as they graduate.
YCP conducts two cycles, one from February to July, and the other from August until January. In the second cycle, cadets normally get one family day and two home passes, one at Thanksgiving, the other at Christmas.
On Thanksgiving Day, Montgomery said all the cadets will be treated to the entire spread, from a Cajun-fried turkey to giblet gravy – and the pies and all the dessert they can handle.
"They normally get seven minutes to eat, but on Thanksgiving Day, they will be able to just relax and fellowship with each other," he said. "Afterwards, they will be able to return to the bunkhouses and watch movies and chill out for the day."