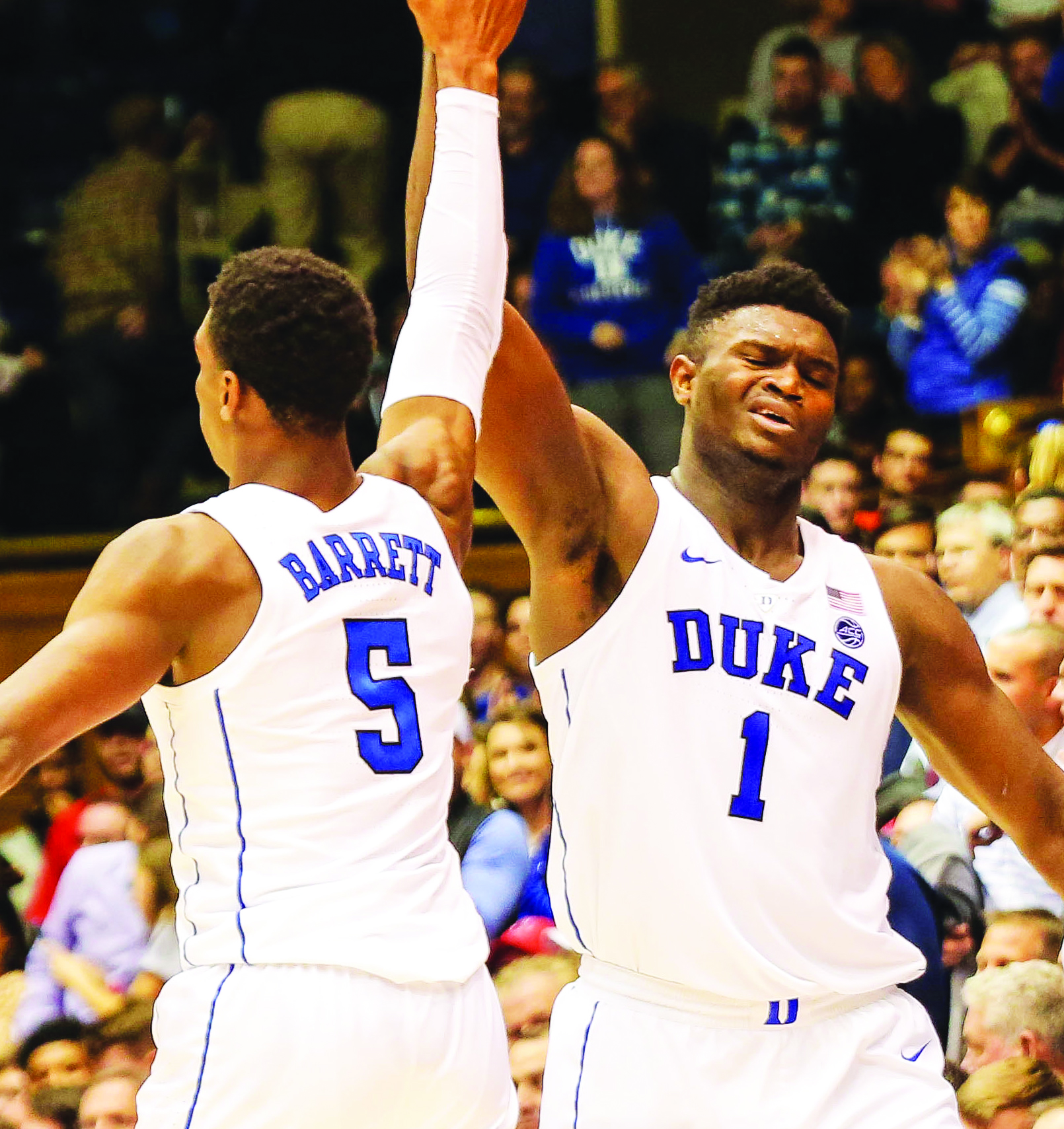 Don't worry if your brackets aren't quite filled out yet. There's still the rest of the day to do your research, decide which mascots you prefer or which team's color palette you enjoy as you place your bets on who is going to win the NCAA tournament.
What once was called March Madness is now not even going to begin until March 21. I don't know when they started moving everything back, but it's safe to say that the madness is no longer contained to only March.
This year, we finally have some genuine interest again in the tournament. Zion Williamson will be suiting up for Duke to play alongside one of the best freshman classes ever in search of a championship.
His teammates, RJ Barrett and Cam Reddish, were projected before the season to join Williamson as the top-three picks in this year's NBA Draft.
But any discussion on who will be number one has ceased. Zion is the man. If you haven't watched him play at all this season, let me tell you why.
He's cut from the Anthony Davis cloth in that he spent his life as a guard before hitting a massive growth spurt in high school.
Not only did that make him have to work on ball-handling early in his career, it also gave him the hunger and drive of an average-sized player.
That is what separates Zion. His athleticism and feel for the game alone would surely snag him a lottery pick and easy sailing to an awesome NBA career.
But Zion has a chance to be a Hall-of-Fame caliber player because he plays harder than everyone else.
I've never seen anything like it. As a walk-on and a try-hard, I've always played harder than everyone. It annoys people, it keeps me on the floor, and it's a calling card.
I've seen plenty of players pull this game. We out-hustle people because we're not quite tall enough or a little slower. It gives us an edge.
But, I have never in my life seen the most talented player on the floor also be the guy trying the hardest. What's more, I've never even imagined the best player in the entire country doing it.
I can't emphasize enough what this does as a domino effect.
It highlights Reddish as an underwhelming performer because Cam doesn't play at that level. He's much smoother.
It makes Barrett work that much harder because he's seen what's happened to Zion.
This Duke team is going to be so much fun to watch. I'd be willing to bet that they don't flame out before the third round.
But, everyone is going to be gunning for them. All that means is that each game is going to be hyped to the max. I just hope Williamson doesn't blow out his shoes with excitement.
Other points of interest:
Ja Morant, Murray St.
Morant is most likely going to be the second pick in the draft and with good reason. He is another guy who leaves it all on the floor, but it seems to come very naturally to the sophomore guard.
He has incredible handle, gets to the basket with ease and has carried an average Murray State team to the tournament on the back of his unbelievable regular-season per-game stat line: 24.6 points, 10 assists, five rebounds on over 50% shooting.
How will LSU play?
LSU has been in turmoil since head coach Will Wade's leaked phone call about illegal recruiting came out.
The Tigers are one of the best ten teams in the country on talent alone. Naz Reid plays like an NBA veteran. Tremont Waters is one of the best players in the SEC. And the guy who all the recruiting fuss was about, Ja'vonte Smart, is hitting his stride late in his freshman season.
The Tigers drew the three-seed and will matchup with #14 Yale. The Bulldogs have a high-powered offense led by NBA-prospect Miye Oyi, and plenty of people are picking Yale as an upset-special.
This game reeks already of over-thinking, so I'm picking LSU.
With a suspended head coach and a program mired in drama and scandal, the Tigers will have to play through a lot. But, I think they could actually thrive in this moment. The tournament is wide open, and playing without their coach is kind of like when you're young and your parents go out of town for the weekend: They could have the greatest party ever and dance all night, or they could leave a pizza in the oven and burn the house down.