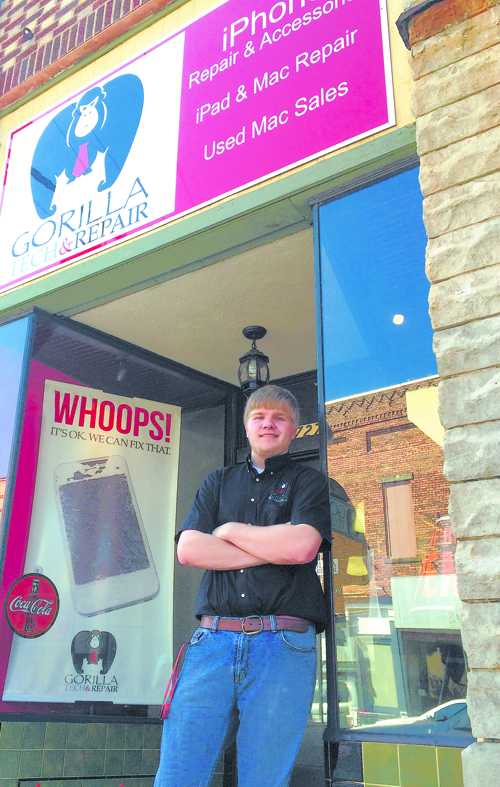 It's summer, which means that many teens are home to enjoy their summer break. Others are just now picking a career. But some teens let the career choose them and have already dived into the working world head first. A local 18-year-old is one of these up and comers who is helping prove northwest Louisiana's reputation as a hotbed for startups and entrepreneurs.
Joshua Specht is part owner and manager of Gorilla Tech and Repair. The service store based in downtown Minden focuses on small electronics — Apple or Android phones and tablets, computers, gaming consoles, TVs, etc. — and also sells mobile accessories.
"I have always been curious of how it would feel to open my own business, but it wasn't until after I graduated high school in 2014 that I was given the opportunity to do that," Josh said.
Being a fresh-faced owner of a business who isn't allowed to drink yet can create some perception issues when it comes to dealing with clients and customers, but Josh said his age hasn't been a negative factor, but more of an asset.
"My age has not really affected my business relationships with customers. I would consider it an advantage because most people think young adults know a lot more about electronics than any other generation," he said.
Moreover, he believes being a young professional gives him more time to learn so that he can then turn around and put forth into his business now and in the future.
"Being a young entrepreneur gives me the advantage to learn from my mistakes early on and grow from them. I think it is better to start out young and work your way up then to start in your 30's or 40s and try to get something off the ground."
As a Millennial who is living the life that many of his generation claim to want, Josh said he tries to take the position and image of a leader.
"It allows me to set an example for the generations after me — giving them a sense that it doesn't matter what age you are, if you have the willpower to make what you love successful, then most likely you will be a success," he explained.
In order for Gorlla Tech to reach its full potential, Josh plans to leverage lessons he has already learned in such a short time. These include excellent customer service and being professional, no matter the situation.
"You are not going to please everyone. But you should strive your best to help everyone," he said. "Also, make clients respect you for who you are and, most importantly, respect the business you have created."
So what advice can this young professional offer fellow business owners and entrepreneurs? It's something at the core of his position right now — discover your passion and follow through.
"Find something you love to do and then just do it," Josh advised. "And if your research shows your plan is not going to be successful, then figure out how to make it successful."