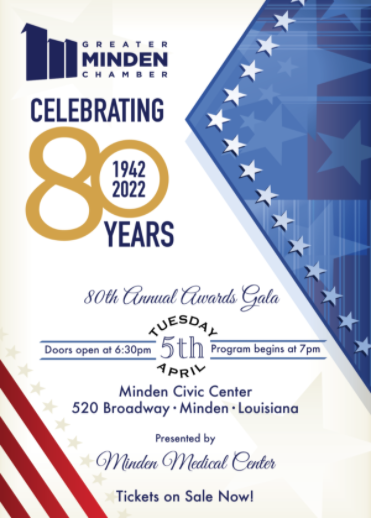 The Greater Minden Chamber is Celebrating its 80th Year next Tuesday where they will present awards to select business owners and nonprofits as an act of recognition for their contributions to their local community over the past year.
"We are excited to celebrate 80 Years of outstanding service to the Minden Community. We take pride in promoting the businesses in and around Minden and we will continue to build on those relationships," said Jana Morgan, pResident of the Greater Minden Chamber.
"Membership has its benefits! Our membership is made up of small businesses, corporations, entrepreneurs, non-profit organizations, retailers and individuals. We offer many networking opportunities and encourage member to member support. We have solutions to help local businesses grow."
Here is a list of the 2022 Award Finalists that will be announced at the gala.
BUSINESS OF THE YEAR
Durrett Law & Title
The Doll House
Northwest Louisiana Technical Community College
SMALL BUSINESS OF THE YEAR
Velvet Home & Clothing
Bricktown Boutique
Red Blooms
BUSINESS PERSON OF THE YEAR
Phillip Smart
Lindsay McClaran
Ryan O'Glee
COMMUNITY PARTNER OF THE YEAR
Brittany Greer
Webster Parish Library
UCAP
On the night of the event, awards will be presented for the Home Town Hero and Lifetime Achievement Award.