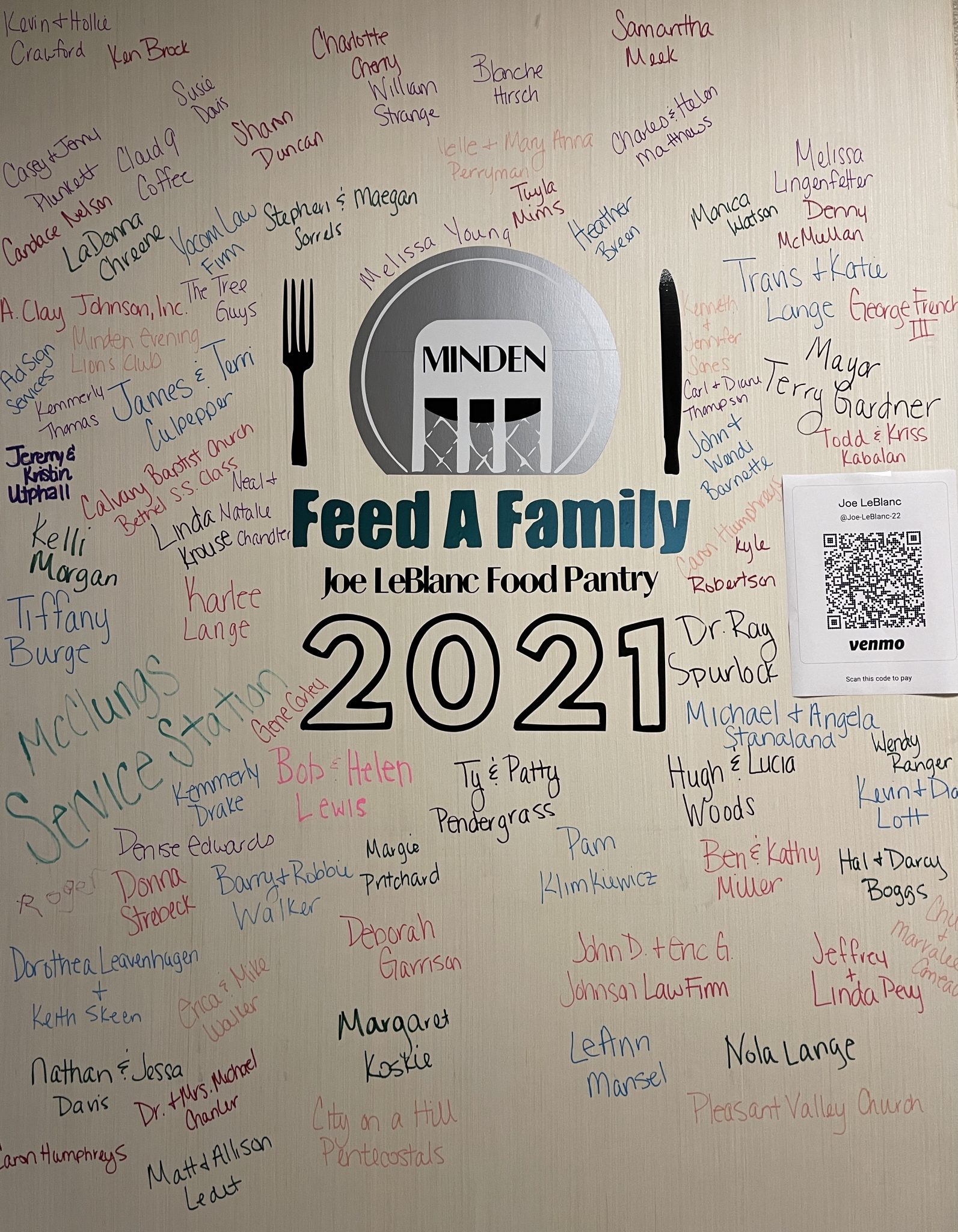 Year after year the Joe LeBlanc Food Pantry with their Feed a Family Program works to ensure everyone in the local community can have great holiday meals to share with loved ones, and year after year citizens of Minden step up to help donate and pack bags to help make it happen. Even in the midst of supply chain issues and rising food prices, the food pantry has been able to stay well-stocked and meet their goals faster than ever before.
"We met our Thanksgiving goal before November even started, it's the earliest that we've ever reached that goal. As of yesterday, we were at 99 on our Christmas distribution goal out of 600," said Jessica Lewis, Director of the Joe LeBlanc Food Pantry.
"For those interested in coming to help pack, we are completely full for November, but we do still have a few days open in December. We definitely need volunteers all throughout the year, so if they can't get on the books for December, we'll get them in early next year."
Clients can still sign up to be given a bag at the Nov. 20 distribution, but are asked to come after 11 a.m. to ensure that the current clients are already served. Clients will be given a bag with a hen, green beans, carrots, corn, stuffing, cranberry sauce, sweet potatoes, macaroni and cheese, mashed potatoes, pie filling, and pie crust.
Despite their best efforts, unfortunately the food pantry couldn't attain turkey's for this year's distribution given the nationwide shortage that has occurred before the Thanksgiving season, but ensures the hen being distributed will more than feed a family.
"We really wanted to do turkey's this year instead of the hen's, but the hens come from the House of Raeford in Arcadia, and they are huge. At least 10 pounds, some bigger," said Lewis.
For those still looking to donate to help them reach their goal for Christmas distribution, the food pantry has a plethora of ways to donate, including digital payments such as Paypal and Venmo, sending money through text, and more ways that are detailed on their Facebook Page. Dec. 15th is the deadline to donate for Christmas Distribution.
The Joe LeBlanc Food Pantry thanks their donors and sponsors who help to make the event even more of a success year after year.
"Thank you to everyone who donates. 95% of it is minden, but we even have people who donate from Texas, Florida, Georgia, people who I don't even know who they are," said Lewis.