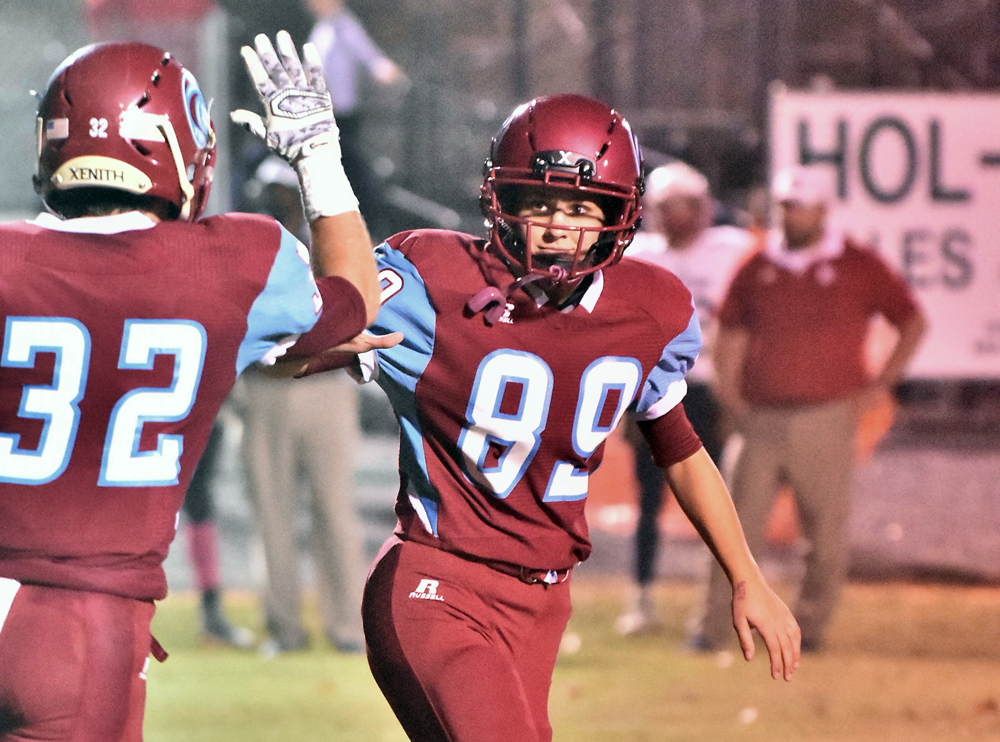 What can possibly be said in short to describe the whirlwind that was 2016?
My go-to reaction this year went something like this: "Really? Wow."
Whether it was the out-of-control antics surrounding our presidential primaries and general election or the untimely deaths of cultural icons such as David Bowie, Merle Haggard, Arnold Palmer and Prince, the last 12 months left most of us with jaws on the floor, gazing at it's unpredictability.
Some of the same themes were applicable here in Webster Parish, as we've seen our share of unforgettable moments and heartbreaking losses, albeit on a much smaller scale.
I love my job and the opportunity it affords me to connect with the community that raised and
supported me throughout my youth. We have a wealth of talented athletes in this area, many of whom are even better young men and women. One of the benefits of what I do is being present for some monumental moments in our area athletes' lives and being able to capture those moments and tell these stories in a way that, hopefully, lasts a lifetime.
With that said, I've spent a considerable amount of time this holiday season compiling my favorite sports moments from the calendar year. There were several worthy plays and/or moments that could have also been included, but these are the 10 that encapsulate 2016, according to me, the guy who saw it all go down.
Best Showing of Sportsmanship: Minden and North Webster squared off in week 3 of football season, and the Tide pounded the Knights, 26-0. One year after a barn-burner at North Webster, the Knights took it on the chin. They could have been bad sports, and Minden could have made things chippy by rubbing it in a little bit against their parish rivals. However, pure class was shown on both sidelines; a clear sign of mutual respect between the two programs.
Best Crowd: In football, Benton visited The Pit in week 6 this year for a matchup of undefeated district 1-4A rivals. Hype for the game was growing weeks ahead of time, and by the time the two teams took the field in mid-October, the stands at W.W. Williams Stadium were overflowing with Tide faithful. In a game that went back-and-fourth all night, the Tide finally pulled away when Patrick Heard broke loose for a 68-yard touchdown on the first play of the fourth quarter, sending the sell-out crowd into exaltation.
Best Interview: In March, I had the privilege of speaking with Summerfield boys and girls basketball head coach Randy Carlisle in the weeks following his two state titles at the Top 28.
Carlisle, the son of Minden legend Clyde "Buster" Carlisle, was candid in discussing his faith and practice regimen, as well his desires for what comes after high school for his young men and women.
Basketball and life are topics which Carlisle knows like the back of his hand and his enthusiasm and spirit stuck with me following our conversation.
Best comeback: The year's most exciting comeback happened only 11 days into 2016, when the Glenbrook Apache basketball team erased a 11-point deficit in the fourth quarter against their oldest rivals, the Claiborne Academy Rebels. Glenbrook's Joseph Windham keyed the comeback with 26 points in the second half, finishing the game with 30 points and 9 boards.
Glenbrook trailed 62-56 with 1:50 to play, but steals on three-straight possessions allowed Glenbrook to tie the game at 62 with less than 40 seconds on the clock. Windham nailed the go-ahead 3-pointer seconds later and Glenbrook would never trail again as students rushed the court to celebrate a 71-64 comeback win.
Best Clutch Play: Peyton Gray is now an alumni of Minden High School, but his walk-off RBI single in last year's district contest against North DeSoto at Griffith Stadium is as clutch as it gets. The senior stepped into the batter's box with runners and first and second in a 1-1 ball game and delivered a 2-1 pitch to right center for a single to score fellow senior Justin McCready from second base. As McCready crossed the plate to give Minden a 2-1 victory, the home dugout spilled onto the field for a dog pile that won't soon be forgotten by those members of the Crimson Tide baseball team, or this sports writer.
Best Performance – Female: Alisa Lander has accomplished everything there is to accomplish as a prep runner. Lander won her third-consecutive 2A state championship this fall, also earning all-state honors for the sixth time. Lakeside cross country head coach Dan Grantham believes Lander is days away from also being named Gatorade's Female Cross Country Athlete of the Year. Lander's career will continue somewhere at the collegiate level, although she has not yet committed to a school.
Best Coaching Job: This isn't for the coach whose team had the best year, it's for the coach who went through and overcame the most relative to their team's ability. For my money, no one went through or overcame more than Caleb Carmikle at Glenbrook School this season on the gridiron.
Carmikle's team was decimated with injuries early on and found themselves staring at a 1-4 record.
Carmikle rallied his team and made adjustments where they were needed.
The Apaches responded by winning 4 of their final 5 games to make the playoffs for the first time in three years.
Best Performance – Male: A late season matchup on the gridiron between North Webster and Loyola provided a big stage for the Knights' TJ Hawthorne to shine. The unbeaten Flyers defeated the Knights, but not before No. 29 gained 336 all-purpose yards and 5 touchdowns. Hawthorne finished with two rushing scores, two receiving scores and a kick return for touchdown. He'll be back for his senior year in 2017.
Best Game: In the final week of the regular season, Minden (9-0) traveled to Independence Stadium for a district title fight against Woodlawn (8-1). The Tide suffered through a miserable first half in which the Knights dominated possession and the scoreboard, taking a 24-8 lead into the break. In the fourth quarter, it looked like Woodlawn might make a rout of things when they led 32-14 with 9
minutes to play.
The Tide got a touchdown pass from Antonio Rivette to Tavarius Edwards, followed by a three-and-out, which led to a Patrick Heard touchdown run to cut the lead to 32-30. Woodlawn got the ball back and went to work on killing the clock.
Minden forced a 4th-and-17 and came up with a big-time interception that would have put them in position to win the game, but a pass interference call on the Tide led to a Woodlawn touchdown to put the Knights ahead 38-30. Still a one-possession game, Minden drove near midfield with less than one minute to play, looking for a tie and overtime, but Woodlawn was all over the Tide's last-gasp pass to Kelcey Miller and the game ended with Woodlawn taking the district title. It was an incredible effort from the Crimson Tide in a 1-4A battle to remember.
Best Moment: The absolute-best thing I saw this season was an extra point. Not a game-winner or a costly missed extra point. Just a plain, old extra point. What made this one special was the fact it came off the foot of Minden's Emily Frye, the first female football player in the history of Minden High School. With the Tide comfortably ahead of the North DeSoto Griffins in week 9, Frye, wearing No. 89, was sent out to deliver the Tide's thirty-fifth point of the night.
She calmly went through her pre-kick routine; the snap and hold were good, and so was the kick, sending the crowd into a roar louder than any heard this season at The Pit. The buzz continued through the end of the game and into the post-game celebration as Frye's fans, friends and family celebrated the historic moment on the field after a 35-21 win for the Tide.
Who knows who or what will top next year's list, but with the incredible wealth of talented athletes and superior support systems in place throughout Webster Parish, you can bet the good times and great plays will continue. It was a pleasure to cover sports for the Press-Herald in 2016, and I look forward to what 2017 has to offer.
Blake Branch is the Sports Editor at the Minden Press-Herald.