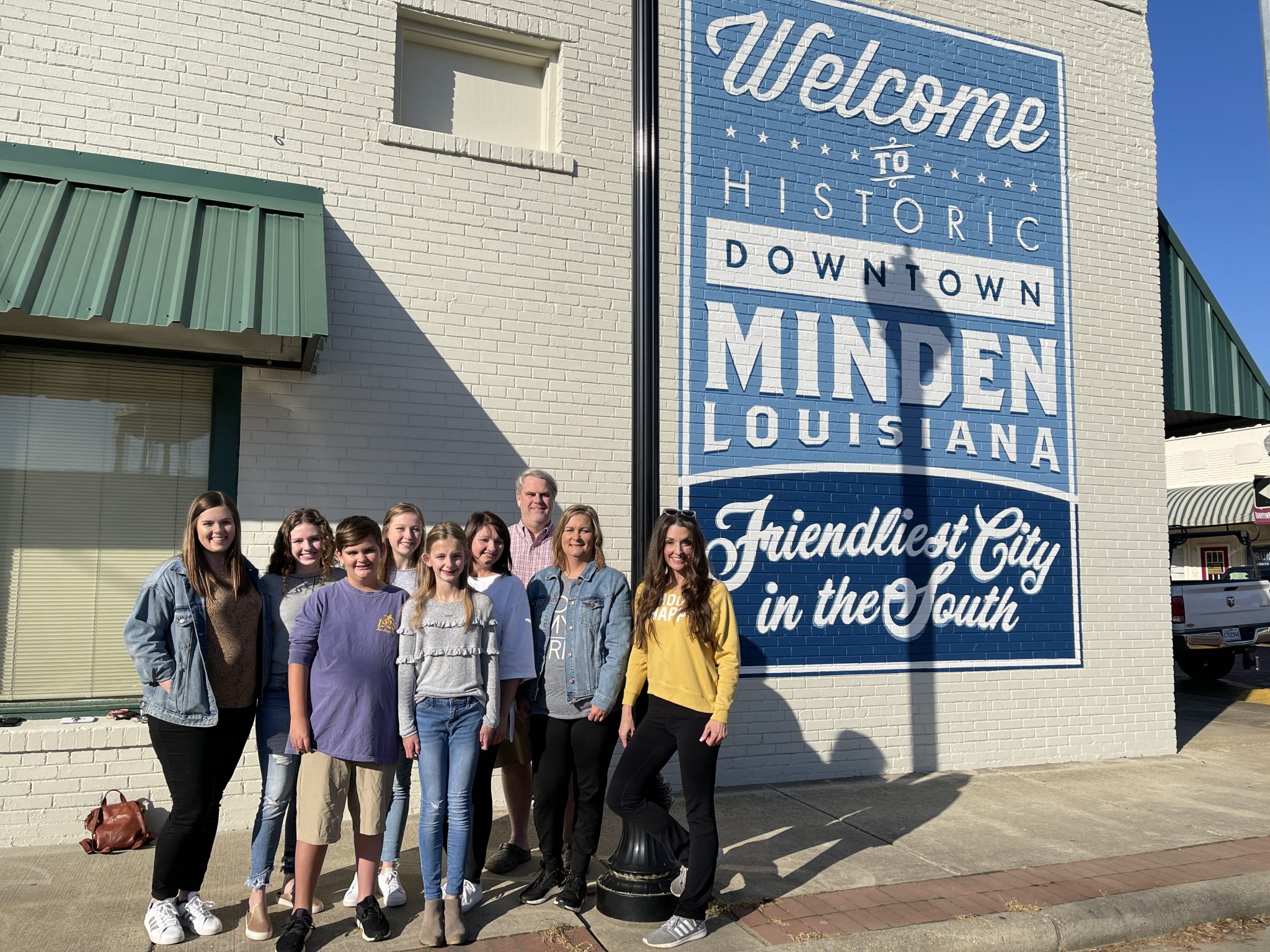 What happens when you get a group of Minden-loving visionaries together? A brand, new mural celebrating the friendliest city in the South!
Rachel Miller and Sara McDaniel both live near the Minden Historic Residential District and often meet to brainstorm innovative ways to put Minden on the map. About a year ago, the two learned that murals are what brought about the great revival of Laurel, Mississippi. It was through this discovery, that Rachel and Sara began mapping out how a great revival could happen here.
After scouting several locations around town, the two reached out to Ty and Patty Pendergrass to inquire about the side of their building which resides on the corner of Monroe and Main. Ty and Patty, who share a similar vision for Minden, agreed to allow Miller and McDaniel to utilize the space for a new Minden mural.
Miller's husband, Patrick, a graphic designer and former chair of the Graphic Design Program at Louisiana Tech, began sketching designs to present to the team. It was important the visual concept represent Minden in a positive light, stand the test of time, and be aesthetically appealing. Ultimately the team chose a design that would celebrate the entrance to the downtown historic district and embrace what people love most about Minden—our friendly community!
After finalizing the design and securing funding from private donors, the MIller's and McDaniel assembled a team that included Lela Margaret and Treat Miller, Laura, Lily and Sophie Spillers, and Kayla Martin. The team picked a lovely weekend in March to set the stage for a big surprise for our City.
The mural team started working on Friday afternoon and completed the project on Monday evening, just as the quaint, Minden lamp posts started to shine. Over the course of production, onlookers were extremely curious about what was going up and the team started leaking the secret on social media.
"The community response has been overwhelmingly positive," said McDaniel. "All weekend people were driving by and expressing their appreciation of our efforts. We feel like this is a big step in the right direction to bring visitors and tourists to our community. The new mural will definitely be one of the most Instagrammable spots in our town."
"We feel that this project is a spark; one that will continue a trajectory of positivity, drive unity in our community, and promote the idea that working together can make incredible things happen." Miller added.
McDaniel asks that as you post pictures online, please use the hashtag #mindenmurals so that data can be aggregated and used for future efforts. Rachel and Sara are actively planning for additional projects and other events in an effort to unite Minden.