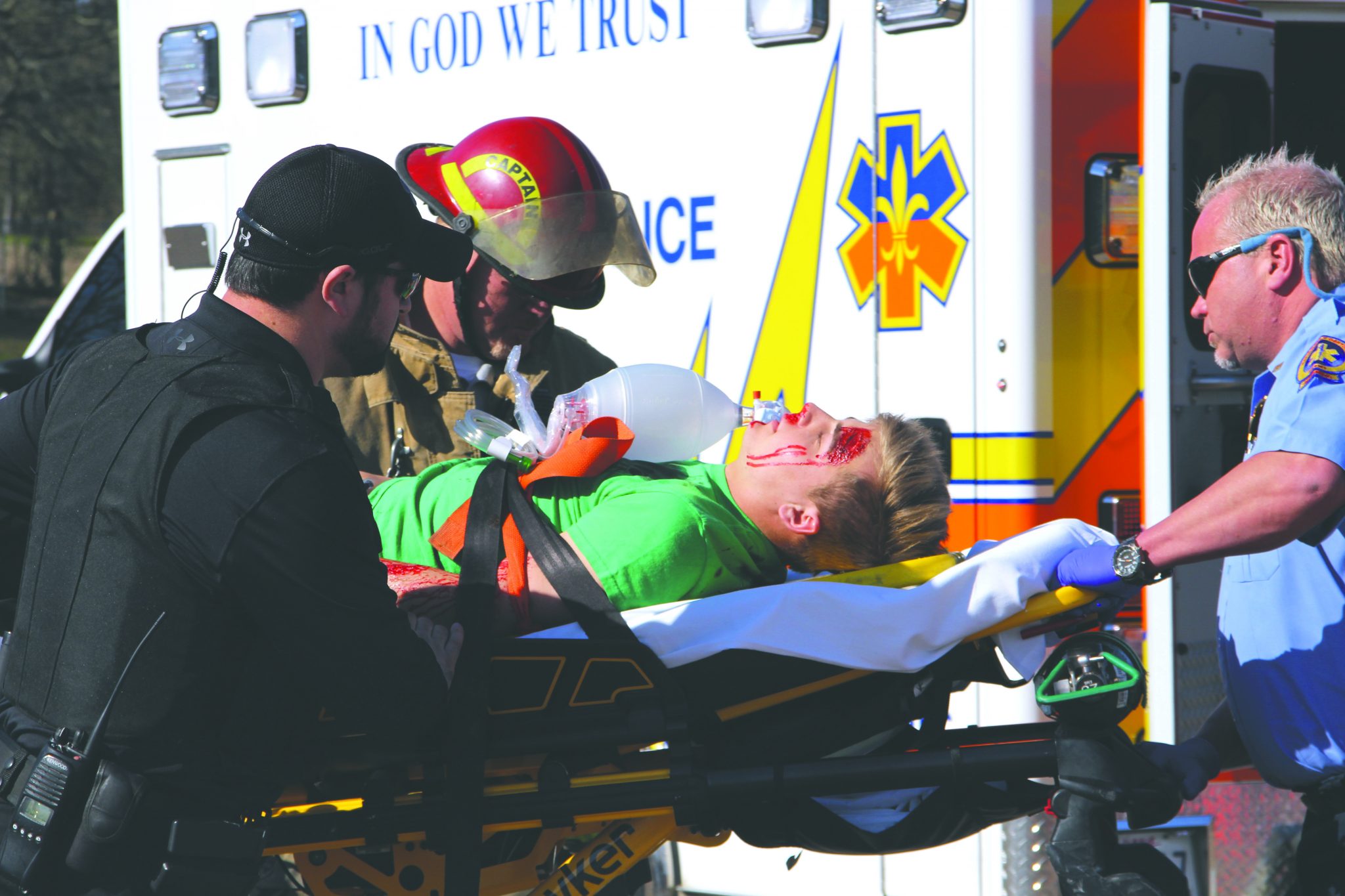 Parish students see consequences of impaired driving

A young man left a party late at night and tried to drive his friend home while intoxicated. The pair were involved in a head-on collision. The teenage passenger in the other car was ejected through the windshield and killed instantly. Another victim was badly wounded and later died at the hospital after failed attempts to revive him.
Thankfully, this scenario did not actually take place. Instead, this was the situation depicted in careful detail at a mock crash held by the Louisiana State Police at Lakeside Junior/Senior High School Friday morning.
Students from Lakeside, Doyline High School, and Minden High School watched as police and volunteers portrayed every aspect of an alcohol-related vehicle crash, from the immediate aftermath to the hospital.
Glenn Younger, LSP public information officer, said the mock crash is the second part of a three-step impaired driving education cycle called Sudden Impact.
"Through Sudden Impact, we're able to do classroom teaching where we show them videos and talk to them with live instructors, and then the next year we do this mock crash," Younger said. "And then the following year we do something called a mock trial. So they see everything basically from a warning to the actual consequences of bad decisions all the way through to the trial."
The mock crash scenario included multiple grieving mothers both at the crash site and the hospital tent set up nearby. Younger said this element is important to show students the far-reaching consequences of bad choices.
"People don't understand, they think, 'Well, it's my decision, it's my choice, it's only going to affect me,' and nothing could be further from the truth," he said. "It affects literally everyone involved: obviously the family members, the dispatchers, the police officers, the nurses at the hospital. Those are lasting effects – those things never go away. Time heals a little bit, but the memory never fades, especially for the family of the person that's lost."
There have been 71 vehicle fatalities in Louisiana from the start of the 2018 calendar year to March 11. This is a significant decrease from 132 such deaths in the same span in 2017. Younger said programs like Sudden Impact will keep pushing to lower those numbers.
"While we're down this year, it's still not something we're going to be happy with until we get to zero. If we can show them the cause and effect of those decisions, that will encourage them to make the right decisions."
In addition to impaired driving, distracted driving can be just as deadly.
"Distracted driving is the leading killer among teens," Younger said. It could be cell phones, it could be reading something, it could be other people in your vehicle that are talking. Anything that's a distraction is something we want to keep them from doing. If we can just give them a warning and show them this stuff is real, this is not just in Hollywood, this happens here in everyday America, that's something we're trying to focus on."
Younger said the LSP hopes the mock crash will be the only time the Webster Parish students in attendance will be faced with such tragedy.
"Our goal is if we can meet them in the classroom and meet them in the parking lot through something that's staged, then hopefully we'll never have to meet them on the side of the road when it's real," he said.