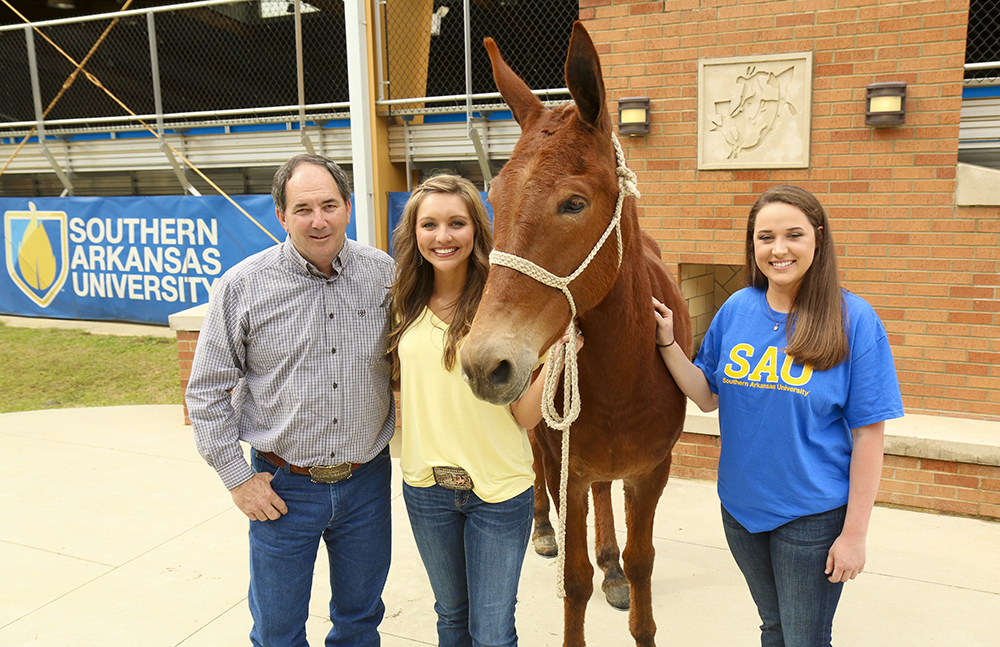 MAGNOLIA — Abigail "Abbie" Guin, of Minden, is the newest Southern Arkansas University Mulerider mascot, a historic and important student leadership position that is responsible for helping market SAU across the globe.
Guin is a freshman Agricultural Science, Pre-Veterinary major and inherited the mascot reins from former Mulerider Payton Baird of Fouke, Arkansas. Guin is looking forward to her duties as the newly appointed Mulerider and getting acquainted with Molly Ann, the statuesque mule that carried Payton during her three-year tenure.
"Payton told me to be myself and enjoy my time as the Mulerider because it will all go by so fast," Guin said. "It takes commitment, but I'm very excited and I think I can do it. I'm looking forward to the next three years."
Guin said she grew up with a love of the outdoors and credited her mother, Teri, with inspiring her.
"My mom got her animal science degree and was an extension agent for our local 4-H. She introduced me to all the livestock, and I've done shows since I was 8 years old," Guin said. "I grew up around livestock, sold it, judged it, you name it. When I told my mom I wanted to major in Ag, she said, 'I think you should do it, that's you.' I listened to her, and of course, she was right."
Guin has enjoyed making new friendships at SAU, meeting people she never thought she'd meet, and that she has "never gotten homesick" because SAU "feels like home."
Her friends encouraged her to apply for the Mulerider position when it opened in February. "They all thought it would be a really good fit." She said that when SAU's Rodeo coach and Mulerider sponsor William "Rusty" Hayes sent out the email to apply, it took her two hours to complete the application.
"I did, and the next week, he called to say I could interview with a committee. I told them I would be honored to help recruit for SAU. I rode Molly Ann again, with a flag, and the rest is history."
She said she and Molly Ann will be available during Preview Days "to meet the incoming freshmen and to let them get to know me and as much as they can about the University." She'll also spend time "getting to know Molly Ann, learning how to drive the truck and trailer. Rusty told me that he will be calling me and letting me know when to get ready for events. I'll need to have Molly Ann ready. So it will take a lot of dedication, but I'm very excited about it all."
She said she already knows that Molly Ann is smart about her job as a mascot. "She knows how and when she's supposed to take pictures. She's mellow, she knows her job."
Guin said one of the things she will try to impress on recruits to SAU is the feeling of family. "I'll tell them to have an open mind about SAU. Kids want to go to big colleges, but I have learned that we're almost a family here, and that's important. Everyone finds their place. Just be yourself and enjoy it."
She said she hopes to attend veterinarian school after she graduates from SAU, or obtain a master's degree in zoology. "I'd like to become a large equine vet," she said.
The coming years will be a challenge, but she's prepared. "I'll have to keep good grades and I'm going to have to study – for the next few years, it'll be books, boots and a mule!"
Guin said she was excited to be receiving her personalized riding chaps. "My name will be on them," she said. "It's gonna be so cool."
"We are so excited that Abbie Guin will be continuing the great legacy at SAU," said university president Dr. Berry. "Abbie will represent the University not only at our athletic events, but also in the community and throughout the region. As a person with true integrity and sincerity, Abbie will be a tremendous symbol for SAU and for the student body."