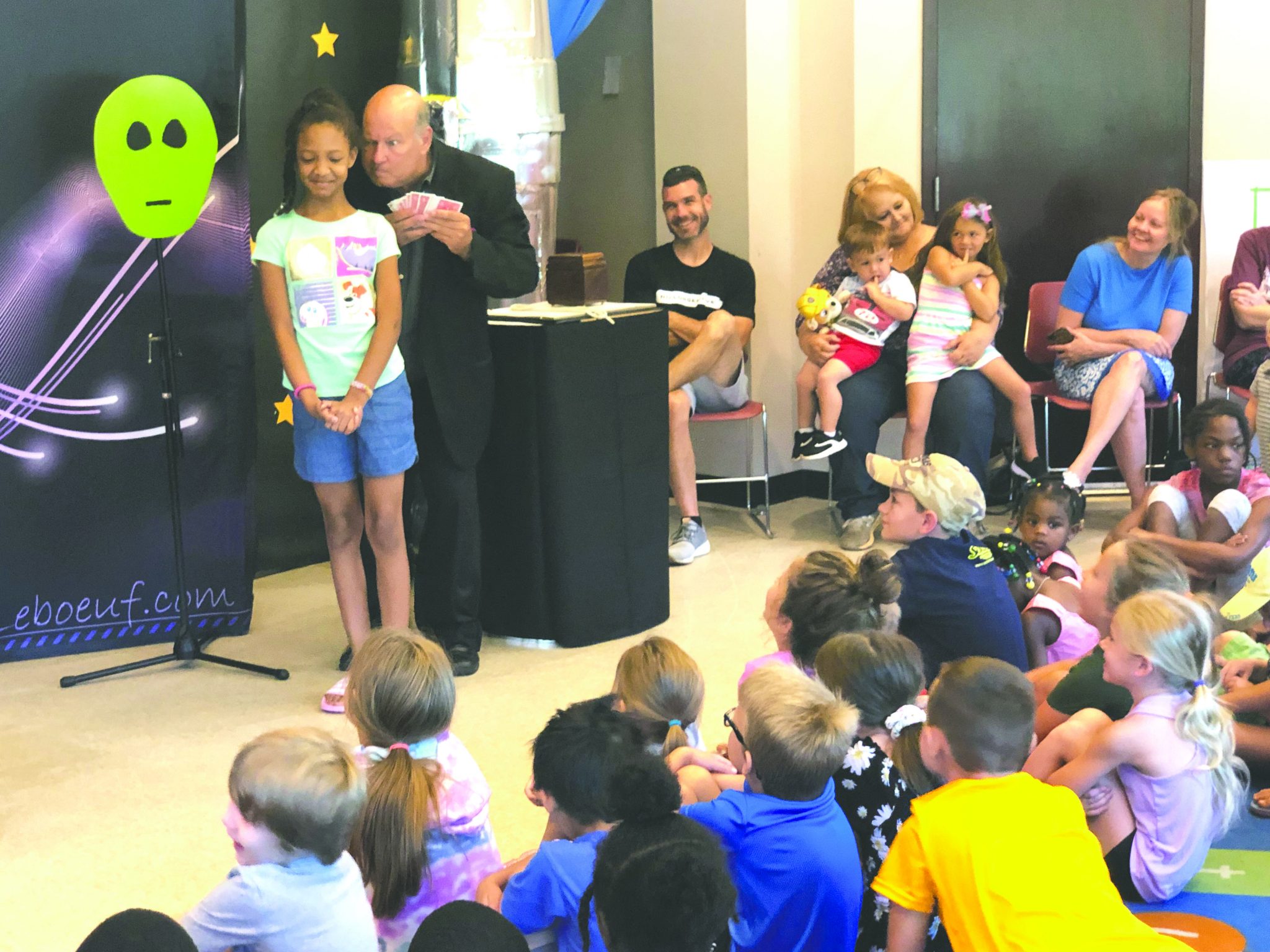 Magician visits Webster Parish Library
Magician David LeBoeuf visited the Webster Parish Library Wednesday morning in order to perform a magic show for the children and parents who attended. The show lasted about an hour and for nearly every trick, he always made sure to involve a volunteer to help him. The performance included a variety of tricks, including cards tricks, close up magic, illusion, sleight of hand, and he even threw in a bit of comedy as well.
LeBoeuf is from Houma, Louisiana and performs magic shows for a variety of places and audiences all around Louisiana. "I do a lot of children's shows, sometimes comedy clubs, and I do libraries a lot," he said.
His performances strike a balance of being both educational and entertaining. "No matter where I go or what I do, there are three types of tricks I can do. I can do a trick that delivers the library's message, the importance of reading, I can also do tricks that deliver a positive message, like the importance of doing chores, and the last is just a fun trick. If you can throw in the fun stuff, it just makes the show a bit smoother. It's the glue that binds it all together," said LeBoeuf.
Aptly enough, the beginnings of his passion for magic began at his very own local library. "I was about 8, and my dad, though he wasn't a magician, he is the one that affected me with this 'illness,'" said LeBoeuf.
He then goes on to talk about a game he and other children played when they were younger, where one person would hold a coin in their hand, and someone else would try and snatch it, the goal being to close your hand before they can get it. "So my dad and I were trying this and he swiped for the nickel. I didn't know if he had the nickel or I had the nickel. I opened my hand and the nickel was not there. And then he opened his hand, and the nickel wasn't there either. He milked it for all it's worth, and brought up his other hand and there was the nickel. I was blown away. I asked him how he did that and he said I'm not telling you, it's a magic trick. So then I went to the library and started getting books about magic."
The Webster Parish Library has other events and activities for various age groups scheduled in the future. To find out more you can visit their website at www.websterparishlibrary.org. If you would like to contact the Leboeuf, you can reach him at hattrickmagic@bellsouth.net.