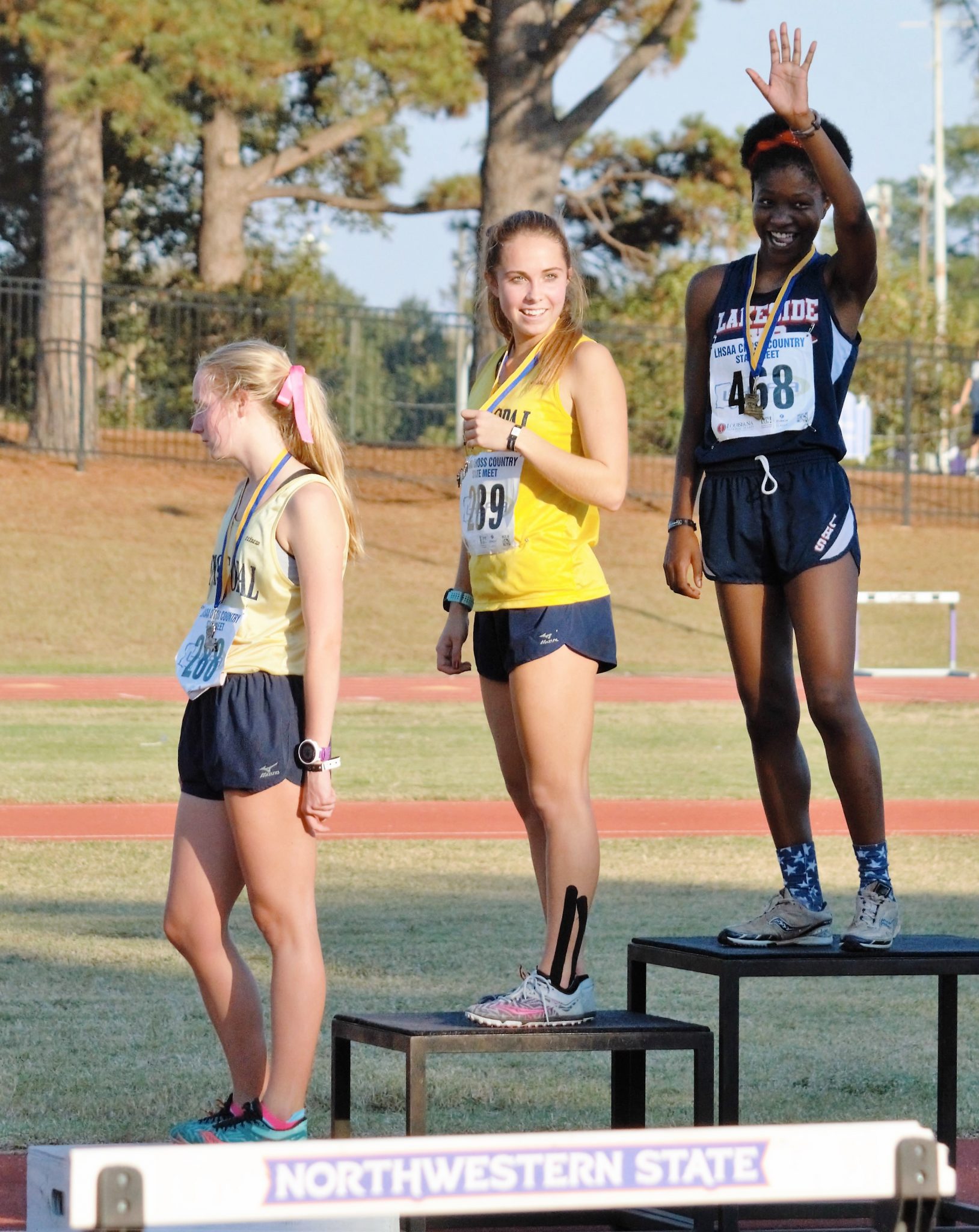 It was like the arrival to a destination after traveling for six months. That is how long the Warriors had trained for the state cross country championships.
For two seniors, Alissa Lander and Cody Robinson, it was the end of a six year journey. Lander, six time all state performer, and Robinson, three time all state performer, both competed in excellent form as both battled for the top prize – the title of individual state champion.
In the girls race, Lander trailed Claire Vaughn of Menard and Alicia Stamey of Episcopal and about 10 others at the half mile mark waiting to make her move. As soon as the group passed the half mile mark Lander put on a burst passing them all and continued accelerating. Lander continued to widen her lead eventually winning by a whopping 45 seconds.
Lander's performance was so astounding that she had crossed the finish line before the next competitor entered the track stadium nearly 300 yards behind. Lander ran an excellent 18:15 for the three mile course. For Lander, it was her third straight state championship in class AA cross country. Lander's dominance was also seen int he fact that she had the fastest time of all classes at the state championships.
In the boys race, the strategy was the same, but the opponents were in a gang of seven from Episcopal of Baton Rouge. Robinson and the top two Episcopal runners had left the rest behind by the one mile mark. The three continued their battle till about the two and a half mile mark when Frazier from Episcopal surged out quickly for a 35 yard lead. Robinson tried to recover but got no closer, eventually losing by ten seconds finishing in second place with a time of 16:10.
The Lakeside girls team finished a very respectable seventh place (one place higher than the 2015 team) out of 37 schools represented. The second place runner for Lakeside was seventh grader Erika Needham finishing 16th at 20:40. Needham was the second highest finishing seventh grader in the championship.
Third for LHS was Kerrigan Zachary, 49th overall at 22:41. Coming in fourth and fifth respectively for Lakeside were Kaylee Davis (58th at 23:08) and Angelina Futch (59th at 23:10). Finishing scoring for the Lady Warriors were Laney Lindbergh (64th at 23:23) and Laura Robinson (75th at 24:56). There were 171 runners in the girls championship race.
The Warriors boys team finished sixth overall, out of 34 schools represented, one place higher than they did last year. Sophomore Logan Bailey brought strong support for Cody Robinson (second overall) coming in 16th at 17:36. Bailey was the second overall sophomore in the competition. Coming in third, fourth and fifth for the Lakeside Warriors was Tyler Davis 50th at 18:55, Timothy Mansfield 63rd at 19:33, and Jairo Aguinaga 66th at 19:34.
Aguinaga was the highest performing seventh grader in the entire meet. Finishing scoring for the Warriors were Toby Askew, 95th at 20:41, and Seth Levesque, 125th at 21:48. There were 202 boys competing in the championship race.
Both Cody Robinson and Alissa Lander performed well enough to not only be on the class 2AA all state team but also on the composite all state team (includes all classes) as well. This is the third straight year Lander has made the composite all-state team.
Coach Grantham's thoughts on the championship meet and the 2016 season: "I am so proud of our Lakeside runners. Our squad of 19 runners competing with schools that have 80 (Menard) to 95 (Episcopal of Baton Rouge) kids out for their cross country team. No, we didn't win a team state championship, which is the ultimate goal, but we competed hard while being overmatched.
We lose some great runners in Cody Robinson and Alissa Lander, but we have some tremendous young talent like Logan, Erika, Jairo, and all the others. There are a lot of great memories and great lessons from this season that these future leaders will carry with them for the rest of their lives."