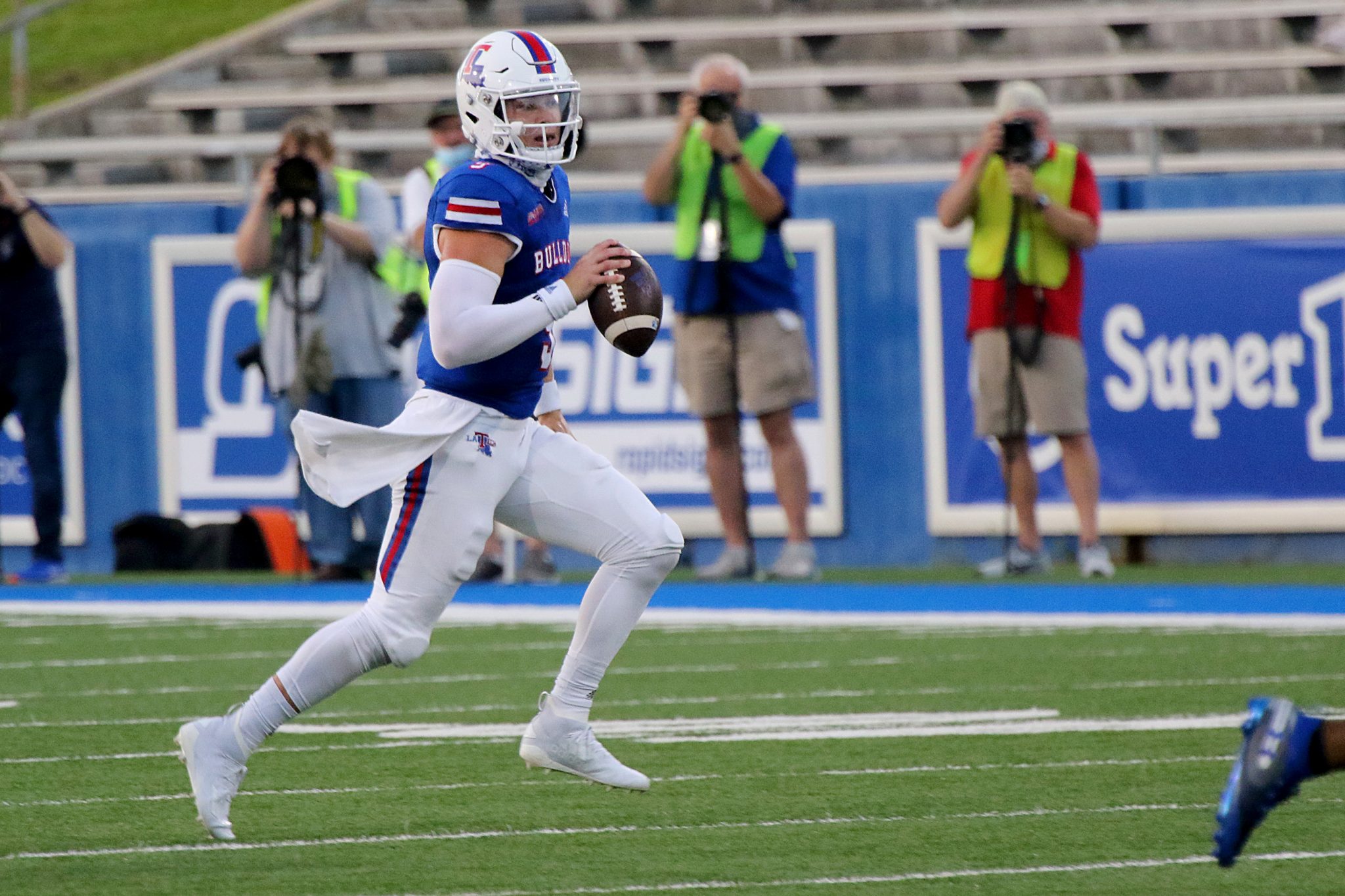 RUSTON – LA Tech graduate student quarterback Luke Anthony has been named to the Davey O'Brien National Quarterback Award's Great 8 list for week four after his performance in the 66-38 victory over Houston Baptist on Saturday, Sept. 26.
In Saturday's win, Anthony accounted for six touchdowns after posting five touchdown passes and one rushing touchdown. He became the fifth player in program history to account for at least six touchdowns in a single game and was the first since Cody Sokol against WKU in 2014. It was only the third time in program history that a LA Tech quarterback has passed for five touchdowns and rushed for a touchdown in a single game.
Anthony threw four touchdown passes in the first half against the Huskies to become the first Bulldog QB to do so since Ryan Higgins in 2016. He became the seventh LA Tech quarterback in program history to throw for five touchdowns in a single game and was the first since Higgins in 2016. Anthony threw three passing touchdowns of 40-plus yards against the Huskies with touchdown passes of 44, 43 and 41 yards.
In his first career start for the Bulldogs, Anthony finished the game 17-of-30 for 314 yards and five touchdowns. He has now passed for eight touchdowns in the first two games of the season which is the most by a Louisiana Tech QB in the Division I era of the program. His eight passing touchdowns this season currently rank second in the nation.
Joining Anthony on this week's Davey O'Brien National Quarterback Award's Great 8 list include Mississippi State's K.J. Costello, Texas' Sam Ehlinger, UCF's Dillon Gabriel, Miami's D'Eriq King, Kansas State's Skylar Thompson, Florida's Kyle Trask and BYU's Zach Wilson.
In 2020, any player named to a Great 8 list during the season who was not previously named to the Preseason Watch List will be added to the Midseason Watch List and will be eligible for the Davey O'Brien National Quarterback Award. The additions of Anthony, Costello, Thompson and Wilson make the updated list 39 players.
The Davey O'Brien Foundation was created in 1977, and the National Quarterback Award, the oldest and most prestigious college quarterback award, was first issued in 1981. Over its time, the Davey O'Brien Foundation has given away more than $1 million in scholarships and university grants to help high school and college athletes transform leadership on the field into leadership in life.
In 1938, O'Brien, who was a star quarterback for TCU, became the first player ever to win the Heisman Trophy, Maxwell Award and Walter Camp Award in the same year. He was inducted into the College Football Hall of Fame in 1955. For more information, visit www.DaveyOBrien.org.
Tech returns to action Friday when it travels to Provo, Utah, to face BYU. Kickoff is set for 8 p.m. (CT) in a game that will be televised on ESPN2.
Season tickets are on sale through the Tech Ticket Office by calling (318) 257-3631.
For all the latest in Bulldog Football, follow them on Twitter (@LATechFB), Instagram (@LATechFB) and Facebook (LATechFootball) or visit the official website at LATechSports.com.