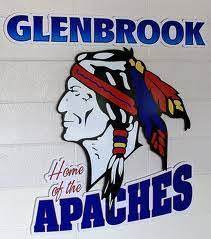 The scoreboard at the end of Friday night's spring football scrimmage game read Calvary Baptist 7, Glenbrook 0.
But despite the deficit, it felt like a winning night for Apaches.
"Going in we knew we were playing a team probably better than anyone on our schedule next season," said Glenbrook head coach David Feaster. "Honestly, they're that good year in and year out. Our guys were excited about the challenge and they didn't look intimidated or scared, which is always a good thing.
"As a parent, as a dad, you're sometimes most proud of a son when he stands in there against guys a lot bigger than him and puts up a fight. And we definitely did that.
Holding a high-octane Calvary offense that averaged 56 points per game last season — (the Cavaliers defeated the Apaches 58-14 last year) — was something Feaster said his team can build on.
"Out defense was outstanding and I believe we'll see big things out of them," Feaster said. "But the offense wasn't very good. Calvary's defense was very well-prepared for us. They're very athletic and had some guys we couldn't block. DJ (Clark) looked good a few times running the football and caught a pass where he gave them fits because they couldn't tackle him.
"We completed a handful of passes and had a little bit of offense, but we turned in over a bunch."
Glenbrook returns nearly its entire team after graduating only two players.
"That's the advantage we had going in," Feaster said. "Even though we didn't get that many practices in this spring, we had so many guys coming back that know the system and how we work and what to do. And you could tell.
"And we played mainly veterans, especially on defense. We have seniors all over the place. At least two or three of those guys have been playing for us since the eighth grade. And by ninth grade at least five of them were playing in games. They're a very savvy bunch."
Feaster said Hayden Harmon and Maddox Mandino both had strong scrimmages.
"Those two stood out coming up and making a lot of tackles. There were really a bunch of guys like that. We looked really sound on defense. Rhett Johnson is another who did an outstanding job coming up and making some big hits. Luke Vining played some defense and did well on that side of the ball."
"Against a team like that, you feel pretty good coming out and holding them as well as we did."
Feaster said he told his offense not to worry about the way things turned out.
"Those are all guys who played for us last year," Feaster said. "We know what we've got and we're going to be just fine."
Feaster also has hope for the future in the former of some size in younger players joining the Apaches this season.
"Right now our center weighs about 145 and our guards are 150-160. So we're playing with some undersized guys that just really play hard and do just fine. But down the road, it looks like we could gain some size.
"But you never know. When we turned in our roll to start last year we had 48 boys in high school as of Oct. 1 last year. When your numbers are that small, there can be a big variation from year to year as far as depth and what positions those experienced players play. So we anticipate the ebb and flow on that, but right now it looks like we should get bigger in the future."
Now the Apaches turn their attention to strength and conditioning work that they will begin next week along with 7-on-7 competition
"We shift immediately and next week we'll play a 7-of-7 game against Airline," Feaster said. "At a small school like this, everybody plays multiple sports, so even that 7-on-7 kind of work is important. You need the summers to get back in the weight room, to get on the track and get faster. And that's while a lot of players will be playing summer baseball, too. So summer's an important time.
"There's a lot we have to look forward to next season. We have a great schedule starting with the Battle on the Border against Cedar Creek. It's going to start off with a lot of excitement, so we'll have to be ready."