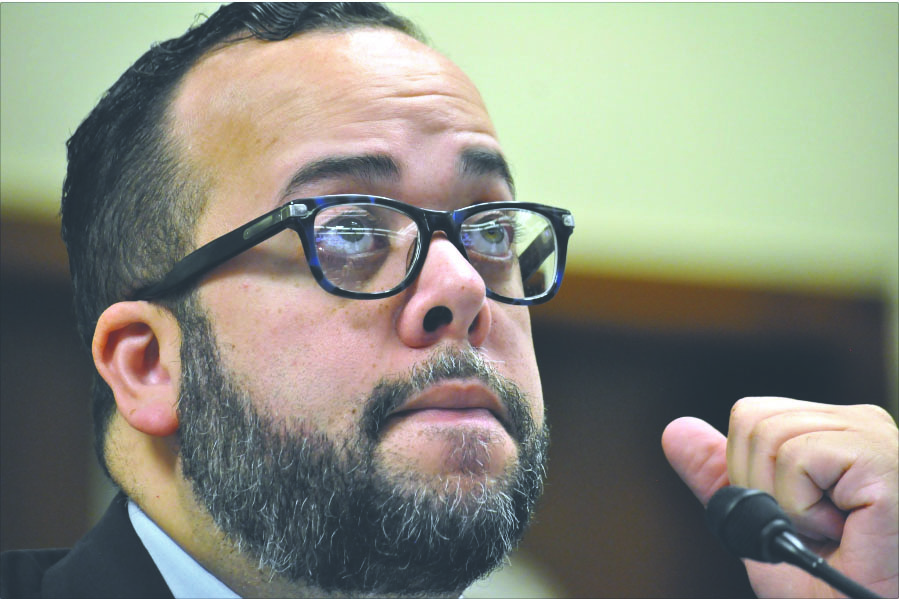 Lawmakers divided on issue
Martha Ramirez and Brianna Jones-Williams
LSU Manship School News Service
BATON ROUGE — Fortified schools, armed school workers and bulletproof backpacks are some of the answers that Louisiana legislators have in mind for protecting children as threats of school shootings grow.
Two state representatives and a senator have introduced controversial bills that would allow teachers and other school workers to carry firearms.
Like political leaders around the country, state legislators are divided on these and other proposals, and the bills are likely to set off some of the most contentious debate over the next several weeks.
Gov. John Bel Edwards said on Thursday that he supported having law-enforcement officers on school campuses but would not support bills that would let teachers carry concealed weapons.
"I, for one, do not believe it's a good idea to have conceal carry with teachers," Edwards said. "I think we need to focus on other school safety measures." 
Some lawmakers, like Sen. Neil Riser, R-Columbia, think these bills could save lives, given that the FBI says there have been more than 100 threats of school shootings in Louisiana since 17 high school students were killed in Florida on Feb. 14.
Others, like Sen. J.P. Morrell, D-New Orleans, argue that arming teachers would create dangers of its own and hinder the learning environment.
"If every child is faced with a teacher who's packing a six-shooter on their hip, that is not conducive to a safe and cooperative learning environment," Morrell said.
Edwards, a Democrat who generally has supported gun owner rights and is up for reelection next year, has said he would like to tighten background checks on people who have been convicted of violent crime or have mental illness.
He said Friday that he has been meeting with educators, law-enforcement officials and gun lobbying groups to "come up with a comprehensive school safety proposal."
Other Democrats believe that it would be more cost efficient to ban assault rifles then to fortify schools. Rep. C. Denise Marcelle, D-Baton Rouge, introduced a bill that would ban the sale of assault rifles to anyone under the age of 21, though similar proposals have failed in the past.
Riser has introduced a bill, SB 406, that would allow school employees and officers to carry firearms on school premises. It also would allow retired teachers and parents to enter into agreements with schools to carry a firearm as long as they are military veterans and have a permit to carry a concealed handgun.
Riser said he is tired of seeing individuals go into gun-free school zones and commit heinous crimes, leaving the victims with no way of fighting back.
Riser said he avoided adding any financial burdens on schools by stipulating that schools could let the individuals carrying weapons volunteer their time instead of hiring a full-time officer.
Riser believes this bill would "give a fighting chance" to students if they were attacked.
Morrell, whose family has a long history as teachers, said that "arming teachers is a terrible idea, especially considering that they have said repeatedly that they do not want to be armed."
"As you have seen in a couple of the cases that unfolded across the country, just because you arm a teacher doesn't mean that teacher will make the best decision," he added.
Rep. J. Rogers Pope, R-Denham Springs, introduced a bill that would give authority to school boards to allow employees to carry a concealed handgun in a school or on a school bus. Pope was the superintendent of the Livingston Parish School system for 14 years.
His bill, HB 332, ensures that school employees would only be able to carry a handgun in the school that have authorized them. The employees would be required to complete eight hours of tactical training a year.
But some law enforcement officials are concerned about the push to arm teachers.
"It's just not learning how to become a pretty good shot; it's a lot of tactical training that goes along with it," St. Bernard Parish Sheriff Jimmy Pohlmann told Fox 8 News in New Orleans. "We train a lot with it, particularly with active shooters, and if you don't have a combination of those things, just arming a teacher, I don't think is the right thing to do."
The South Louisiana Coalition for Education, a non-partisan group formed in 2015 that tries to involve teachers, students and families in the policy-making process on public education, fears that arming teachers could cause more violence and even racism in schools. Tramelle Howard, a member of the coalition, said it supports more mental health services and resources to help alienated students.
Pope's bill would require that parents be notified when an employee is authorized to carry a concealed weapon. It also stipulates that the local school board would not be held liable for any injuries from the firearm.
On Wednesday, authorities in Catahoula Parish arrested a 14-year-old girl who, they said, had made a "kill list" of other students. The incident prompted the evacuation of one high school and early dismissals at others. Another 14-year-old was arrested earlier this month after making threats against a New Orleans high school.
Rep. Ray Garofalo, R-Meraux, also has a bill that would allow a teacher or administrator of an elementary, middle or high school to carry a concealed handgun if they completed an annual course in school policing that included gun safety and active shooter scenarios.
Sen. Mike Walsworth, R-West Monroe, introduced a bill that would permit students to wear bullet-resistant backpacks. It would get rid of a ban on students wearing any type of body armor.
Morrell, who has two brothers on the New Orleans SWAT team, scoffed at the bulletproof backpacks' idea.
"These kids aren't Captain America, they aren't going to run out there with their bulletproof backpacks fending off bullets with it," Morrell said.