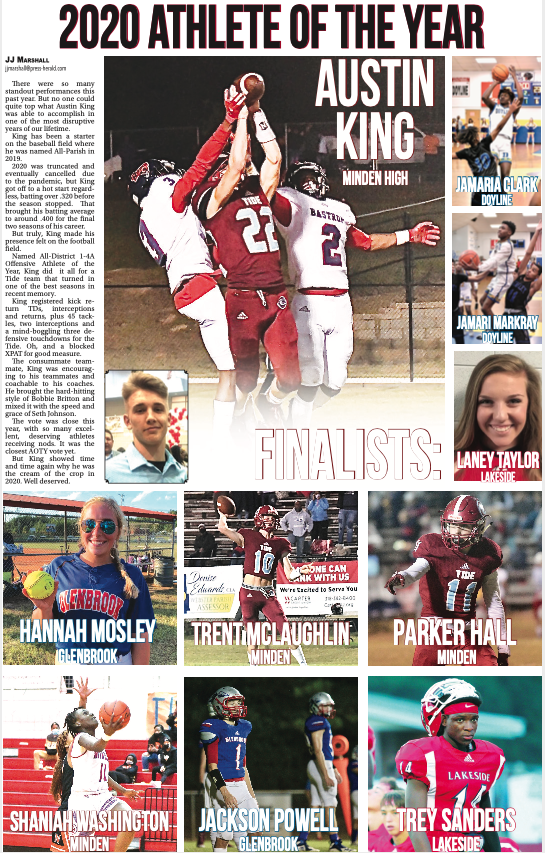 There were so many standout performances this past year. But no one could quite top what Austin King was able to accomplish in one of the most disruptive years of our lifetime.
King has been a starter on the baseball field where he was named All-Parish in 2019.
2020 was truncated and eventually cancelled due to the pandemic, but King got off to a hot start regardless, batting over .320 before the season stopped. That brought his batting average to around .400 for the final two seasons of his career.
But truly, King made his presence felt on the football field.
Named All-District 1-4A Offensive Athlete of the Year, King did it all for a Tide team that turned in one of the best seasons in recent memory.
King registered kick return TDs, interceptions and returns, plus 45 tackles, two interceptions and a mind-boggling three defensive touchdowns for the Tide. Oh, and a blocked XPAT for good measure.
The consummate teammate, King was encouraging to his teammates and coachable to his coaches. He brought the hard-hitting style of Bobbie Britton and mixed it with the speed and grace of Seth Johnson.
The vote was close this year, with so many excellent, deserving athletes receiving nods. It was the closest AOTY vote yet.
But King showed time and time again why he was the cream of the crop in 2020. Well deserved.