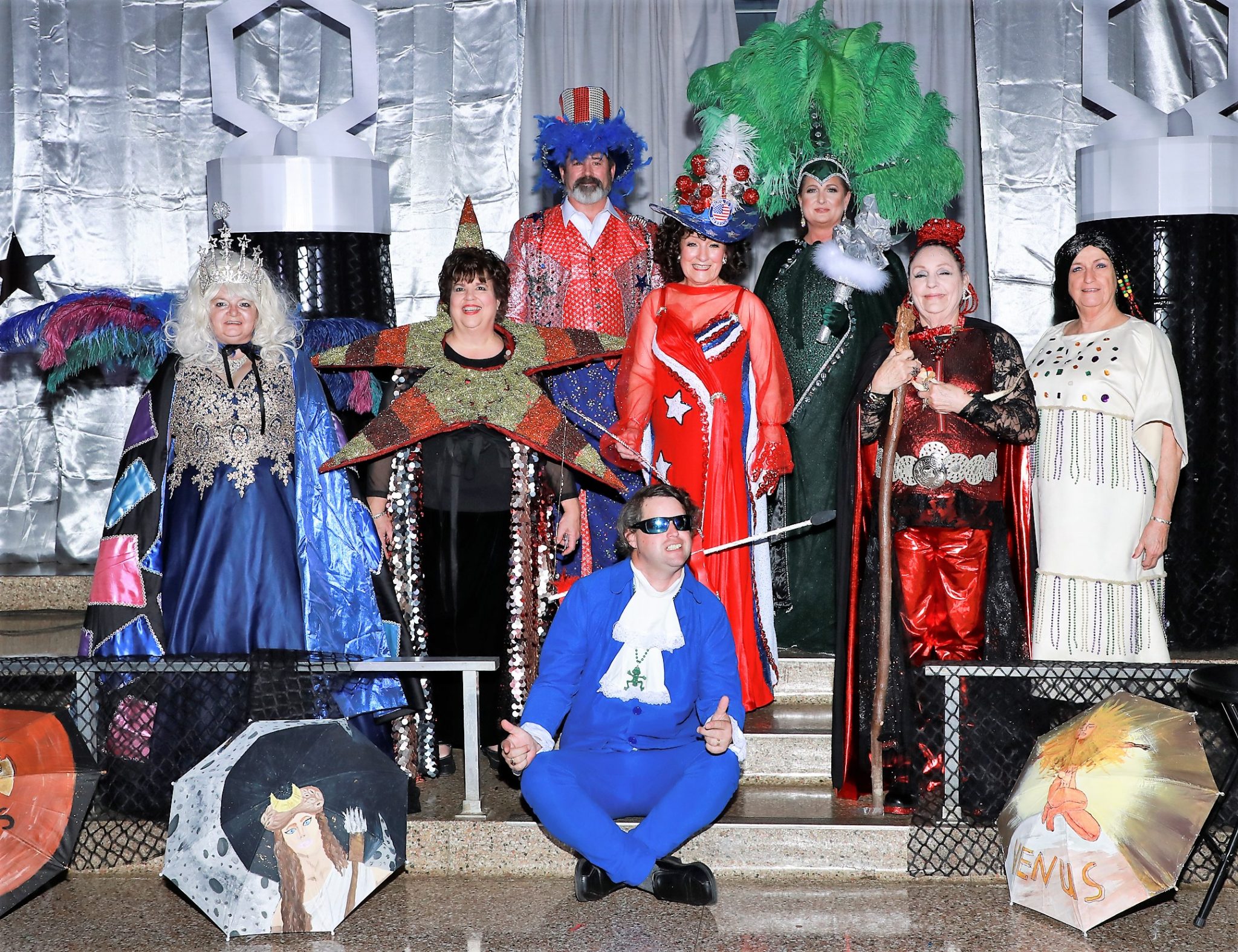 The Krewe of Artemis-Springhill celebrated their Twentieth Anniversary (20th) surrounded by family, friends, and fellow area krewe members while enjoying food, music, and fellowship.
Have you ever attended a Sunday afternoon movie matinee or a Sunday afternoon play or concert? Have you ever longed to do something different on a lazy Sunday afternoon besides watching a game on television? This rare opportunity presented itself on Sunday, February 20, 2022, when the Mardi Gras Krewe of Artemis-Springhill gave us this unique occasion with their entertaining "Out of this World" Grand Bal. This usual nighttime gala occurred when the original date was postponed due to the outbreak of illness in our area and no other time slot was available in the Krewes of the Ark-La-Tex organization during this Mardi Gras season. Thus, this unprecedented "Black Tie Optional" event took place in the Springhill Civic Center on a Sunday.
Guests arrived in limos, cars, buses, and trucks, dressed "to the nines" or in their "Sunday Best." It didn't matter as all the etiquette rules for Bals seemed to disappear and they came to have fun and honor the longevity of the Krewe of Artemis!
Upon entering the decorated lobby of the Center, the party goers received a hint of just what "Out of this World" meant as there were spacey looking centerpieces and colorful murals of stars, moons, and planets, and, of course, a huge number twenty (20) balloon suspended above the enlarged, beautiful theme poster created by local artist Kristy Nix. Grisham Photography was on hand to freeze these treasured moments in his pictures. The aroma of delectable food, prepared by Sweet Ladies Helping, lured everyone to the food court immediately to partake in a midafternoon meal before the tableau (program) began.
Each person was ushered in by announcer Mack Morgan proclaiming that they had arrived as they walked down the ramp to be greeted by Artemis members. Demanding attention was the majestic red, white, and blue sequined, lighted ten (10) foot rocket atop the round center Captain's table. And, above it was a sparkling Moon. The King and Queen's tables were adorned with elegant, elaborate, white feathers standing high above crystal centerpieces and a Charcuterie was available for their guests. The Co-Captain and Royals gave a nod to their planet and personality with their colorful table decorations and individual gifts. Behind the riser tables, that lined the walls of the Civic Center, were four (4) foot round planets revealing where that Royal person was going. American flags flew everywhere. This was, indeed, a star-spangled patriotic afternoon Bal.
The compelling voice of Emcee Eric Simmons welcomed and thanked all for coming. Rev. Dr. Jonathon King, minister of the Springhill United Methodist Church, gave the invocation. Artemis member and Air Force Veteran Joe Connolly, presented the colors, The Pledge of Allegiance was recited, and the National Anthem was played as Joe Drane with Caddo Parks and Recreation Department appeared on stage with an American Eagle, much to the crowds amazement. The Eagle was available for photographs in the lobby after the tableau.
Without further ado, upbeat music began, and Mr. Simmons summoned, one by one, the Captain Janet Gray Reeves, Co-Captain Susan Keith, Duchess of Music Kathy Davis, Duchess of Merriment Donna Waring, Duke of Fun Jason Wade, Duchess of Mystery Roxanne Colvin, Queen Artemis XX Christi Robertson, and King Bret Wingfield to come on stage and greet their guests with the lifting of the Chalices and toasting the crowd. Each person was wearing formal evening attire with a distinguished satin sash, bearing their title, draped across his or her torso.
After these performances, another part of the tableau began. A reminiscent twenty-year anniversary power point was shown above the stage as the eloquent emcee spoke of happenings each year. At one point, he directed the attention to the screen where all the names of those members that had passed away were displayed. As the pictures rolled on and on, he gave pause and asked all who were royalty in that year to please stand and be recognized. This was a fitting way to help celebrate a twenty-year reunion!
The room became dark. Stars danced around the room. A roaring sound began. When the sound stopped, it was as if some craft of sorts had landed on the Moon. Then, suddenly, a lighted moving object which resembled a Luna Rover was coming into the room with none other than Artemis Captain Janet Reeves, portraying a modern day, space-traveling Betsy Ross or the Greek Goddess Artemis, riding in a cart behind it. She was dressed in a semblance of a sequin red, white and blue American Flag complete with stars and stripes, while wearing a lighted western hat, wearing red, white and blue extremely tall boots and carrying a lighted, you guessed it, red, white and blue bow and arrow. As the music, "God, Bless the U. S. A." filled the air, the party goers were on their feet, singing along as an Astronaut costumed driver, Mike Reeves, circled the floor.
Once again darkness fell and roaring intensified as the curtains parted to reveal the landing of an American Shuttle. Looking intensely through the fog you could make out the image of a traveler in the chamber ready to open the door. Emerging onto the planet MERCURY is Co-Captain Susan Keith dressed as Katherine Johnson, an African American woman, who worked at NASA for 33 years as a vital part of the space program. She calculated the rocket trajectories with nothing but a slide rule, for Project Mercury, the Apollo missions and the Space Shuttle. John Glenn, the first American to orbit the Earth, refused to fly unless Johnson had verified the computer's work. She did and he flew. Johnson was still calculating trajectories in July, 1969, when Armstrong and Aldrin made the Apollo 11 Moon Landing. In 2015, Katherine G. Johnson was presented The Presidential Medal of Freedom by President Obama for her fight against racism in the 1950s.
Each royal was announced by the roaring and landing sounds of the shuttle, and each stepped out of the fog onto each of their planets. Co-Captain Susan Keith visited the planet Mercury, the smallest and most heavily cratered planet, representing NASA'S Mathematician Katherine Johnson, an African American woman who worked for thirty-three (33) years and calculated the rocket trajectories with nothing but a slide rule. In 2015, she received the Presidential Medal of Freedom by President Obama.
Duchess of Music, Kathy Davis, surprised the audience by appearing, dressed as the famous Dolly Parton, complete with Dolly's big flowing blond locks! Duchess Davis, as she stepped foot on to Planet Jupiter, whirled around in her colorful, patchwork cape, as Dolly's recognizable voice sang out "My Coat of Many Colors." Jupiter is the fastest spinning and the largest planet in our solar system and one's weight increases by 2.528 times more than you weigh on Earth.
Donna Waring, Duchess of Merriment materialized on Saturn dressed as Sacajawea, the Shoshone Indian guide and translator for Lewis and Clark. Duchess Waring was dressed in full Indian garb with long plaited hair and winter cloak. The beautiful ringed, flat Saturn, the gas planet, has approximately eighty-two (82) moons and it, like Jupiter, "rains diamonds."
The Duke of Fun Duke Jason Wade burst forth from the Shuttle onto Uranus ("Uran-Nus or Ur-Un Us), the ice planet, as Austin Powers, the comic character of Mike Myers, showing his complete set of Austin Flowers teeth, while entertaining the crowd with his enthusiasm. Uranus was discovered in 1977, with only a telescope; it maintains a temperature about minus 435 degrees Fahrenheit, and has twenty-seven (27) moons, all names from the Characters of Shakespeare.
As with all space missions, Houston was tracking all aircraft and spotted a UFO headed for Springhill. After a loud landing, a Dragon Rider from the space colony of P. E. R. N. (Planet Earthlike, Resources Negligible) made "its" entrance in the form of the Artemis Duchess of Mystery Roxanne Colvin, known as "R'ANN," outlandishly dressed in trending riding clothes with plaited red and black hair, carrying her live Dragon. Houston verified that people left Earth to form this pre-industrial society and bioengineered dragons to have a telepathic bond for life with their human rider and to have the ability to time travel. Curious, R'ann read in the history books that Springhill, Louisiana, celebrated Mardi Gras and decided to travel back in time to experience this pronominal happening herself. You may know that this subject matter is a fantasy/science fiction idea from the novels written by Anne McCaffrey, an American-Irish Author. This renown The Chronicles of Pern series began in 1993 and continues to captivate readers of all ages.
With a loud fanfare, lovely Queen Artemis XX Christi Robertson, stunningly dressed in a green sequined floor length gown with a complementing green feathered headdress, appeared from the space shuttle as Lady Liberty, The Statue of Liberty! Queen Christi celebrated American patriotism traveling as an "Out of this World" ambassador to the planet Venus, named after the goddess of Love and Beauty Diana/Artemis in Greek Mythology. Her torch was held high as a symbol of enlightenment, as well as, lighting the way to freedom. The Statue of Liberty was a gift from France and the fifty-four (54) million-pound pedestal she rests on was paid for through fundraising efforts led by publisher Joseph Pulitzer. It is the oldest statue in the United States.
Venus is the 2nd Planet from the sun; the hottest and brightest in the Night's Sky; the only planet to spin clockwise; is Earth's sister planet for they are nearly the same size; and is the only planet named after a female.
As the final shuttle landing, King Artemis XX Bret Wingfield exited looking all the part of America's Uncle Sam. He was flamboyantly adored in sparkling red, white and blue, sporting the typical tall hat trimmed in royal blue peacock feathers. As in the recruiting pictures, he had a serious expression on his face when he pointed his finger while saying, "I Want YOU!" This time Uncle Sam was traveling to the Red Planet of Mars maybe to enlist the God of War as an ally to keep the peace and protect the Universe's freedom and liberty. Mars is very cold and is home of the tallest mountain in the solar system, Olympus MONS. Many robots have landed on Mars, however, until now, King Bret alias Uncle Sam, is the first human.
The Captain and all the Royals posed for pictures before leaving the stage. Meanwhile, Emcee Eric Simmons explained that each guest's name was placed in a hopper as they arrived for this Bal as Artemis member Mack Morgan came in holding it. The name that was drawn was to be the Grand Marshal of the Golf Cart Mardi Gras Parade. The honored guest was Co- Captain of Elders, Patsy McGee.
The Captain and the Grand Marshal lead the famous indoor parade and the party goers held up their hands and yelled, "Throw me something, Mister!" just as they do when attending a regular parade.
The attending Ark-La-Tex Mardi Gras Association Krewes were called out to come forward and congratulate Artemis Royals and then the traditional umbrella pumping Second Line Dance began followed by the live music of the Smack Water Band.
This was an unusual, unorthodox and fun way to spend a Sunday afternoon in North Louisiana.