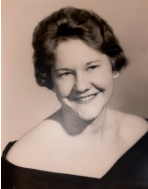 Barbara Ruth Burns Vachula, 82, of Trout was received into Heaven on Saturday, November 13, 2021.
Barbara was born on Wednesday, December 21, 1938 in Merryville, Louisiana to the union of her parents Harry Holman Burns, Sr. and Alice Jewel Ashley Burns. Barbara was a devoted wife, mother and grandmother. She loved working in her yard and flower gardens.
A Memorial Service will be held Saturday, November 20, 2021 at Midway Baptist Church in Jena with Bro. Daniel Breithaupt officiating.
Barbara was preceded in death by her husband, Richard Paul Vachula, her son Michael Paul Vachula, her parents; two brothers; Harry Holman Burns, Jr. and wife Elaine Burns and Reuben Joseph Burns and two sisters, Verna Jewel Ray and husband Olvin Ray and Miriam E. Brister and husband James Brister.
Those left to love and miss her include her daughters, Linda Anne Vachula and Shirley Lynn Cox and husband Micky of Trout; one grandson Justin Michael Cox of Trout; three granddaughters Megan Ne'Cole Cox of Trout, Holley Watson and husband Ed of Doyline, Louisiana and Whitney Whorton; six great grandchildren, Henry Michael Cox and Mar'lea Ruth Brown of Trout, Emma and Maddie Watson of Doyline and Wyatt and Hannah Whorton; one brother Hamilton Wayne Burns and wife Flora of Mena, Arkansas and one sister Mary Alice Strange and husband Kester of DeVille, Louisiana and special family friends Russell Brown, III of Trout, Tristian, Celeste and Adilynn Reeves of Minden, Louisiana and host of nieces and nephews.
The family would like to thank the staff at Autumn Leaves Nursing and Rehab, Winn Medical Center, the Rapides Hematology Oncology Cancer Center and STAT Home Health for taking excellent care they all took of our mother.