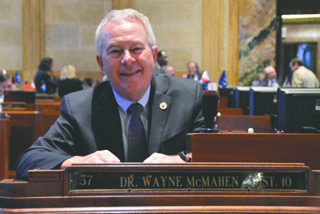 State Representative Dr. Wayne McMahen provided an update on the Louisiana legislative session recently.
According to McMahen, the state is still recovering from the COVID-19 pandemic. There is a need to fill the nursing workforce gap, especially in rural areas where hospitals are struggling to get back on their feet. McMahen is hoping that the state can start working to fill nurse slots in hospitals, rural communities, and regional hospitals.
The legislature is still trying to decide what to do with the surplus federal funds.
"We're still trying to decide on how we're going to be able to utilize the funds we have. We still have federal money from COVID and from hurricane monies that have us looking at somewhere around a $1.5 to $1.7 billion surplus this year," said McMahen.
House Bill 1, which is proposing not to go over the spending cap, has been passed by the House, but there is still some uncertainty as to how the funds will be utilized. If a significant amount of debt can be paid down with the surplus funds over the next two years, the state could free up money to support teachers and increase their pay raises. The Senate is still looking at the possibility of going over the spending cap, but the leadership on both sides needs to come together and agree on the best course of action. To go above the spending cap, both the House and the Senate must have a two-thirds vote.
Carbon capture is another issue that is being considered in the state. Speaker Schexnayder has presented House Bill 571 concerning carbon capture, which is a huge opportunity for the state to employ people, have resources come in, and create jobs moving forward. However, there is still some uncertainty about how landowners will react to the proposed legislation.
"The concern is that people who have oil royalties might have oil under that plume. I think that that carbon dioxide storage plume would be 5000 to 8000 feet below the ground. And still there might be oil reserves underneath that. There's a way that they can drill through that plume and go down and extract the oil. I think it's a process that's going to cost more to do, so landowners are concerned about what's going to happen with their land," said McMahen.
House Bill 103, introduced by Representative Muscarello from Hammond, has been passed; it adds financial literacy as a required course for high school students. This bill is a step in the right direction as it teaches high school students how to conduct family business, balance a checkbook, invest, and other things that were not taught in school in a defined method in years past.
Chad Brown's bill, which provides for electronic signing for judges, has been reported favorably and is on its way through the system.
Senator Gary Carter has established the state minimum wage to $10 an hour in 2024 with this bill, and it increases to $14 an hour in 2028. The bill has come out of the senate committee this week and will be on the Senate floor this coming week. It was a close vote, but there is still work to be done on it.
Representative Mike Huval, who chairs the Insurance Committee, presented House Bill 601. The bill pertains to providing a process by which policyholders can move their claim forward by fulfilling clearly outlined obligations in the claim process. The insurance committees are working hard to find better opportunities for Louisiana to have more opportunities for different insurance companies and also to expedite the process and recover what's owed to you.
In conclusion, the legislative session in Louisiana is still ongoing, and there are many bills on the table. Further updates will appear in future Minden Press-Herald articles.