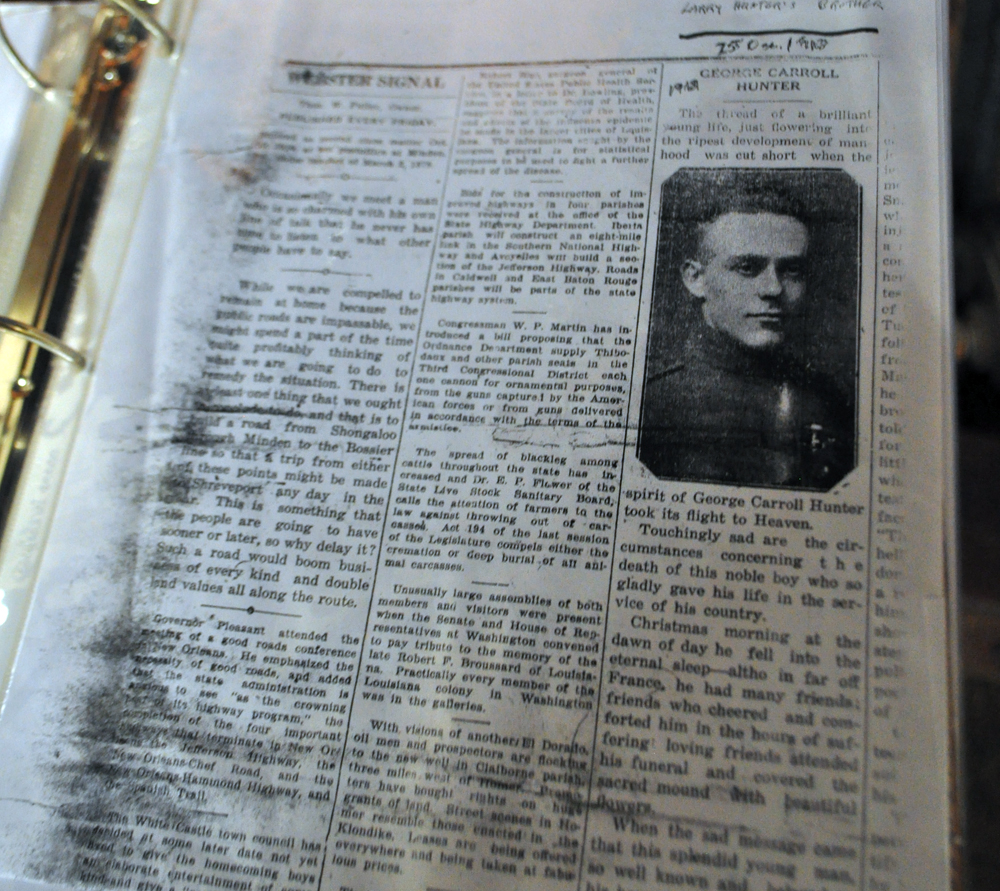 It is a book of the fallen – but not forgotten.
At the Bayou Dorcheat Historical Museum is a book in memory of the men who sacrificed it all in combat. With the newest additions of Sgt. Canvas, the K-9 Marine lovingly laid to rest in July 2015 to Sgt. Josh Madden who lost his life in combat in 2006 in Kirkuk to U.S. Army Specialist Josh Tomlinson killed in Afghanistan.
The book honors those all the way back to World War I, including George C. Hunter, the brother of Larry Hunter of Minden.
Private George Carroll Hunter, according to the Webster Signal, lost his life on Christmas Day in France during World War I.
"Touchingly sad are the circumstances concerning the death of this noble boy who so gladly gave his life in the service of his country," the Signal reports. "Christmas morning at the dawn of day, he fell into the eternal sleep – altho [sic] in far off France, he had many friends; friends who cheered and comforted him in the hours of suffering, loving friends attended his funeral and covered the sacred mound with beautiful flowers.
"When the sad message came that this splendid young man, so well known and beloved in his hometown," the Signal continues, "had made the supreme sacrifice; a thrill of sorrow was felt throughout the town."
Just days after his death, he was appointed as a field clerk. George Hunter gained many friends in France.
"So strong was his personality that his friends in France seem to have loved him as one of their own and ministered to his comfort throughout his brief illness," the Signal reports.
George Hunter was buried Dec. 27, 1918 with military honors at the American Cemetery overlooking Paris. His remains were later returned to Minden where he was buried at the Minden Cemetery with military honors by the American Legion.
It was reported Hunter died from pneumonia in an American hospital in France.
Before his death, he was working at a supply base in Coubert, France. He enlisted in the U.S. Army in 1917, where he was a member of the 87th Division. Before his enlistment, he worked at the Homer Bottling Works in Homer.
The book also honors those who lost their lives in Vietnam, such as U.S. Air Force Col. Marvin Nelson Lindsey, of Springhill. He died in 1965 during a crash. His body was never recovered.
Ron Bartlett, Lindsey's crew chief in Japan, says Lindsey was well thought of by his fellow airmen.
"I had the honor, and believe me, the pleasure of being Marvin's crew chief from 1955-1957 in the 336th FBS, later to become the 4th FBS stationed at Misawa AFB, Misawa, Japan," he said. "He was well thought of by everyone that knew him regardless of their rank. I feel so fortunate to have known Marvin Lindsey and the rest of the men in the squadron. I will always remember him."
Elena Marrero, a friend of Lindsey's, says in the Book of the Fallen, that her mother came home from work one day with bracelets, each one bearing the name of a missing hero.
"Hers was Marvin Nelson Lindsey's," she said. "She wore it with the hope of one day upon his return to send it to him. Years passed. She still had the bracelet tucked away safely in her drawer where I found it after she passed away in March of 1988. She never did get to return the bracelet and never did know what happened to him. I'd like to know that wherever my mom is, somehow she'd have met Marvin and told him of 'his' bracelet. May they rest in peace."
There are so many more stories of those from Webster Parish who lost their lives in times of combat. Some,
such as Hunter and Lindsey, have their full histories, while others are names in the book to be remembered.
The book is located at the museum as part of the military display honoring those from WWI to Iraq and Afghanistan.