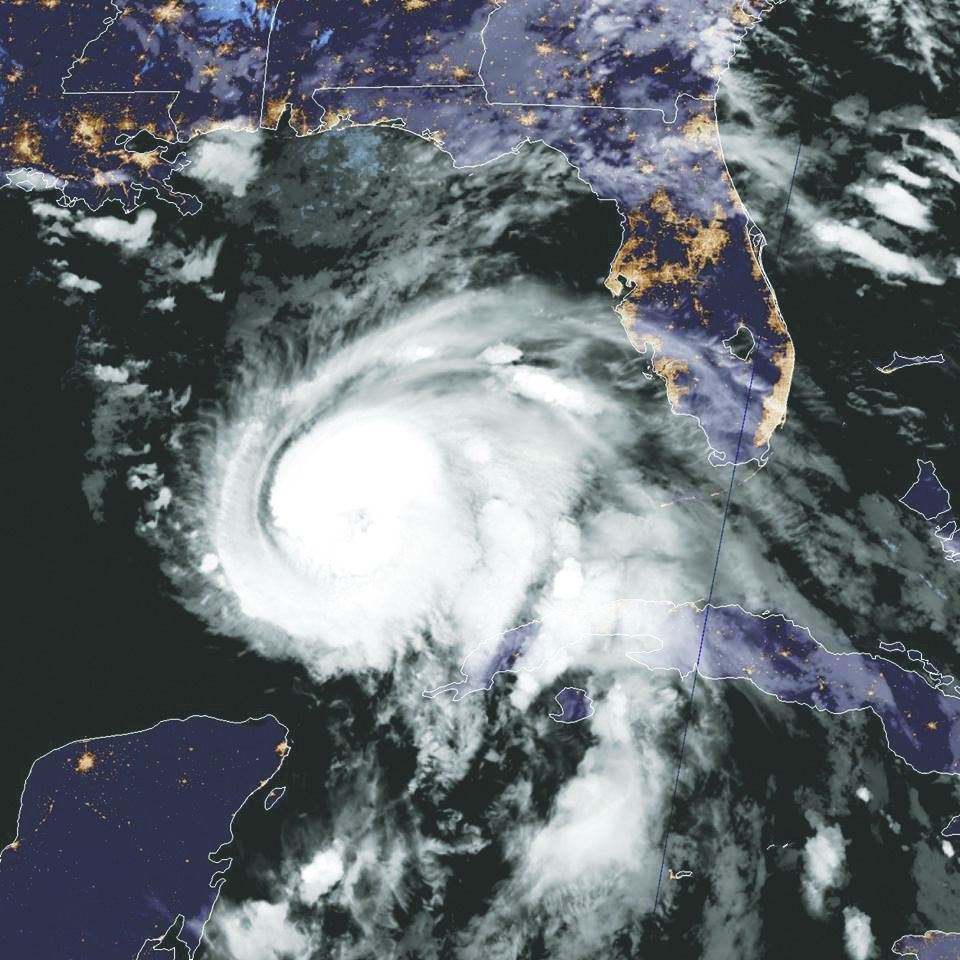 Hurricane Michael gains strength, takes aim at Florida panhandle
MIAMI (AP) — Hurricane Michael swiftly intensified into a Category 2 over warm Gulf of Mexico waters Tuesday amid fears it would strike Florida on Wednesday as a major hurricane. Mandatory evacuations were issued as beach dwellers rushed to board up homes just ahead of what could be a devastating hit.
A hurricane hunter plane that bounced into the swirling eye off the western tip of Cuba found wind speeds rising. By 8 a.m. Tuesday, top winds had reached 100 mph (155 kph), and it was forecast to strengthen more, with winds topping 111 mph (179 kph), capable of causing devastating damage.
Gov. Rick Scott warned people across northwest Florida at a news conference Tuesday morning that the "monstrous hurricane" was just hours away, bringing deadly risks from high winds, storm surge and heavy rains.
His opponent in Florida's Senate race, Sen. Bill Nelson, said a "wall of water" could cause major destruction along the Panhandle. "Don't think that you can ride this out if you're in a low-lying area," Nelson said on CNN.
Mandatory evacuation orders went into effect Tuesday morning for some 120,000 people in Panama City Beach and across other low-lying parts of the coast as Hurricane Michael approaches.
Parts of Florida's marshy, lightly populated Big Bend area could see up to 12 feet (3.7 meters) of storm surge, while Michael also could dump up to a foot (30 centimeters) of rain over some Panhandle communities as it moves inland, forecasters said.
"People need to start leaving now," Sheriff Tommy Ford told an emergency meeting Monday night. He said people will "not be dragged out of their homes," but anyone who stays behind will be on their own once the storm hits.
Forecasters warned that Michael could ultimately dump a foot (30 centimeters) of rain in western Cuba, triggering flash floods and mudslides in mountain areas.
Disaster agencies in El Salvador, Honduras and Nicaragua reported 13 deaths as roofs collapsed and residents were carried away by swollen rivers. Six people died in Honduras, four in Nicaragua and three in El Salvador. Authorities were also searching for a boy swept away by a river in Guatemala. Most of the rain was blamed on a low-pressure system off the Pacific coast, but Hurricane Michael in the Caribbean could have also contributed.
Scott declared a state of emergency for 35 Florida counties, from the Panhandle to Tampa Bay, activated hundreds of Florida National Guard members and waived tolls to encourage evacuations.
He also warned caregivers at north Florida hospitals and nursing homes to do all possible to assure the safety of the elderly and infirm. Following Hurricane Irma last year, 14 people died when a South Florida nursing home lost power and air conditioning.
"If you're responsible for a patient, you're responsible for the patient. Take care of them," he said.
Escambia County Sheriff David Morgan bluntly advised residents choosing to ride it out that first-responders won't be able to reach them while Michael smashes into the coast.
"If you decide to stay in your home and a tree falls on your house or the storm surge catches you and you're now calling for help, there's no one that can respond to help you," Morgan said at a news conference.
In the small Panhandle city of Apalachicola, Mayor Van Johnson Sr. said the 2,300 residents were frantically preparing for what could be a strike unlike any seen there in decades. Many filled sandbags and boarded up homes and lined up to buy gas and groceries before leaving town.
"We're looking at a significant storm with significant impact, possibly greater than I've seen in my 59 years of life," Johnson said of his city on the shore of Apalachicola Bay, which where about 90 percent of Florida's oysters are harvested.
There will be no shelters open in Wakulla County, the sheriff's office warned on Facebook, because they are rated safe only for hurricanes with top sustained winds below 111 mph (178 kph). With Michael's winds projected to be even stronger, residents were urged to evacuate inland.
"This storm has the potential to be a historic storm, please take heed," the sheriff's office said in the post.
Neighbors in Alabama — the entire state is under an emergency declaration — also were bracing. Alabama Gov. Kay Ivey said she fears widespread power outages and other problems would follow. Forecasters also warned spinoff tornadoes would also be a threat.
With the storm next entering the eastern part of the Gulf of Mexico, which has warm water and favorable atmospheric conditions, "there is a real possibility that Michael will strengthen to a major hurricane before landfall," Robbie Berg, a hurricane specialist at the Miami-based storm forecasting hub, wrote in an advisory.
A large mound of sand in Tallahassee was whittled down to a small pile within hours Monday as residents filled sandbags against potential flooding.
Tallahassee Mayor Andrew Gillum, Florida's Democratic nominee for governor, filled sandbags with residents and urged residents of the state capital city to finish up emergency preparations quickly. Local authorities fear power outages and major tree damage from Michael.
"Today it is about life and safety," Gillum said. "There's nothing between us and this storm but warm water' and I think that's what terrifies us about the potential impacts."
___
Fineout reported from Tallahassee, Florida.