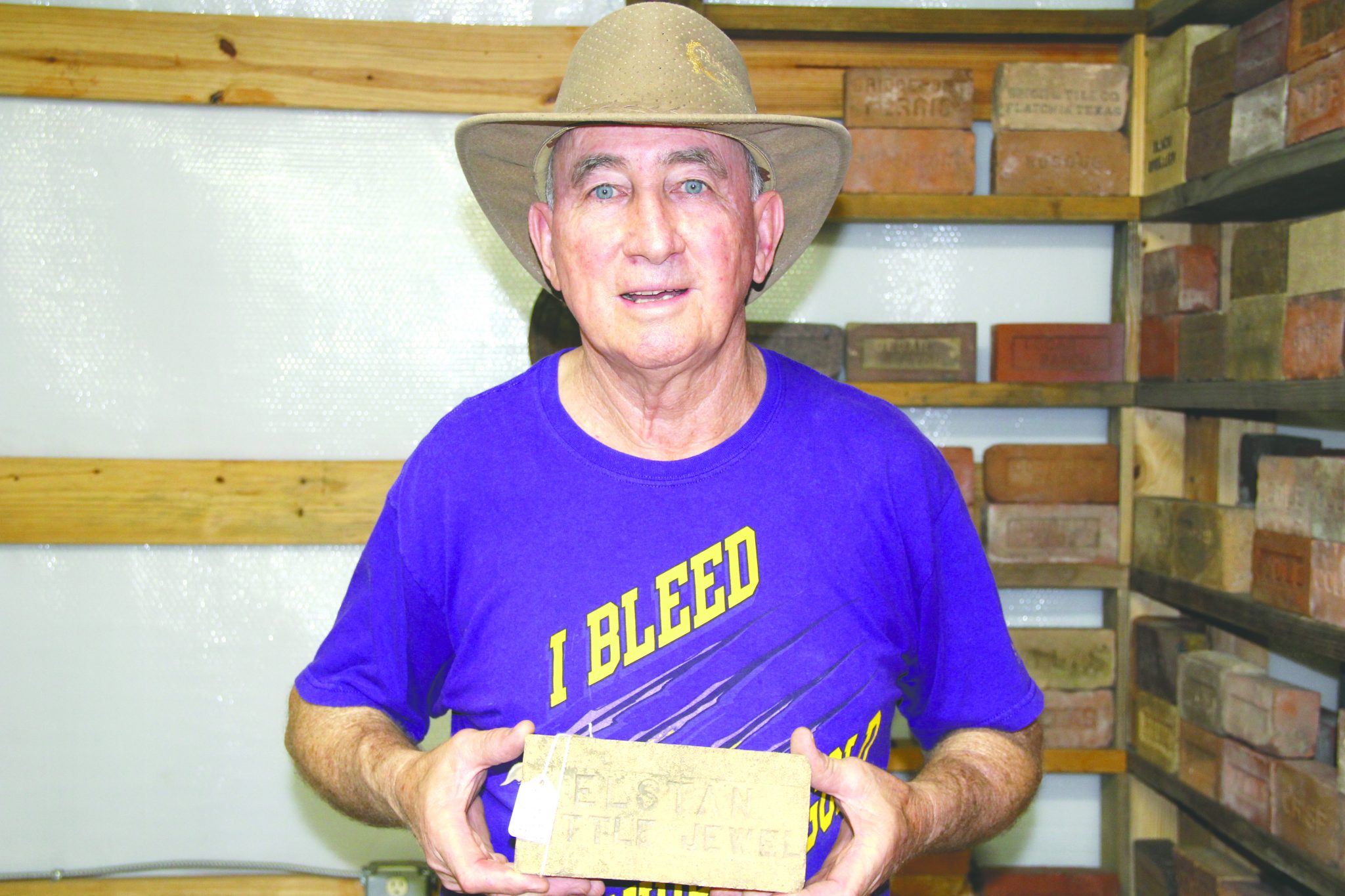 Dan Strange: From bricklayer to brick collector
Dan Strange lives with his wife Susan and dog Sissy in a large, secluded home in north Minden, complete with a pond, a guest house, and a treehouse in progress. He maintains his property, mows his church's grass, and helps Susan supervise the medical plan for the local housing authority.
Also, Dan Strange owns over 2,500 uniquely branded bricks.
A former bricklayer, Strange is one of the four Louisiana members of the International Brick Collectors Association. After previously collecting things like baseball caps and matchboxes, his attention turned to bricks after a chance encounter in 1987.
"We were on a mission trip in Dewey, Oklahoma," Strange said. "We were putting the floor down in this little Indian mission church. On Wednesday afternoon, we took off and went to Caney, Kansas, to a little row of antique shops.
There was this guy that had all these bricks. He was too tight to sell any of 'em. The next day he pulled up at this church we were working on, and he gave me seven of those really nice Kansas bricks. And that really got me started."
Strange and other members of the IBCA travel across the country and even overseas to discover and trade bricks with historic value.
The bricks in his collection, each bearing its own different "branded" design, currently reside on shelves in a building erected just for them near the guesthouse. The shelves are marked by the state (or foreign country) from which they originate.
When giving visitors the tour, Strange excitedly tells story after story, moving from one brick's origin to the next. It can be very hard to tell with the older bricks, but Strange said the older items in his collection could be from the late 1800's.
The collection includes colored, flowery bricks from Mexico, the Texas Lone Star, a rare find from Breaux Bridge, and a Native American design the German Nazis later repurposed to create the swastika.
"I found a firebrick from St. Louis in a ditch here in Minden," Strange said. "I think that was a brand new design for me. A new find is exciting to me. I don't drink, don't chase women, and Susan won't let me have a Harley, so this is what keeps me going."
Aside from finding bricks in ditches, Strange is sometimes given bricks directly from the makers, and sometimes he buys them at auction. However, the most bricks change hands during an IBCA "brick swap."
The club, which currently boasts more than 400 active members, meets three times a year for brick swaps, where members trade rare and interesting bricks. Strange hosted his own brick swap in Minden in 2015. In the brick swap culture, it is customary to place one's foot on a brick to claim it until trading starts.
"There's a rush of discovering something I know not many others have and sharing it with them," Strange said. "Seeing how many people are standing around my truck at the swaps and seeing how fast my bricks go."
Strange, 68, laid bricks even after attaining a graduate degree, until he was injured in a car accident in 1974. His father also laid bricks, and Strange said that legacy and experience makes each brick he finds all the more meaningful.
"Being a bricklayer, I know the labor involved in making these bricks," he said. [Collecting bricks] just reminds what they did to make them, plan it out, and lay them. The history is just remarkable. There were 159 brick making companies north of New York City on the Hudson River. Can you imagine how many bricks it took to build that city? They still had a hard time keeping up."
Since moving to Minden in 2007, Strange said his bricklayer's eye has come to appreciate the local architecture.
"It's just the history and the labor involved in this," he said. "Look at the top of some of these buildings in Minden. I was never a good bricklayer. I could make a living, but I was never great. The artwork in doing some of this stuff is amazing."
As Strange appreciates the city, Minden may soon have the chance to appreciate his collection. Webster Parish Tourism is working to include Strange's house as a stop on tours as part of "Destination Webster."
"If anybody wants to come out, they're more than welcome," he said. "We're trying to make this nice enough for people to come out, to make it something kids can enjoy with things like the treehouse. We like to entertain. If ever some school wanted to bring kids out and let me show them all this stuff, we'd love to do it."
At the end of the day, when all the swapping and sorting is done, Strange's favorite bricks are ones like the Elstan Little Jewel, ones that few others, if anyone, have found.
"It's like in sales: the chase is unbelievable," he said. "Finding that new brick, making that sale – the rush is unbelievable."