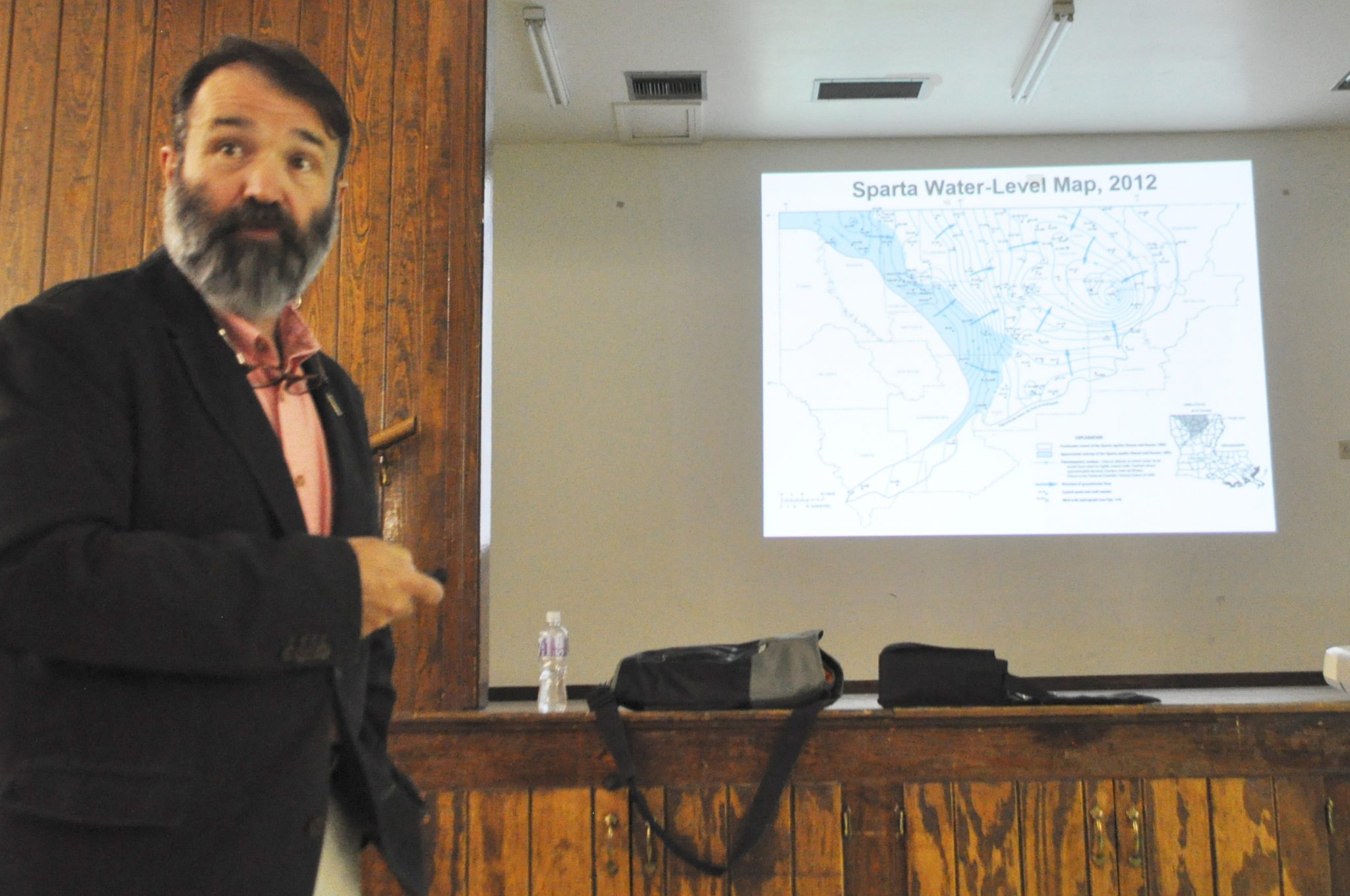 Several community leaders from around the parish attended a meeting to discuss an idea to help not only save the Sparta Aquifer but to help retain water for Webster Parish.
Sparta Foundation Executive Director Rick Buckner suggested one way for this to happen is to construct two lakes, one off Highway 164 near Sibley and one off Bayou Dorcheat. The purpose of the meeting, he said, is to offer the idea so community leaders could begin the discussion.
"My first concern has to do with the Sparta, because we are pulling so much water out of the Sparta," he said. "In Webster Parish, it's great, but for the rest of us it's not so great. Different areas, West Monroe, El Dorado, Arkansas, and a few others, they're doing things to reduce the amount of water that's pulled out of the Sparta. But they need help with that."
The idea is to create a lake that is connected to Lake Bistineau with a levy and a dam, which would return the bar pits to its more natural state, he said. The second lake would be up Dorcheat. The idea there is to dredge an area to make Dorcheat deeper and wider to hold more water.
Ben McGee, with the U.S. Geological Service, talked to community leaders about how much water goes through Lake Bistineau and Bayou Dorcheat every day. He explained the water that comes through Dorcheat is spread out even though most of it stays in the bayou.
"If it goes just a little ways to the west, it goes to a different aquifer," Buckner said. "What I want to do is contain it for Webster Parish. It's containing the water so that we don't lose it."
There are several water systems along the lakes' proposed locations that would benefit, he said. It would allow them to use surface water to compliment or offset the amount of groundwater they use, and it could decrease their dependence on groundwater.
McGee said Webster Parish is home to three different aquifers: the Corrizo-Wilcox, the Upland Terrace and the Sparta Aquifers. Webster is the recharge area for the Sparta. The problem for decades, he said, is that more water was coming out of the Sparta than it could replenish. In 2013, due to conservation and education efforts, McGee said it's about break even.
"For the first time, we're not using more water than we're taking in," he said. "Conservation and education is the biggest reason. A culture of conservation is happening now."
Another factor is water-dependent industries have shut down.
McGee also discussed surface water and the flow rate for Bistineau and Dorcheat. He said the median flow into Dorcheat is about 725 million gallons per day. The lowest recorded flow rate is 133 million gallons per day.
At Lake Bistineau, 39 billion gallons flow through per day at spillway crest, he said. On average, Bistineau is replacing water about every 54 days.
He set to rest some concerns, mainly if the use of surface water would deplete the lake.
"One one-hundredth of a foot is about 10 million gallons on the top of Bistineau," he said. "As a worst-case scenario, there's always water leaving Dorcheat. That's a hundredth of a foot every day, and over 100 days, that's a foot. And you have water seeping into the ground. Water levels are going down, and if you have zero discharge coming from Dorcheat feeding Bistineau, you're not resupplying at that point."
But that isn't the norm, he said, adding that pulling 10 million gallons per day from surface water is not a good idea if not under average conditions.
The use of surface water, either to help water systems or for commercial use, would not hurt Webster Parish, because it of its position as the recharge area. Water is more readily available in the recharge area than for neighboring parishes such as Claiborne, Lincoln or Bienville.