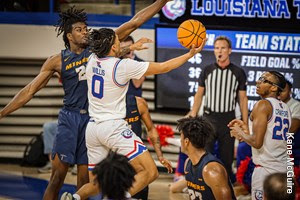 Louisiana Tech Athletic Communications
RUSTON — Louisiana Tech picked up its 10th win of the season on Saturday afternoon, getting one last defensive stop in the closing seconds to pull out a 60-58 victory over UTEP inside the Thomas Assembly Center on Karl Malone Court.
LA Tech (10-6, 3-2 C-USA) had the lead for almost 35 minutes, but was never able to stretch it out. On three different occasions, the Bulldogs made it a 10-point advantage with the last time coming at 51-41 with 8:20 remaining.
Their previous 10-point edge, 37-27 at halftime, quickly dwindled in the early parts of the second stanza. It was a stretch that saw UTEP (8-7, 1-3 C-USA) go on a 9-0 run as the 'Dogs missed their first five shot attempts and committed four turnovers.
The Miners ultimately tied things up at 40-40 after a made layup by Ze'rik Onyema. However, the home team found some offensive magic in Isaiah Crawford who made seven points during LA Tech's 11-1 run to push the lead back out to double-digits.
UTEP chipped away again though, cutting the deficit down to one on three occasions in the final minutes. The first time getting to within one point, Keaston Willis lost his defender and drained a three-pointer from the wing (the only one of the second half for LA Tech) to make it a 57-53 score.
Those three points were matched by three made free throws from the Miners to make it a one-point game again. The two squads then traded layups, Quandre Bullockscoring for the Bulldogs and Calvin Solomon scoring for the Miners.
Being forced the foul with eight seconds left, Terran Williams stepped to the free throw line missing the first, but making the second to take it to a 60-58 lead. UTEP went for the win as Tae Hardy took a contested three-point shot that was off the mark.
Four Bulldogs reached double-digit points, led by Cobe Williams who had a game-high 17 points. Bullocks 12 points tied his career high while Keaston Willis and Dravon Mangum each netted 10.
It was a tale of two halves offensively for both teams as each shot over 50 percent in the first half, but less than 40 percent in the second half.
Three Miners finished in double figures with Shamar Givance leading the way with 11.
QUOTABLES
Head coach Talvin Hester
"We got out-toughed when we went to UTEP. I thought we did a really good job of being touch and physical today. Our defensive plan was good enough. Offensively, we were good in the first half. I thought the ball stopped moving in the second half, we stopped sharing the basketball. That is a well-coached team we played."
"We have been in this situation quite a bit [with these close games]. We have done a lot of film more and have needed to be better in late-game situations. We had to be better down the stretch. Our looked at our guys in the eyes with eight seconds left and I said, 'No lazy basketball right now. You have give all you got for eight seconds.' That is what we did."
"Quandre Bullock played an unbelievable first half and was an important part off the bench for us. He is getting better every day. He is a player that has only played one year of college basketball. He is growing and I think the best is yet to come for him."
Cobe Williams
"It means a lot [getting 1,000 career points]. It is really special. A lot of players do not reach this. It is a blessing for me to be able to do it."
"We wanted to keep going inside. UTEP was fouling quite a bit so we made the adjustment to try to attack them inside, attack the rim. We went to El Paso and they got the better of us. We wanted to get it back."