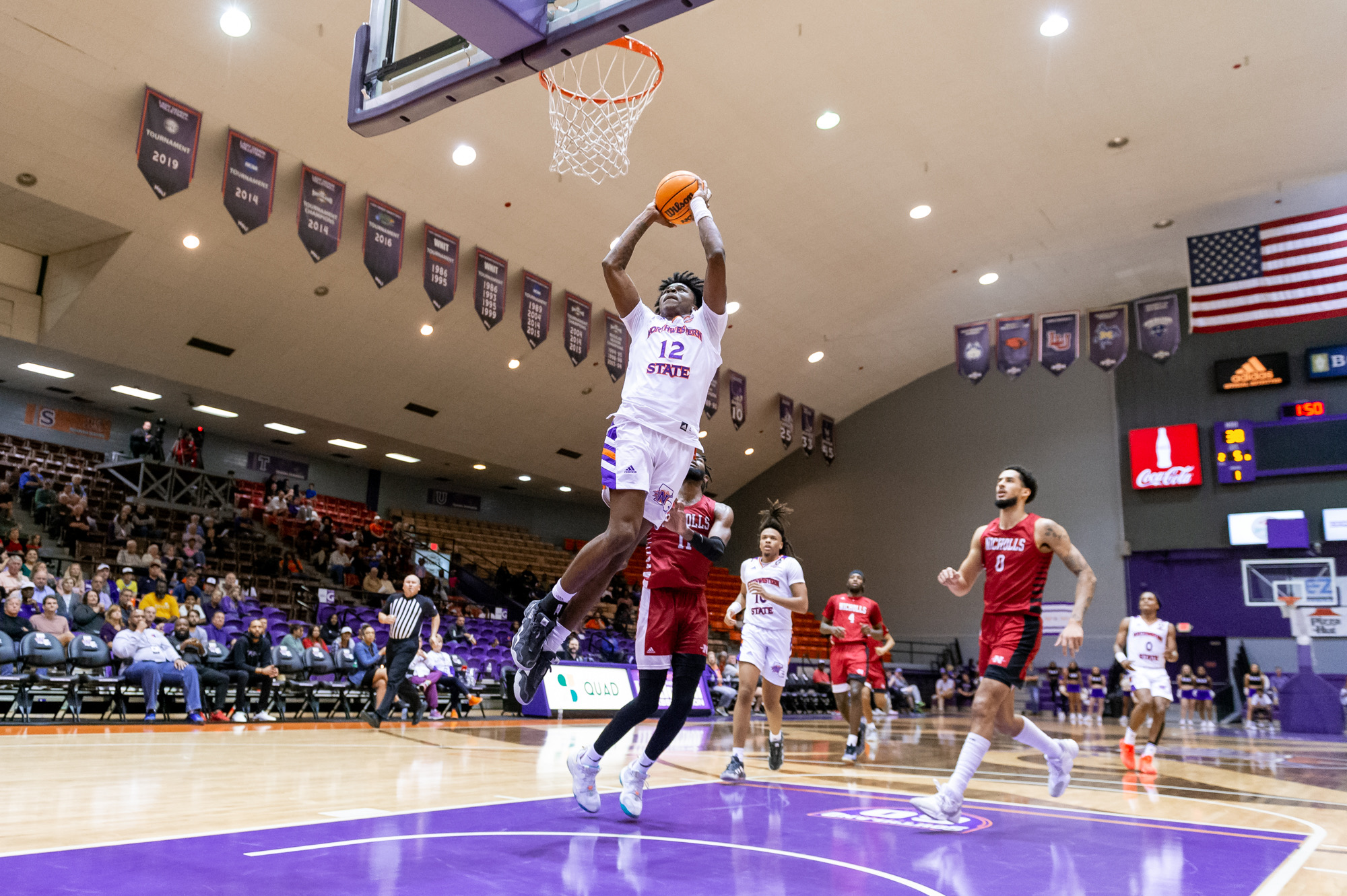 By Jason Pugh, Northwestern State Assistant Athletic Director for Media Relations
NATCHITOCHES – For the second game of the first full weekend of Southland Conference play, the Northwestern State men's basketball team made a few tweaks.
And did those tweaks ever pay dividends.
The Demons shook off consecutive losses to start conference play with an emphatic 68-48 win against Nicholls inside Prather Coliseum on Saturday.
"We had a style of offense in and a style of defense in that we just hadn't brought to the light," said first-year head coach Corey Gipson, who notched his first Southland Conference win. "We were holding that for this particular stage of the season. We're thankful our guys put in time in the film sessions, came in behind closed doors and executed the game plan down to a T."
From the opening possession that ended with a corner 3-pointer from Emareyon McDonald, who made his first start of the season, the Demons (9-7, 1-2) executed at a high level.
Northwestern State shot 56.7 percent from the field in the first half and carved up the Nicholls defense with a series of cuts and well-timed passes.
Few made more of their cuts and opportunities than freshman Jalen Hampton, who hit all eight of his field goal attempts en route to a career-high 18 points. Three of those field goals were two-handed dunks, including two on consecutive possessions that gave the Demons a 19-8 lead a little more than 10 minutes into the game.
Both of those dunks came off assists from Isaac Haney, who established a career high in that category for the second straight game by giving out seven helpers.
"The difference was we put something new in and we executed it to a T," said Hampton, who had the Demons' first perfect shooting game from the field (minimum seven attempts) since Jamaure Gregg sank seven shots against ULM on Nov. 26, 2019.
"Haney, in practice, he hits me with those passes all the time. The chemistry is getting tighter."
The Demons' offensive chemistry and efficiency was prevalent throughout.
For the second straight game, NSU either tied or established a season high in assists, doling out 19 on its 26 made field goals. In addition to Haney, Dayne Prim set a career high with three assists and Ja'Monta Black equaled his career high with three.
"To be quite honest, my mind-set in games has shifted to being more physical," said Haney, who finished with 12 points as one of four Demons in double figures. "The only thing I've been worried about has been my defensive assignments and making sure I've been assignment correct on defending and rebounding.
"The offensive side of the ball just kind of flowed, and the change in mind-set has allowed me to play the right way."
While Northwestern State hit at least 50 percent of its shots for the second straight game, the Demon defense flummoxed the Colonels (7-8, 2-1).
Nicholls entered Saturday's game as the second-best shooting team in the Southland, hitting 45.6 percent of its shots. NSU limited the Colonels to 35.2 percent shooting (19-for-54) overall and held the Colonels to a 4-for-21 performance from behind the 3-point line.
The 48 points for Nicholls was a season-low against the Demons, who had not allowed 50 points or fewer against a Southland team since falling 49-42 to the 2005 Southland Conference Tournament championship game.
The Demons were able to convert their defense into offense, forcing 20 Colonel turnovers and turning them into 18 points.
"Our guys, we had a very similar defensive game plan (as Thursday)," Gipson said. "Obviously, we made some adjustments. It wasn't the same defense we played against McNeese, but I'll tell you, Nicholls is better than how they played today. They are a very good ball club. They'll vie for the conference championship.
"We can't get fat and happy just because we got the outcome we want. In regards to that, we saw how the game plan, the defensive structure and scheme gave us the outcome we wanted. You have to understand each and every game is different. We have to revamp what we're doing – make some small, critical adjustments to make sure we're prepared for our next opponent."
In addition to Hampton and Haney, DeMarcus Sharp (13 points, four steals) and Black (12) reached double figures in scoring. Latrell Jones paced Nicholls with 12 points.
The Demons wrap up their two-game homestand Thursday, hosting McNeese in a rematch of this past Thursday's game. Tip-off is set for 8 p.m. in Prather Coliseum.
— Featured photo by Chris Reich, NSU Photographic Services