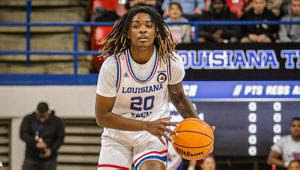 Louisiana Tech Athletic Communications
RUSTON — Louisiana Tech overcame a 12-point deficit in the second half and then outscored WKU, 11-0, in overtime to take an 85-74 victory on Thursday night inside the Thomas Assembly on Karl Malone Court.
It was a near flawless five minutes of extra time for LA Tech (11-8, 4-4 C-USA). The Bulldogs made five of their seven shot attempts, getting scoring from four different players.
Breaking the 74-74 tie was Jordan Crawford who got the rebound on his own miss only to make a tough layup in traffic while drawing the foul. It was one of several great plays by the freshman, who ignited for 11 points and six assists off the bench.
Next was Isaiah Crawford who drained back-to-back contested jumpers, one from beyond the arc and the other just inside it, to go up 81-74 and force a timeout by the Hilltoppers. 


Then came Darvon Mangum with the hustle play, getting the offensive board and the easy putback. And finally, Cobe Williams, who finished with a game-high 20 points, put the finishing touches on OT with a deep two for the bucket.
And on the defensive end, they held WKU (11-8, 3-5 C-USA) to zero points on seven field goal attempts.
The Hilltoppers started off cold as well, making just three of their first 12 field goals as the Bulldogs built an early 18-11 lead. But the visiting got warmer and warmer, eventually taking a 49-37 advantage after erupting for a 12-0 run early in the second half.
LA Tech needed to cool them off again, and it finally came with 13:15 remaining in the game. The 'Dogs went on an 18-2 run over a five-minute stretch, getting 14 of those points from Cobe Williams and Isaiah Crawford.
The home team found themselves in a similar situation as last Saturday, up 72-65 with 3:34 to play. The Hilltoppers fired off a 7-0 run to tie it. LA Tech got the go-ahead bucket from a putback by Kenny Hunter with 14 seconds to go, but WKU's Dayvion McKnight ultimately send it to overtime with two made free throws.
Joining Cobe Williams and Jordan Crawford in double figures were Isaiah Crawford (13), Mangum (10), and Hunter (10). The Bulldogs shot 50.7 percent from the field for the game, sinking 14 three-pointers.
Jamarion Sharp was the lead Hilltopper with 15 points and 11 rebounds. McKnight added 12 as WKU shot 41.3 percent from the field.
QUOTABLES
Head coach Talvin Hester
"So excited that our guys fought. When we got down 12, I told our tell that I was going to just play the five guys that wanted to fight and value the defensive end of the floor. We made a couple of adjustments. I gave Isaiah [Crawford] a chance to get his mojo back. He came up big on offense, and did a good job of containing [Jamarion] Sharp down the stretch."
"Kenny Hunter sprinting down the floor and getting a tip-in was big. It was an extra effort play that put us up. We ended up fouling and they made two to send it to overtime, but those are the kind of plays you need to make to be great. I encouraged the team that we got to play for five more minutes. I did not want that down feeling in the huddle. And we played extremely well in overtime."
"I did to know we held them to zero points in overtime [until after the game]. We do not like losing at home. The whole team gave a great effort. I am proud of the guys."