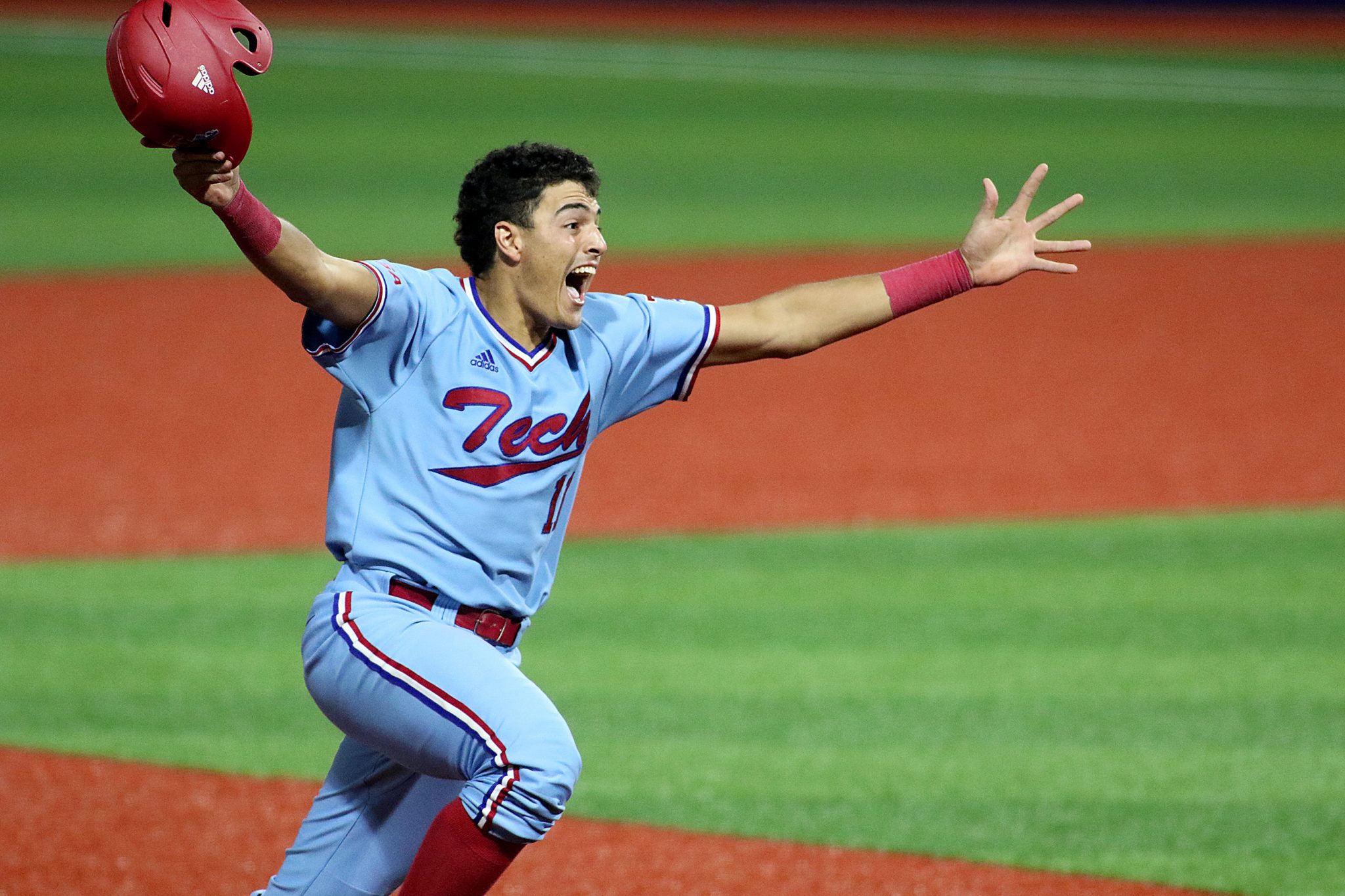 Teddy Allen | Special to the Minden Press-Herald
They came in droves to the 2021 Conference USA Tournament at J.C. Love Field at Pat Patterson Park last weekend, swarmed to the new park like flies to a dinner-on-the-grounds potato salad.

Good for them.

They got their money's-worth—especially Louisiana Tech's homestanding baseball fans. Their tickets proved worth more rides on the rollercoaster than anyone else's.

Besides the experience of a new park and good crowds and sunshine and the sheer unrestrained post-pandemic joy and novelty of being out again, that Golden Ticket got you the chance to cheer for a team that offered tightrope performances daily. String it together with the thin and brittle rope of chance and you get six Tech games, four walk-off wins, two wins in extra innings, and three wins by one run—including two comeback wins over arch-rival Southern Miss Saturday to avoid elimination.

Mercy.

Old Dominion would win it, beating the runner-up Diamond Dogs 7-5 in 10 innings in the staggering Sunday finale. Since coming to town for a couple of scheduled-on-the-fly games to close out the season against the Bulldogs May 20 and 21, the Monarchs have been in town long enough to pay taxes. No. 18-ranked ODU proved to be a scrappy bunch, talented in every way, and left the Love Shack 6-0.

That Tech lost in the championship but was hardly the loser will take some explanation, and explaining is testy to do when the subject is all that happened on the corner of West Alabama and Tech Drive this past weekend.

From Tech's front row seat, the whole shebang was nothing less than a ridiculous, mind-numbing run, both entertaining and ulcer-inducing. So much happened so fast Saturday that moments after the doubleheader was done and Tech had survived the best punches from its rival, an exhausted, sweaty, smiling and somewhat shell-shocked Tech coach Lane Burroughs sat on the couch in his office and said, only halfway joking, "What just happened?!"

Good question. Saturday was like that. Most of the week was like that, a spicy mix of rally trains and colors and cheers and unrehearsed brilliance and brain cramps. A wild jumble of glorious pieces, scattered everywhere.

Forgotten now is that the shenanigans started two hours late on a rain-delayed Wednesday morning, a lazy beginning that proved a smokescreen for what was in store over the next five days when, finally, it ended, Old Dominion the survivor in a game that lived up to the exclamation point this tournament deserved.

But because of how Tech played, who they beat Saturday and how they beat them, even how they lost Sunday's tug-of-war to the Monarchs, it felt for the Bulldogs like, though they'd lost the last battle, they'd still won the war.

Another thing that helped ease any sting came less than two hours after Sunday's tournament ended when—speaking of Golden Tickets—Tech was chosen as one of the 16 NCAA Regional host sites for the 2021 Division I Baseball Championship, a first in program history. Monday the team celebrated on the field and watched the selection show live to find out N.C. State, Alabama, and Rider were coming to town this weekend.

Here we go again.

But first, where do the days just past fit into Tech Athletics history? Can you make a case that it's one of the most significant ever?

Let's agree on the qualifications:

The event has to be for a title or on the way to a title. This weekend had that;

Your arch rival has to figure in, and Saturday was that times two;

The scores have to be tight, so yes to that, and the action compelling, and yes to that, considering some fairly stunning defense and timely homers and hitting, also some errors overcome on the field and on the bases—and some not;

There have been so many memorable moments in Tech's athletic history. Lady Techster Final Fours. The Golden Era of Football, and seven bowl games in a row today. Tons of track and field titles. The Dunkin' Dogs in the Sweet 16.

Lots of baseball titles too but—it's been a while. Which brings us to what sets Saturday and the whole week apart: timing.

No teams before have had to deal with a tornado that took their facilities, and no teams before have "played" through a pandemic. This 2021 baseball team played the end of the 2019 season either on the road or at Ruston High, and thank you Ruston High for that. But when you don't have a locker room and you practice on Field B7 instead of your own, it takes a toll after a few long months.

Then last season was cut short because of decisions surrounding the virus—and still the team stuck around. The seniors didn't leave. And a few days away from the 2021 opener, they even got to practice on their own field again. And Sunday, they got to play for a championship on it, in front of more than 3,000 people.

And that's the thing. This was in Ruston. What happened this weekend was here, in the shadow of Wyly Tower and just a home run and a long fly ball out from where Berry Hinton and the guys won all those Gulf States Conference titles at the old, really old ballpark where the new dorm apartments are being built. This happened in Ruston, with Ruston there to support and see it.

It was a five-star week by any estimation. How administration and staff pulled it off and helped the Diamond Dogs earn the bid for this weekend's Regional is on par with what Tech did on the baseball field. Nothing short of outstanding. Insert a tip-of-the-cap here.

As a matter of review and for the record, briefly, here's just a 'Dog's-eye-view of what we saw since that wet Wednesday when it all started.

GAME 1 — LA Tech 7, UTSA 6: UTSA can hit, and they did. But Tech hit more. Hunter Wells ended it when he knocked a 3-1 fastball out of the park in the 12th inning to end the longest game in C-USA Tournament history at 4 hours and 59 minutes. Not a minute too soon.

GAME 2 — Southern Miss 4, LA Tech 1: Hmmm … Not good. Except … well, just wait.

GAME 3 — LA Tech 14, WKU 4: Thank you, Bulldogs; this was the only game the whole week that didn't require anyone associated with Tech Baseball to take a nerve pill. Steele Netterville had four RBI and Jorge Corona sent the fans home after the eighth with a two-run blast to left center to 10-run rule the Hilltoppers.

GAME 4 — LA Tech 11, Southern Miss 10 in 10 innings: More than 2,200 fans were on hand for one of those "I remember where I was at when" Saturdays. Tech trailed 8-0 before scoring six in the bottom of the fifth, two in the seventh, and two in the eighth. Of course USM tied it at 10-10 with a solo homer in the ninth. But Tech won it in the 10th when Wells walked and Steele Netterville gapped a ball to right center to score Wells, diving home on his belly to beat the throw and set up an elimination game two-and-a-half hours later on Saturday night. The Golden Eagles could not have known when they led by 8 that Tech President Dr. Les Guice, in a subtle move that paid homage to his Morehouse Parish roots, turned his ballcap around. Backward. Presidential Rally Cap. Things were about to change…

GAME 5 — LA Tech 6, Southern Miss 5: Tech took a 2-1 lead into the ninth, gave up 4 runs to trail 5-2, then scored four in the ninth to win it. (I know—insane. Makes no sense.) As if that's not enough flavor for one game, here are a few other things.

There was a bit of a dustup after Tech's win over USM in Saturday's initial elimination game that Tech survived. Not a big one—nobody threw a punch or any of that—but as Tech's team raced to second to mob Netterville for the game-winning RBI, some Golden Eagles took exception. The potentially volatile situation was over in 15 seconds. It should be noted that USM reacted the same way after beating Tech 4-1 two nights before.

There's an explanation for all of that, something sports folk call a "heated rivalry."

Burroughs and USM coach Scott Barry are good friends, having coached together for nine years in Hattiesburg. Tech and USM would end up playing each other 11 times this year, Tech holding a 7-4 advantage. Lots of these guys played against each other in high school or junior college. Anyway, they are teams that know each other is good, and each team is the one team the other loves to hate and loves to beat more than any other team. And USM has set the bar in the conference for a while; until now, they hadn't missed a CUSA title game since 2015.

There's always a team you love to hate, and there's no question this rivalry is the poster child for that.

It's a Tech-USM thing.

Unfortunately, none of that mojo from the comeback win could help Tech in Game 5 because, well, the Bulldogs, coming out of the loser's bracket, had no one left to pitch. Except … wait a second … they did. Greg Martinez. He'd not pitched more than 3.1 innings in a game all year.

Hello, Greg!

On his way to making the all-tournament team, the sophomore righthander pitched 8.1 innings, gave up four runs, three earned. Walked two, struck out nine. He would not get the decision because he gave up a 3-run homer after surrendering a base hit and after an error by shortstop Alex Ray, who had played acrobatic defense but misplayed a slow roller. It should be noted that Martinez hugged his shortstop when he left the mound.

The win would go to Casey Ouellette, who hadn't pitched in a month but came in to get the final two outs, setting the stage for Tech's 4-run ninth that ended with Philip Matulia's two-out, full-count single to right center that scored the tying and winning runs; (of course he'd come back from 0-2 because, well, that's how Saturday went). During the two-and-a-half hours between games, Matulia and a few other teammates had walked up the road in shorts and T-shirts to the Chevron station. Matulia got beef jerkey and a Bang. A Bang? "It's an energy drink," he said a few minutes after his teammates had mobbed him at second base. "I guess it was just enough."

Just enough is always plenty.

GAME 6 — ODU 7, LA Tech 5 in 10 innings: Even the most optimistic Bulldog fan knew it had to stop. This remarkable, even dumbfounding run of comebacks and nail-biters had to end. Logic demanded it. But … then center fielder Parker Bates led off the bottom of the ninth with a home run over the batter's eye to tie the game at 5, setting off human fireworks among the 2,484 fans in the Love Shack as Bates rounded the bases, the index finger of his right arm pointed to a sky the same Columbia blue as his jersey.

"When he hit it, I just started laughing," Burroughs said later. "I thought, 'Well, why not?' I mean, it was that kind of day. I still felt we'd win it when Hunter was at the plate."

Tech's switch-hitting third baseman Wells holds the school record for hits in a season and should this weekend break the record for hits in a career. After ODU had taken a 7-5 lead in the top of the 10th on a mammoth homer by Kyle Battle, the league leader in homers, Wells stood in the box in the bottom of the inning with two outs and a runner on first. A 3-2 ground ball to shortstop Tommy Bell, the Russ Anderson Most Valuable Player of the tournament, ended it when the throw to first beat Wells, who'd won Game 1 with the homer and scored the winning run in Game 4 in the 10th.

The baseball gods giveth, the baseball gods taketh away. But it sure seemed they smiled on both the Monarchs and the Bulldogs this tournament.

ODU, 42-14, earned the league's automatic bid to the NCAA Division I Baseball Championship. Both the Monarchs and Tech, 40-18, will try to get one step closer to Omaha and the College World Series this weekend.

Can it happen for the Bulldogs? In their last three games, they've come back from 8 down to win, they've scored three in the ninth to win, and they've had a home run to tie a game in the ninth. What's not possible?