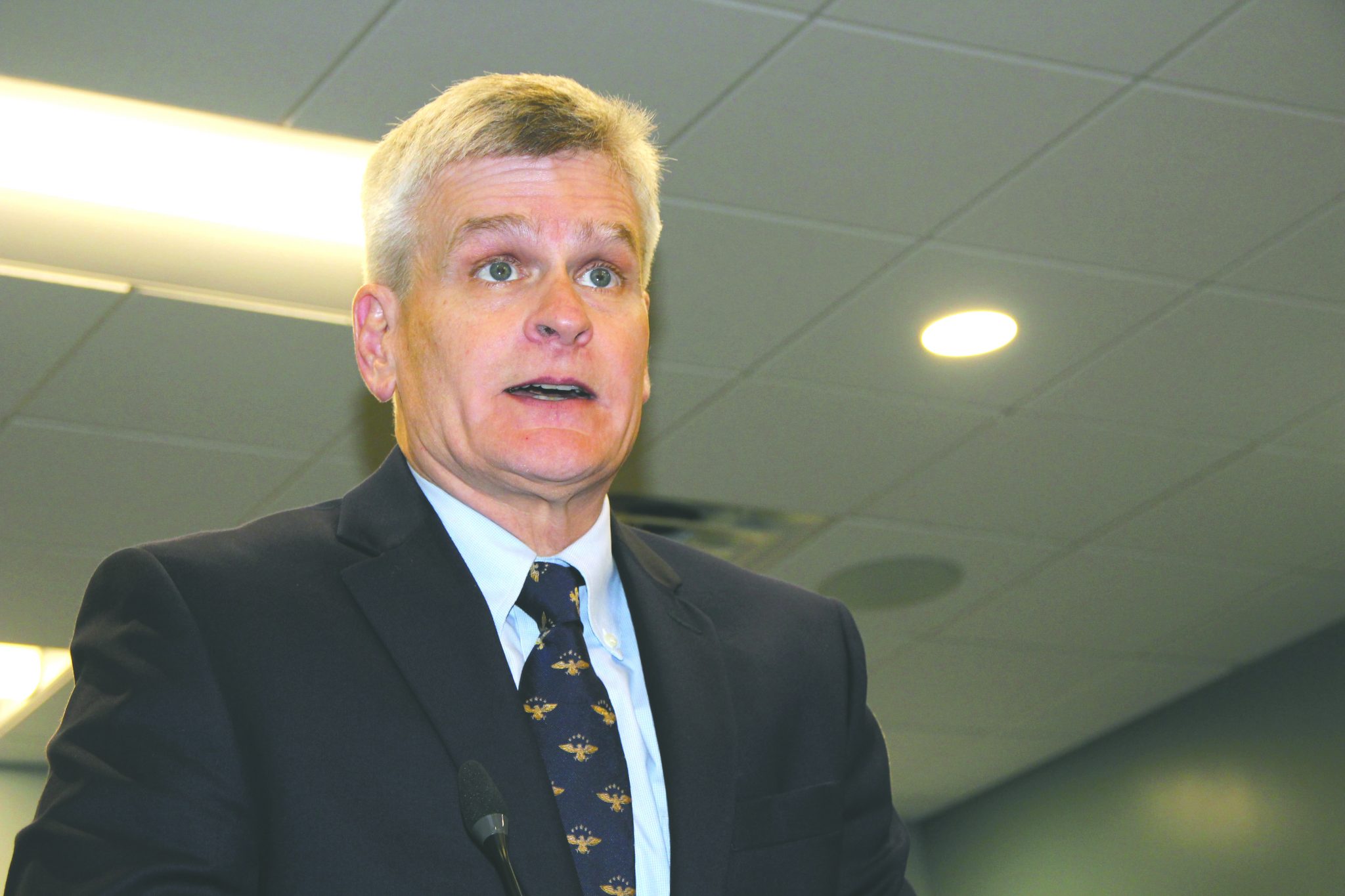 Senator talks broadband, Camp Minden
U.S. Senator Bill Cassidy personally addressed the Webster Parish Police Jury during their monthly public meeting Tuesday morning.
Cassidy, the Republican senior Senator for Louisiana, updated the jury on developments at the federal level and fielded questions from the jurors.
"If there is anything I can do to help you serve our mutual constituents better, I will do that," he said.
Cassidy highlighted several popular topics that the federal government is working to address, including the "opioid crisis," which has been a topic covered briefly in recent police jury meetings this year.
"We're trying to address that in multiple ways," he said. "There are going to be grant opportunities coming down to both local and state governments to put in programs that can help people get off of opioids, and once off, to sustain being off of them. We also have increased federal penalties, so if someone is caught pushing opioids, they would pay a stiffer penalty for doing so."
Cassidy also described "lots of good things happening in Washington." According to him, unemployment among veterans is at an almost record low, while unemployment for African Americans and Hispanic Americans is at its lowest ever.
More than half of Cassidy's time at the meeting was spent answering jurors' questions. The first of these was about the status of federal funding for the Regional Training Institute, which is only one phase into its four-phase construction plan.
"It's going to be a tough lift," Cassidy said. "The Department of Defense is not making that a priority. Originally it was funded by an earmark, but earmarks are no longer allowed. It's possible that the Louisiana National Guard will make it a priority. But on a federal level, they're much more interested in building out Barksdale and Fort Polk than in a smaller, kind of regional facility."
Police Jury President Jim Bonsall spoke to Cassidy about the potential rural internet deal with Claiborne Electric which the Press-Herald covered at length last month.
"They [Claiborne] serve 22,000 people," he said. "According to their survey, 70% of those people need this broadband. Besides that, there are other small municipalities not even on Claiborne now that could get service from this. This is a private deal, something government isn't having to pay for, but it seems like it's hung up."
Cassidy informed the jury that he is in contact with two members of the Louisiana Public Service Commission, the body who will decide if this endeavor can move forward. He assured Bonsall he would speak to the commissioners on the matter.
"I agree with your assessment, not knowing the particulars of the deal or the opposition," he said. "But when you speak to businesses who will not locate some place unless they have broadband – I totally get your perspective. It's a challenge for communities like this to survive when all the impulse is for everybody to move to bigger cities. One way you do it is to have broadband that's just as good as in the city."
Cassidy went on to say reliable broadband coverage would also affect education.
"If a child graduates from Minden High School speaking Arabic, she's going to have a lot of job opportunities in oil, state department, government, you name it," he said. "But there's probably not a good Arabic teacher here. Unless you bring one in through broadband, then all of a sudden she has an Arabic professor. Same for Chinese, other languages.
I'm totally with you, communities need to have it. And I'm supporting legislation for that federally."
In the committee meetings earlier that day, the police jury heard updates on potential FEMA funding for past and future repairs for damages from the 2016 flooding. Look for more specifics on this topic in the Press-Herald this week. When this topic was mentioned to Cassidy, he spoke of legislation that will bring some relief to affected citizens.
"One thing we got in the tax bill – if people were affected by the floods of 2016 in north or south Louisiana, and they had uncompensated loss of over $500, they can re-file their 2016 taxes and get a refund to the amount equivalent to that uncompensated loss," he said. "And if the amount they paid in 2016 is less than that uncompensated loss, that refund can carry into 2017 as well. If everyone in Louisiana who is eligible takes that credit, that's going to be worth $500 million to our state."
Cassidy's stop in Webster Parish was part of a larger itinerary of visits across north Louisiana throughout the day.