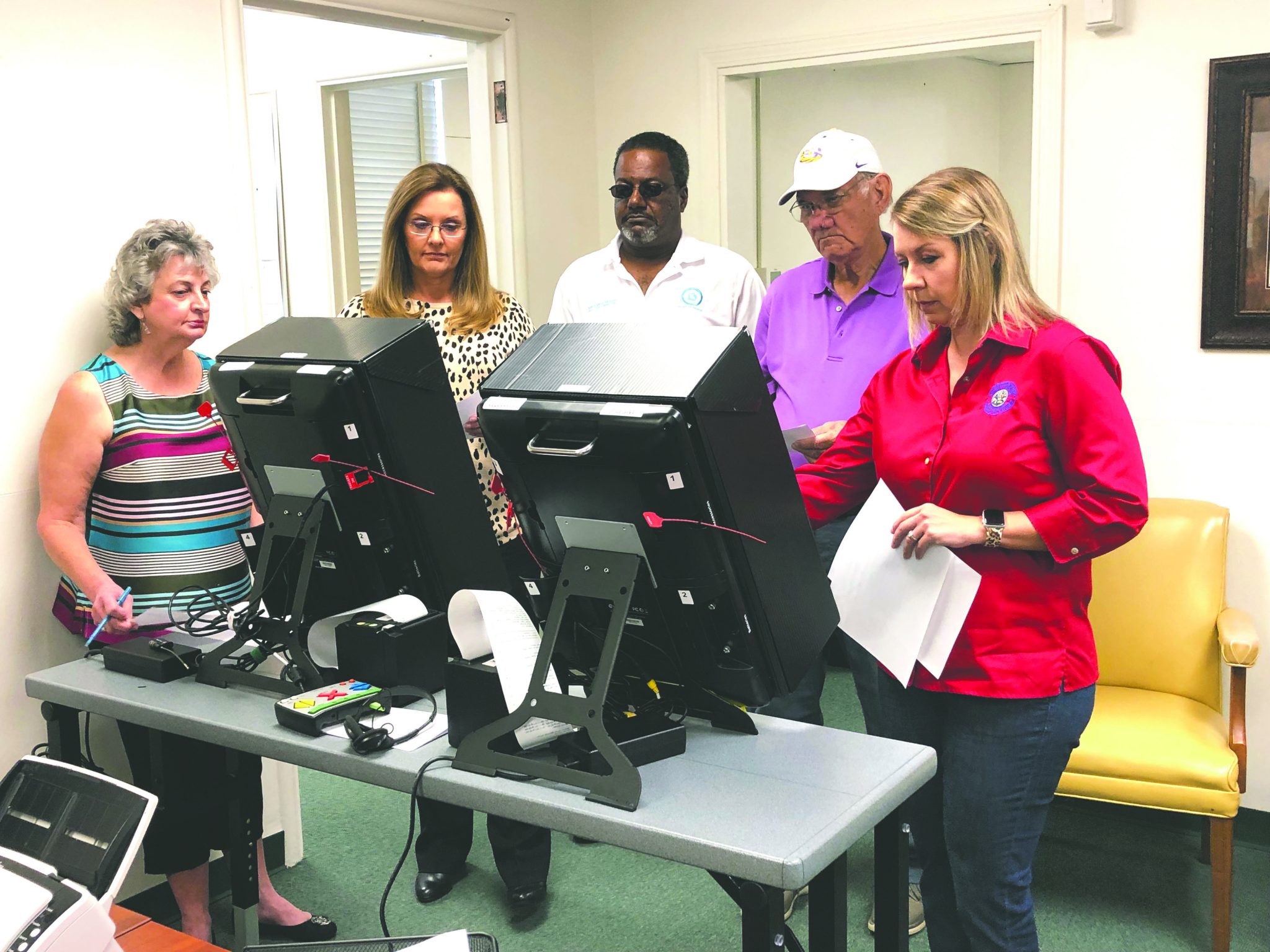 Registrar of Voters Office approves voting machines for following election
Thursday morning was a busy day in the Registrar of Voters office due to the fact that they were tasked with the responsibility of checking the voting machines that will be used for early voting in the fall election season.
The machines are provided by the Secretary of State and they are "currently in the process of contracting the purchase of new early voting machines and election day machines," said Holli Vining, Clerk of Court.
These early voting machines are temporarily leased for the fall election cycle to use in place of the decade-old machines that Minden has been using. "They are very user-friendly and I think the public will like them," said Vining.
Purchase of the new early voting and election day machines should be completed next year, ideally in time for the Presidential election.
It's the duty of the Board of Elections supervisors to seal early voting machines prior to the early voting period. There are representatives from both political parties to ensure that there is no funny-business taking place. Jeffrey Jacob was the representative for the Democratic party and Pam Hillidge was the representative for the Republican party. Also in attendance was Ronnie Broughton, the Governor's Appointee, Hollie vining, Clerk of Court, and Melanie Smith, Registrar of Voters.
These are the people in charge of ensuring that the voting machines are ready for use by the public, and the process for doing so is fairly thorough. This process involves the Board of Elections supervisors printing a "zero proof report" from each machine that shows no votes have been cast on the machine.
After that, "Each Board Member reviews and signs off on the zero proof reports. Machines are then activated to allow voting to begin at the designated time. The machines are sealed with a numbered seal and that number is recorded. The public counter number, which shows the number of votes on the machine for that election, and the protective counter number, which reflects the cumulative votes in the lifetime of the machine, are both recorded also," said Vining.
The process of ensuring there is no tampering with the votes doesn't just take place before the election. "On election day, seal numbers on the early vote machines are verified prior to removal. During early voting, each voter must sign a poll list. The number of voters on this poll list is checked against the number of votes cast on the early voting machines daily," said Vining.