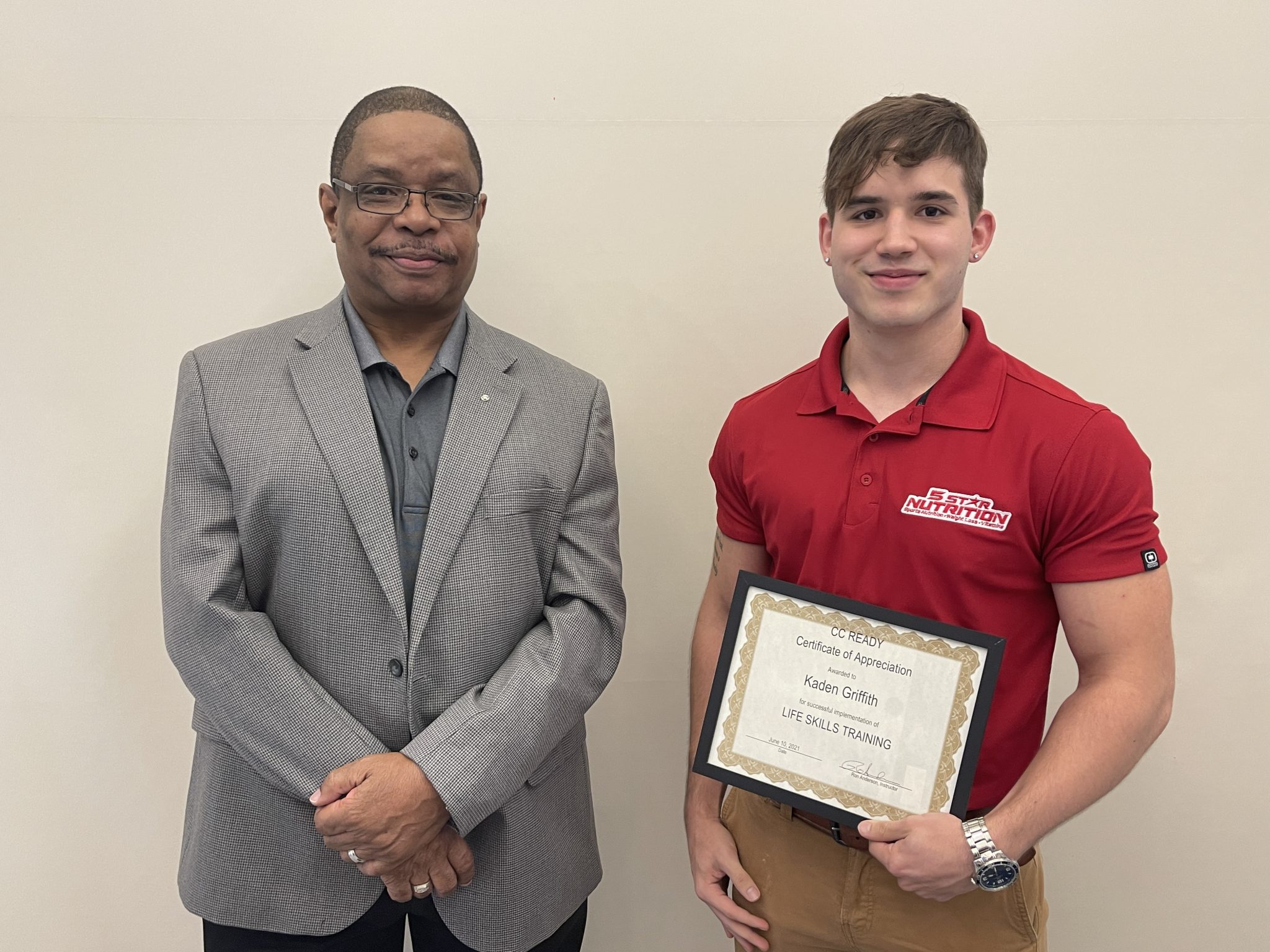 Ron Adnerson, Director of Project Reclaim, recently had the pleasure of graduating the juveniles enrolled in the City Court Resiliency, Elevation, Ambition, and Direction for Youth program (CC-READY for short.) This program is a four day class designed to teach necessary life skills to youth that get involved with the court system.
"I am so proud of the recent graduates of our CC-READY program. Ron Anderson does a fantastic job with this program, which is designed to offer juveniles involved with the court system the opportunity to attend classes that will teach them life skills about respect for authority, staying in school, and respect for themselves. We are very thankful that we are able to conduct the classes at Webster parish Libraries – Minden Main Branch, which gives the parents and guardians the ability to take advantage of the numerous resources available at the Library while the juveniles are attending classes," said Judge Sherb Sentell.
On the final day of the class, the students prepared a light speech talking about what they had learned from the program. One of the students stated, "It showed me that sometimes you just need somebody to push you. To show you what you should be doing, put you on the right track, and just give you a little push. You've shown me how I can do better and what I should be doing to get on the right track."
After the students gave their speeches, even mere minutes away from graduation, Anderson was sure to be supportive as well as continuing to teach the class vital life lessons.
"There are people in here that you don't know and they came out to support you. And I know it's a little scary or makes you a little nervous about getting up and speaking in front of people they don't know and being honest as you were, but you did it. You know what's going to happen in life? You're going to run into things that are going to make you nervous. It's going to scare you. But if there's something good on the other side of that, you have to fight through it," said Anderson.
"Getting up in front of people that I don't know, even though I've been doing it for years, sometimes I get a little nervous too, because I want to do a good job, but I do it. So congratulations to you for getting in front of people that you don't know and speaking your truth."
"I had the pleasure of sitting in on a few of the CC-READY classes, under Mr. Anderson's directions, held at the Webster Parish libraries," says Kim Sentell, Marketing Director for the Webster Parish Libraries System. "I've seen the youth just really mature and accept responsibility, and I've seen their self-esteem improve greatly. They should be so proud of themselves.
"We are grateful for the opportunity to serve our community in this capacity. Webster Parish Libraries is dedicated to supporting Webster Parish youth and meeting the changing and expanding needs of the wonderful community we serve."
An example of the impact a class like this can have on someone's life can be seen through Kaden Griffith, a past graduate of the program. He was invited by Anderson to speak to the class of graduates, detailing the change the program made in his life, saying, "First and foremost this class probably meant the same to y'all as it did me when I first walked in. It was just a complete waste of your time, just a little slap on the wrist to keep you out of big boy trouble. But really, it opened my eyes up. Let me understand that, really, my actions do have consequences."
"After doing this class that y'all did, graduating, getting out, you have to decide that the kid stuff is over with. Once you hit 18, you're grown, and they're not going to send you to a class like this , they're going to send you to jail. So I'm just letting you know, it's time to put the kid stuff behind, get away from distractions," said Griffith.
"Anybody else around me who I knew was going to make me fall down and not bring me up, I cut everybody off and did my own thing. Before I graduated high school, I had my own house, I got my own car, and I got myself a new job too. He helped me really open my eyes and led me in the right direction that I needed to be going in life. He's been a big inspiration to me. Helped me a lot, to get back on track and be the man I am today. I appreciate that a lot."
Even with all the lessons taught over the course of the CC-READY program, Anderson was sure to impart that he can teach them everything that he knows and wish the best for them, but ultimately the decision to change their life for the better has to start with themselves.
"It all boils down to one word, and that's the choice. The choices you make. Mr. Anderson can't make it for you, you have to make that choice for yourself. You know what I'm hoping for? I'm hoping you got something out of this that you can use. You've been a very good class. I saw a lot of growth out of you over the last four days," said Anderson.
"There are people here that you don't know who came out here this afternoon to this graduation to support you. You don't know these people, but you know what? It doesn't matter. They are people who want the best for you and they don't even know your names, but I want to tell you something about that. We care about you, but if we care about you more than you care about you, it ain't going to work. You've got to care about yourself."