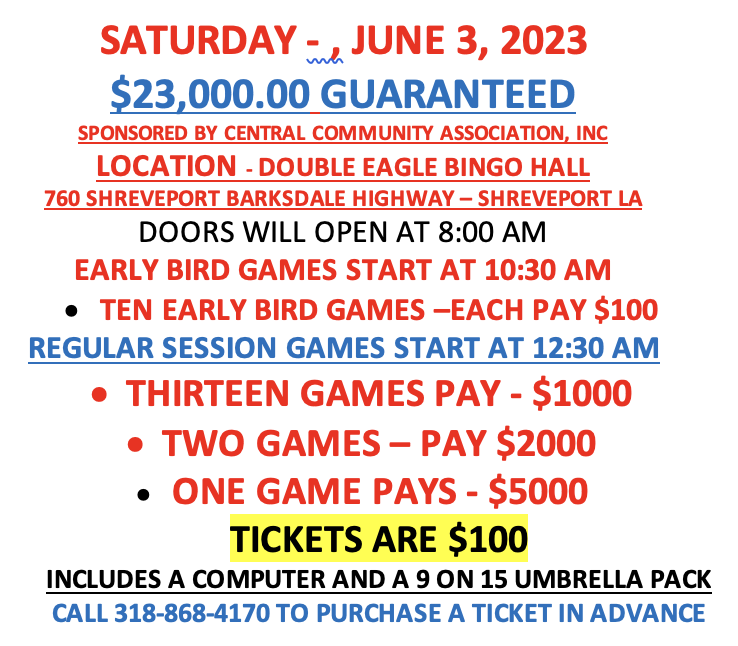 The Central Community Association, Inc., a not-for-profit organization, is dedicated to improving the lives of families residing in the tri-communities of Dubberly, Heflin, and Sibley, Louisiana. With a diverse range of initiatives, the association strives to make a positive impact by providing vital services and fostering community engagement.
One of their essential programs is the monthly distribution of nutritional food boxes, a collaborative effort with the Food Bank of Northwest Louisiana. On average, 120 families benefit from this initiative, ensuring that they have access to essential nourishment. Additionally, the association partners with LSU-Ochsner's Partners in Wellness program to bring their mobile unit to the community center every three months, providing approximately 20 women with annual mammogram screenings.
For a decade now, the Central Community Association has successfully organized a Free Summer Day Camp, offering educational and recreational activities for approximately 35 children. This year, from June 2 to June 30, the Summer Camp will continue to provide engaging and organized programs for the campers, enriching their summer experience.
In addition to their ongoing efforts, the association operates a community center that serves as a hub for various community activities. Furthermore, they have recently completed the construction of a recreational facility, which will enable families to participate in a wide range of recreational and social activities, fostering a sense of togetherness and well-being within the community.
To support these vital programs and activities, the Central Community Association will be hosting their much-anticipated fundraising event on June 3: Super Bingo. This biannual event serves as a major source of funding for the organization. Attendees will have the chance to win a staggering $23,000 in prizes, with 13 games awarding $1,000 each, 2 games granting $2,000 each, 1 game offering $5,000, and 10 early-bird games worth $100 each. Tickets are priced at $100 and can be purchased in advance by calling (318) 868-4170. The event will take place at the Double Eagle Bingo Hall, located at 760 Shreveport-Barksdale Highway.
The Central Community Association extends a warm invitation to all citizens of Webster Parish to support the Super Bingo event. By attending and participating, individuals can contribute to the continued success of the association's programs and activities, which greatly benefit the families residing in Webster Parish.
For more information about the Central Community Association and their upcoming events, please visit their website at www.centralcommunityassociation.org or contact them at (318) 868-4170.