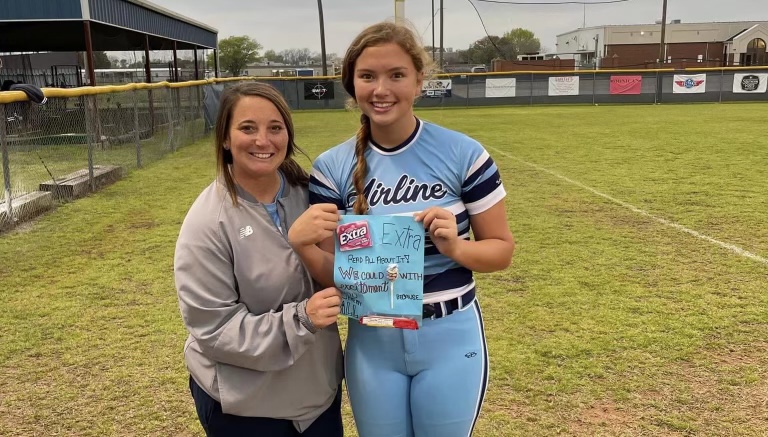 Brittany Frazier Smith has stepped down as head coach at Airline to take the same position at Lakeside.
Smith said the move is because of family considerations and a long-held desire to coach and teach at a smaller school in a rural setting.
"My husband (Caleb) works in Arcadia and he is from Simsboro and when we got together three or four years ago he moved to Shreveport for me and he has just been traveling back and forth to Arcadia.
"And I don't know. God has just been working on my heart and I've always said I wanted a small country town and small little, country school.
"But I went to a 5A school and I coached at a 5A school that was in the middle of the city for both of them.
"It was just very spur of the moment. It kind of came about Friday and then I went and looked.
"And I'm not a very impulsive person. And I was almost immediately like, yeah, this is it.
"I just felt like God was speaking to me and it was the right thing."
Smith is replacing Roo Johnson, who stepped down after two seasons.
Smith was an assistant coach at Airline for four seasons before taking over as head coach in 2020.
Her first season was an abbreviated one because of the coronavirus pandemic. The season was canceled before it even reached the halfway point with Airline sitting at 12-2.
In her first full season, Airline went 20-6, shared the District 1-5A championship with Natchitoches Central and finished as the the runner-up in Class 5A.
In 2022, the Lady Vikings again shared the district title with Natchitoches Central. They finished 19-13 and lost in the second round of the playoffs.
This past season, Airline finished runner-up to Natchitoches Central after falling to the Lady Chiefs 3-2 in a showdown for the title in Natchitoches.
The Lady Vikings went 22-11 and reached the second round of the non-select Division I playoffs.
Smith said she told her players of the move Monday evening.
"It was hard," she said. There were a lot of tears. It was difficult. But that's a really, really good group. I mean they're going to be good next year, good the next few years."
She said her Airline colleagues were surprised.
"They were like I didn't even know this was a thing," she said. "They were shocked. I was like I didn't either until Friday evening."
While Smith made some great memories and relationships at Airline, she is excited about the new challenge.
Lakeside is coming off a very good season. The Lady Warriors went 20-11, falling to Vinton 10-6 in the second round of the non-select Division IV playoffs.
Lakeside had only one senior, Lillian Jolly. All five of Lakeside's All-District 1-2A first-team selections are underclassmen.
Also, the softball facilities are getting an upgrade including a turf field.
For at least one season, Smith will be coaching in the same district as her sister, Calvary Baptist Head Coach Tiffany Wood.
While the schools are in the same district, Lakeside competes in the non-select playoffs and Calvary in the select. Calvary won the select Division III championship this past season and Division IV in 2021 and 2022.
Smith and Wood's teams faced off in the 2021 and 22 seasons.