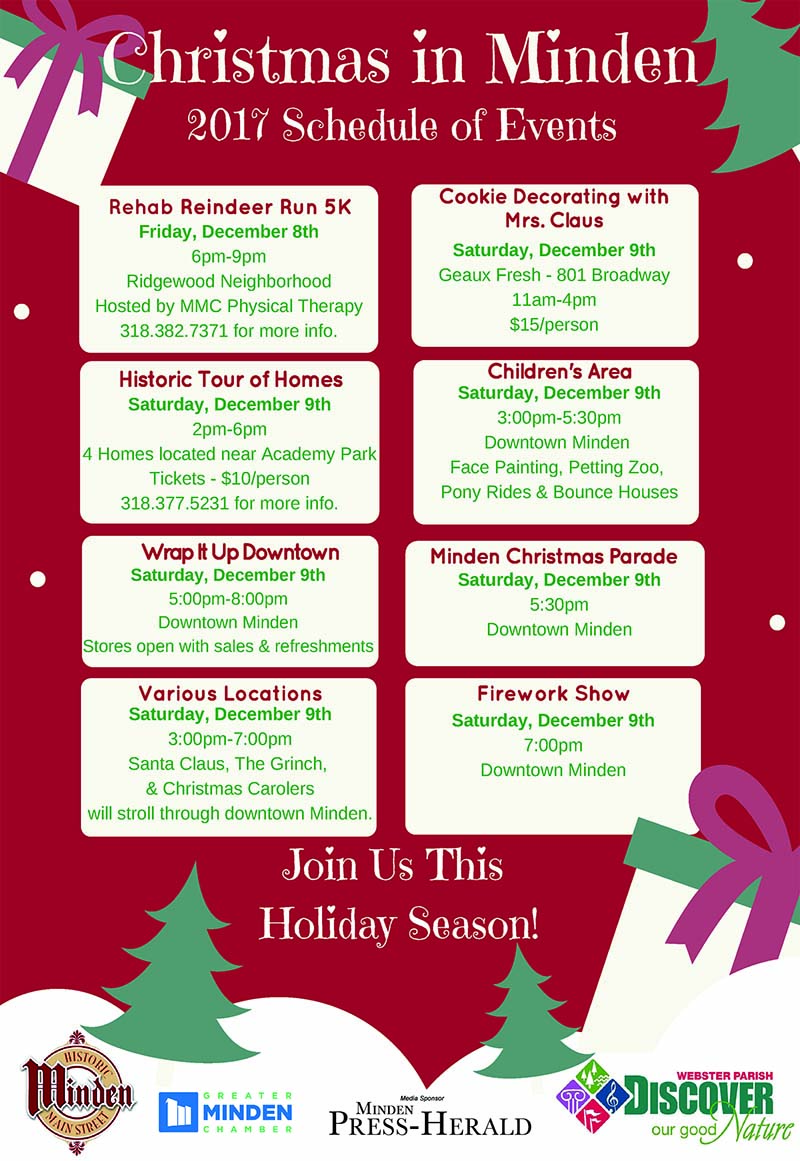 When Wrap It Up Downtown begins Saturday in downtown Minden, there will be more options for the whole family than ever before.
In addition to stores being open later with sales and refreshments, Main Street Commission President Terry Gardner said several family-oriented attractions will be going on as well.
"At no charge, we're going to have face-painting, a petting zoo with a bunch of different animals, pony rides, and bounce houses for the kids to play in," he said.
These attractions will run from 3 to 5:30 p.m. The Greater Minden Chamber will host the annual Minden Christmas Parade through downtown at 5:30 p.m.
"All the floats will be throwing candy and that type of thing," Gardner said. "Our downtown restaurants Roma's and Habacu's will be open for dinner. It's a family-oriented event, and it's going to be wonderful."
Gardner said kids will have the opportunity to see both Santa Claus and Mrs. Claus during the festivities. Santa, the Grinch Who Stole Christmas, and Christmas carolers will stroll through downtown from 3 to 7 p.m. Mrs. Claus will be at downtown restaurant Geaux Fresh, where children can decorate cookies with her from 11 a.m. to 4 p.m.
To wrap up the activities, a fireworks show will begin at 7 p.m.
Gardner said new attractions like the petting zoo, cookies with Mrs. Claus, and the fireworks display will help make this year's event appeal to a wider audience than ever before. He said these additions influenced the decision to hold Wrap It Up Downtown on a Saturday rather than a Friday like last year.
"This way it'll give people all day to plan and come down and shop, and then they'll already be downtown for everything else that's going on all day," he said. "It's leaning more toward the entire family this year, not just the shoppers. It's going to be a spectacular event for people around the community and the ArkLaTex to attend."
As featured in Monday's paper, a tour of four historic homes will be taking place near Academy Park Saturday from 2 to 6 p.m. for $10 a person. Call 318.377.5231 for more info.
From shoppers to children, Saturday's downtown Christmas activities will have something for everyone.
"We're bringing the community together," Gardner said. "Everybody is invited."