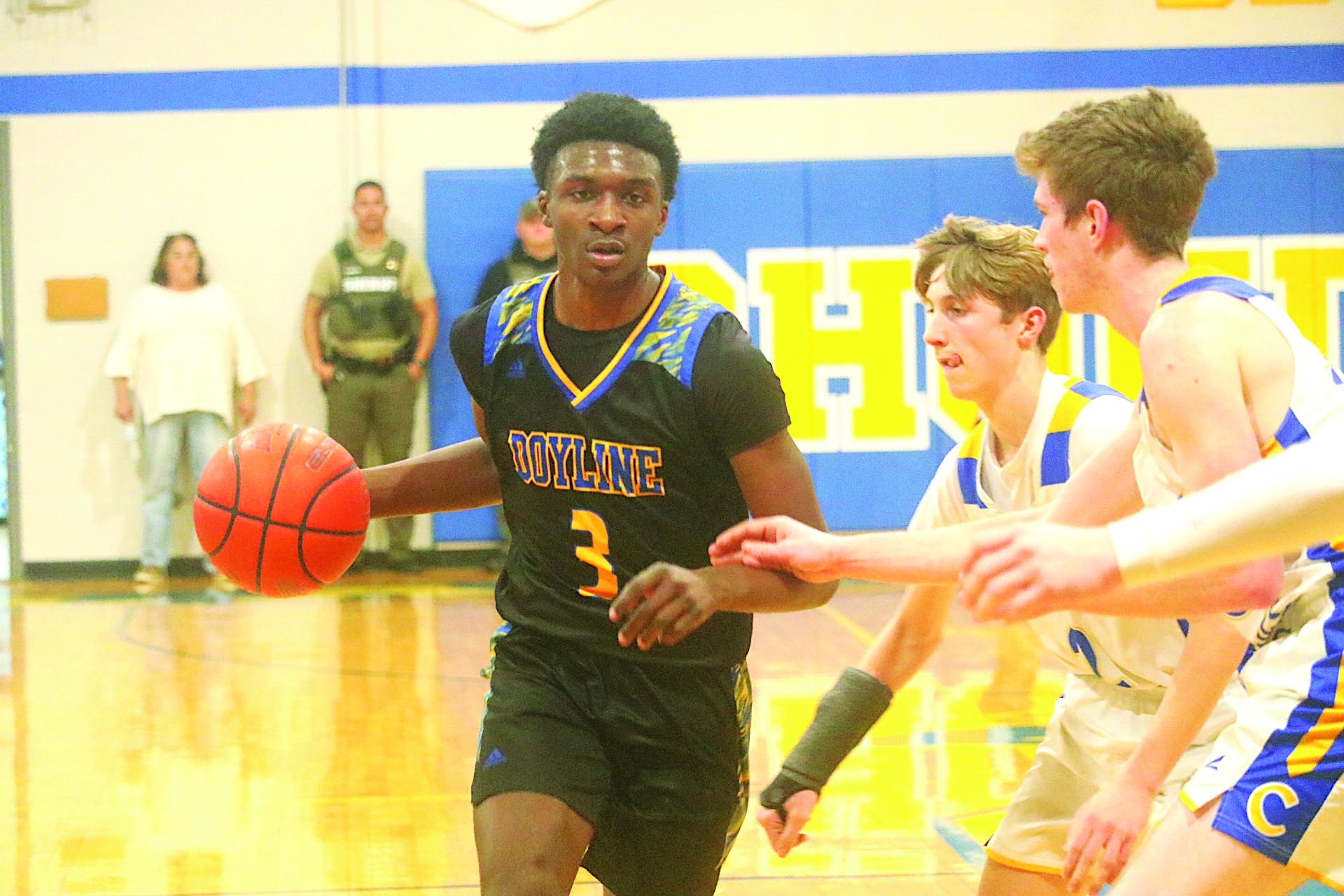 CHOUDRANT — Perseverance.
Many say the mark of a good sports team is to overcome adversity and even bad play and still find a way to win.
If that stands true, then on Monday in Choudrant the Doyline Panthers proved they're a good team.
In a battle of two of the top teams in Louisiana Class B boys basketball, the Choudrant Aggies never trailed the Doyline Panthers for the first 47:59.
But that last second was enough for Jamaria Clark and Doyline to pull off the win.
Clark's driving putback that sank through the nets as the final buzzer sounded Monday night stunned a packed and rowdy crowd at the CHS Gym as the Panthers escaped with a 50-48 walkoff win over the Aggies.
It was a long wait for the Panther's first and only lead of the game.
Choudrant tipped off scoring on a putback by Mike Jones 36 seconds into the contest and closed out the first stanza with a layup off an offensive board that put the Aggies on top 13-6 heading into the second quarter of a physical, hardfought game from start to finish.
Doyline's Brook Swain drove to the bucket for a layup that cut the Choudrant lead to one point at 13-12 less than a minute into the second quarter, but the Aggies responded by scoring four straight points before the Panthers went on a mini-run of their own, pouring in five straight points to tie things up at 17-17 with 3:!8 remaining in the second quarter on a 3-pointer by Clark from near the halfcourt line.
But the Aggies rebounded by going on a 6-1 run the rest of the first half to build a 23-18 lead at halftime.
It looked like the Aggies were beginning to take control late in the third quarter after a pair of consecutive inside buckets with 1:01 and :46 remaining in the stanza putting Choudrant on top by 12 points at 36-24.
Doyline cut its deficit back down to 10 with a pair of Clark free throws with 12:5 seconds left in the quarter to shrink the Panthers' advantage to 36-26 heading into the fourth quarter.
The Aggies maintained their intensity throughout as a Lachlan Thompson jumper and a Mike Jones baseline layup off an assist from Parker Batterton put Choudrant up by 14 at 40-26 with 7:09 remaining.
But then the Panthers seemingly flipped the switch, going on a 10-0 run capped off with a short turnaround jumper by ShaDavion Martin that cut Choudrant's lead to 40-36 with 5:34 remaining.
Jones finally ended Choudrant's scoring drought with an inside basket with 5:22 remaining, but Clark countered by pulling up and firing in a 3-pointer that cut the Aggies' lead to three points at 42-39 in favor of the Aggies at the 5:02 mark of the final stanza.
Choudrant rebuilt a five-point advantage at 45-40 with 4:09 remaining on a Lawson Stevens free throw, but the Panthers kept scratching and clawing, cutting the Aggies' lead to 47-46 with 1:23 seconds left on a Jay Patterson rebound and putback.
Stevens connected on one of a pair of attempted free throws with 41.8 seconds remaining to put the Aggies uo 48-46, but Doyline's Keidric Clark followed with a layup with 32 seconds left to tie things up and set up the fantastic finish for the Panthers.
First Patterson had a chance to put his team on top with 14:4 seconds left, but missed on both of two attempted free throws.
But the Panthers were able to secure the rebound, and after Keidric Clark failed to connect on a late jumper, Jamaria Clark raced in to grab the rebound then drove to the basket to sink the putback at the buzzer for the win.
"I've challenged our guys all season to show some championship mentality and championship grit, because we've kind of relied on just pure ability over the past two or three years," said Doyline Coach Michael Normand. "I think tonight, and I told them this in the locker room, tonight we finally showed that championship mentality."
Jamaria Clark led all scorers with 24 points while Damarion McClendon and Patterson added 10 points each for the Panthers.
"We're missing some players right now who are pretty big for us offensively," Normand said. "Choudrant's coach knew that and that led to them put two or three guys on Jamaria, and he still came through. I think you're going to see that maybe the rest of the season, so it was good to see him fight through that tonight."
Choudrant was led by Jones with 16 points while Thompson added 12 points and Stevens chipped in with 11 for the Aggies, who fell to 18-6 while Doyline moved to 16-2.
Next up for the Panthers is a game at North Webster on Thursday.