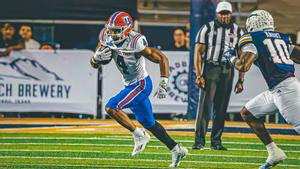 Louisiana Tech Athletic Communications; featured photo by Josh McDaniel
The Louisiana Tech football team continues Conference USA play by hosting the WKU Hilltoppers on Thursday at 7 p.m. inside Joe Aillet Stadium. The game will be televised nationally on ESPNU.
GAMEDAY INFORMATION
Date: Thursday, Oct. 5
Time: 7 p.m. (CT)
Location: Ruston, La. (Joe Aillet Stadium)
Live Stats:LaTechSports.com/stats
Radio:LA Tech Sports Network (KXKZ 107.5 FM)
TV:ESPN (Moved from ESPNU)
SERIES HISTORY
Series: LA Tech leads, 5-4
In Ruston: LA Tech leads, 4-1
In Bowling Green: WKU leads, 3-0
Neutral: LA Tech leads, 1-0
ABOUT LA TECH (3-3, 2-0)
Louisiana Tech is 3-3 this season with a 2-0 mark in CUSA play. The last time out, LA Tech ended its 16-game road losing streak with a 24-10 victory at UTEP. The Dogs used all three phases to get the victory. Offensively, it was a pair of explosive pass plays to go along with another 100-yard rushing performance by Tyre Shelton. Defensively, it kept UTEP (1-5, 0-2 CUSA) off the scoreboard in their final four drives. It was Smoke Harris electrifying on special teams with a 67-yard punt return for a touchdown. Harris' punt return for a TD was the first by a Bulldog since Teddy Veal did it in 2017.
Wide receiver Smoke Harris is the Bulldogs' most dangerous skill player. He has tallied a reception in each of the past 38 games, which is the seventh-longest active streak among all FBS players. He ranks among the FBS active career leaders in receptions (2nd, 262), all-purpose yards (3rd, 4,207), punt return yards (2nd, 729) and receiving touchdowns (5th, 22). Harris has tallied 37 receptions for 368 yards and three touchdowns this season. He ranks third in program history with 262 career receptions, just 18 away from Consensus All-American and 1998 Biletnikoff Award winner Troy Edwards in second place. The St. Francisville native is the only active FBS player with 2,000 receiving yards, 800 kickoff return yards, and 600 punt return yards in a career.
Cyrus Allen is the Bulldogs' second-leading receiver with 18 receptions for 331 yards and two touchdowns. At UTEP, Allen had an 85-yard reception, which was the 10th-longest reception in program history. Allen led Tech in receiving with a game-high 102 yards on six catches and one touchdown at Nebraska. The performance was his third 100-yard receiving game in his career.
Quarterback Hank Bachmeier leads Tech in passing this season. The Boise State transfer has completed 70 of his 106 passing attempts for 756 yards and five touchdowns with two interceptions. Bachmeier holds a career record of 22-11 as a starting quarterback. Bacheier missed the end of the North Texas game and the entirety of the contests at Nebraska and UTEP due to a shoulder injury.
Quarterback Jack Turner has led the Bulldogs to a 1-1 mark in relief of Bachmeier. The Round Rock, Texas, product has completed 48 of 80 passing attempts for 590 yards and three touchdowns this season while throwing two interceptions.
Tyre Shelton has emerged as the leading rusher for Tech despite missing three games due to injury this season. Shelton has 37 carries for 318 yards and three touchdowns. Shelton has topped the century mark in rushing in his last two games.
Explosive plays have been a trademark for LA Tech this season. The Bulldog offense ranks 10th nationally in plays from scrimmage over 30 yards (17), 12th in plays over 40 yards (9), fifth in plays over 50 yards (6), and sixth in plays over 60 yards (4).
Safety Myles Heard has been the star of the Bulldog defense since transferring from Stephen F. Austin. Heard leads the Dogs with 60 total tackles, including 3.5 for loss. At UTEP, he recorded a game-high 10 tackles with a career-high three pass breakups and a forced fumble. Heard ranks 15th nationally in tackles per game with 10.0 a contest.
Linebacker Zach Zimos has made the most of his opportunities after earning starts at UTEP and Nebraska. He tallied nine tackles and a quarterback hurry in the win at UTEP. Zimos recorded nine tackles at Nebraska, including two for loss and a sack.
Defensive back Willie Roberts has been a lockdown corner this season. His seven pass breakups rank second nationally. Roberts recovered a fumble and had three pass breakups and a season-high nine tackles in the win at UTEP.
Roberts is an integral part of a LA Tech secondary that ranks sixth nationally in passing defense, allowing just 152 yards a contest. The Bulldogs' 29 pass breakups this season rank third nationally.
Head Coach Sonny Cumbie is in his second season at the helm of the LA Tech football program with a record of 6-12.
ABOUT WKU (3-2, 1-0)
The Hilltoppers are coming off a 31-10 win over Middle Tennessee their last time out on Oct. 28.
Austin Reed is the leader of the WKU offense. The Preseason CUSA Offensive Player of the Year has thrown for a conference-leading 1,368 yards and 11 touchdowns on 131-212 passing with two interceptions through five games this season. The Hilltoppers' 286 passing yards a game leads CUSA.
Running backs LT Sanders and Markese Stepp make up the Hilltoppers rushing attack. Sanders has rushed for a team-best 117 yards on 18 carries while Stepp has totaled 104 yards and a touchdown on 27 attempts.
Wide receivers Malachi Corley and Easton Messer are Reed's favorite targets. Corley has hauled in 29 passes for 331 yards and two touchdowns. Messer has caught 22 passes for 280 yards and three touchdowns.
Defensively, WKU leads the nation in takeaways with 14 this season. Preseason CUSA Defensive Player of the Year Jaques Evans leads WKU with 28 total tackles, including a tackle for loss and a sack. Evans also has a pass breakup, a quarterback hurry, a forced fumble, and two fumble recoveries. Defensive back Talique Allen is the second leading tackler for the Tops with 25 total tackles this season, including a half tackle for loss.
Tyson Helton is in his fifth season leading the Hilltoppers with a record of 35-23.
For all the latest in Bulldog Football, follow them on Twitter (@LATechFB), Instagram (@LATechFB) and Facebook (LATechFootball) or visit the official website at LATechSports.com.