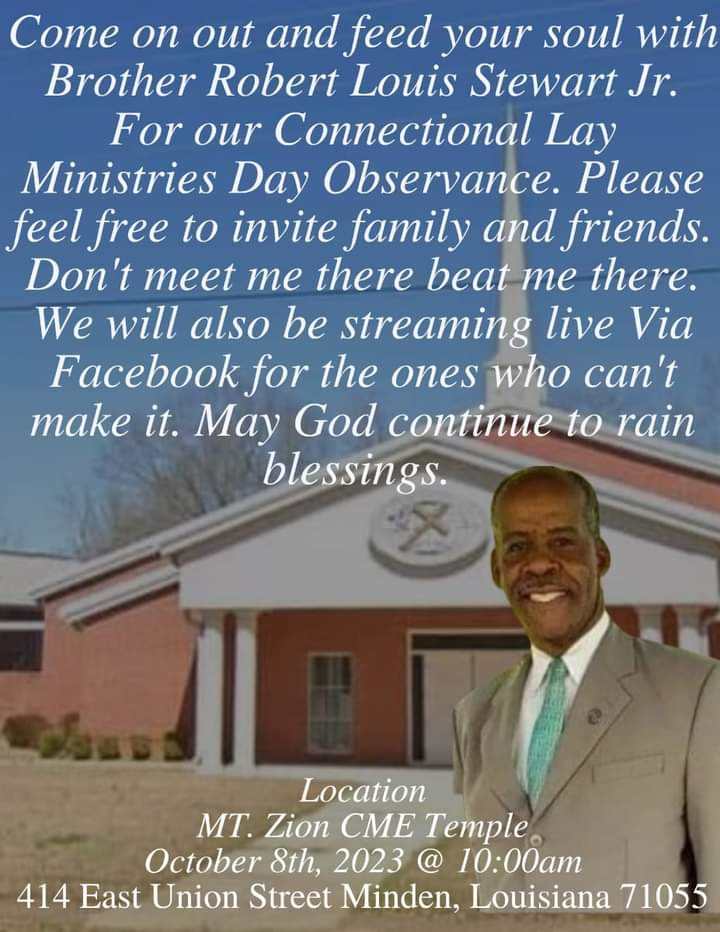 Robert Louis Stewart, Jr is the son of the late Mrs. Mabel Stewart and the late Mr. Robert Louis Stewart, Sr. He is a 1984 graduate of Minden High School. He received his B.A. in Political Science in 1988, along with his M.A.T in Social Science Education in 1993 both from Grambling State University. He attended Louisiana Technical University and Northeast Louisiana University, University of Arkansas-Monticello for additional graduate studies along with receiving a Certificate of Theology from the Interdenominational Theological Center in Atlanta, GA. He has taught junior high, and high school Social Studies for 25 years.
Brother Robert Louis Stewart Jr. is a faithful servant in the Louisiana Region of the Christian Methodist Episcopal Church and has served in several leadership positions beginning in 1984 to this present day.
These include local and district Lay Leader, Conference 1st Vice Lay Leader Louisiana region, Steward, Vice President of the National Youth Conference of the Christian Methodist Episcopal Church, Lay Council Treasurer, School Superintendent, and numerous elections as a Delegate to the General Conference.
Brother Robert Stewart is a well-educated, well rounded, prolific, instructor and lecturer on the disciplinarian understanding of Lay Ministry and its importance to the support and growth of the local and general church. He has conducted several workshops on Lay Leadership and Dedication throughout the Louisiana Region and throughout the connectional church. Because of his undying dedication to our Zion, he is always ready, willing, and able to come and share his passion for the Lay Department whenever, and wherever it is needed.
We're laity, we're laity, dutiful, dutiful laity.
We're laity working for Jesus to build the kingdom of God.