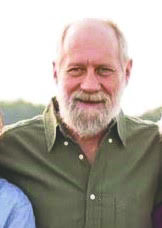 David Ray Sistrunk, 59, of Minden passed away on August 29, 2019 at his home.
David was born in Zaragoza Spain to William Ray Sistrunk and Doris Ann Sistrunk on January 27, 1960. He married Robin Sistrunk on February 29, 1980. They shared 39 years together, (but only had 9 anniversaries due to LEAP year.)
David enjoyed spending time with his grandson, Nicholas, watching Cartoon Network, and studying his Bible. He will be remembered for his kind heart, his words of wisdom, his attention to detail, and his ability to hold the longest conversations known to man.
David was preceded in death by his father William Ray Sistrunk, Brother Billy Sistrunk and nephew, Jacob Sistrunk.
David is survived by his wife, Robin Sistrunk of Minden, daughter, Stephanie Giddens and husband Michael Giddens of Shreveport, mother, Doris Sistrunk of Minden, and grandson Nicholas Giddens, as well as his beloved dog, Bo-Bo, who never left his side.
In honor of his memory, there will be a private service held at a later date (which has yet to be determined because David was never in a rush for anything.)
In lieu of flowers, donations may be made to St. Jude Children's Research Hospital