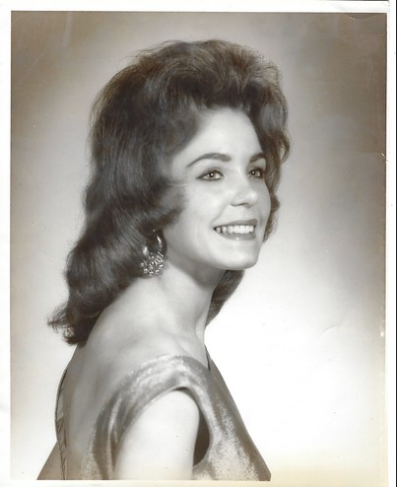 If I told you this is the story of an entertainer, that would only be partly true.  This is the story of someone who came from humble beginnings and has entertained people all over the world for more decades than most readers have been alive.   This is the story of someone who chose family over career.  And this is the story of someone who has devoted her life to helping other people.  This is the story of Dawn Glass, a remarkable girl from Dubberly, Louisiana.
Dawn Glass is famous to me.  As a music historian, I have been aware of her all of my adult life.  I remember seeing ads for her performances in the newspapers I delivered in the early 70's.  And, in recent years I had the fortune to see her perform on some tribute shows.  She is an entertaining singer with all of the grace and stage presence of a seasoned professional.  She has a beautiful voice that is reminiscent of Loretta Lynn and full of the southern dialect and sincerity of Dolly Parton.  Mix that in with a bubbly personality like Goldie Hawn, and what's not to love?!?

I knew she performed at many of the other clubs located along the famous Bossier Strip, starring at 'The Hideaway' and 'The Fabulous Sho-Bar'. Unfortunately, The Bossier Strip no longer basks in the glory of its prime. It was a series of bars, nightclubs and dance halls located along Hwy 80 as you enter Bossier City from the east. Over 10,000 cars passed through the road before I-20 and featured a strip of entertainment venues that had more neon lights anywhere outside of Las Vegas. The heavy traffic was due to the Minden Ammunition Plant, which at the time was one of the area's biggest employers.

Mike Theodos owned some of the clubs she played and affectionately (and appropriately) nicknamed Dawn, 'Louisiana's Little Darlin'. I also knew she performed on both stages of the historic Louisiana Hayride. In 1951, she performed 'Bo Weevil' on stage with Johnny Cash and later with Johnny and June at Shreveport's Municipal Auditorium. She also performed at the Hayride USA in Bossier. But it was only when I sat down to interview her that I found out there was much, much more to her story.

Dawn was a self-admitted 'ham' who was born to be an entertainer. Some of her earliest performances were for her sister, Myra, with her mom as her biggest supporter and fan. Dawn said, "My mother always believed in me!" She would make my outfits, drive me all over to perform and gave me advice that helped me believe in myself. She told her, "No matter where you come from, you can make it" and "Stay true to yourself, work hard and ask God to guide you." When Dawn was apprehensive about the lifestyle she was around, her mom told her, "You can be a lady anywhere. You are in control."

The first recording Dawn made was when she was nine years old. Dawn's mother, Bertha wrote an answer song to "Too Young to Tango." It was a Sheb Wooley song recorded by Ernest Tubb and Red Foley. Dawn's version is one of the cutest things I've ever heard.

Some of Dawn's earliest influences were Dinah Shore and the movie star Rhonda Fleming. During high school, she worked at the Joy Theatre, in Minden, selling 10 cent tickets. The theatre was located where the Dorcheat Bayou Museum is now.

She was in the audience when Elvis came to town and performed at the Joy Drive-In Theatre in 1955.
She loved performing in school talent shows.  In her teens she performed on KSLA Television's "Teen Time".  Before she graduated Minden High School in 1960, she won a $1,000 scholarship after being named the winner of the "New Search for Talent" contest broadcast on KTBS television in Shreveport.  At 13, she was a special guest on Red Sovine's early morning radio program on KWKH.  Incidentally, Red Sovine and his band backed Dawn's recording of "Old Enough to Tango in KWKH's studios in Shreveport!"  This was only a prelude of what was to come.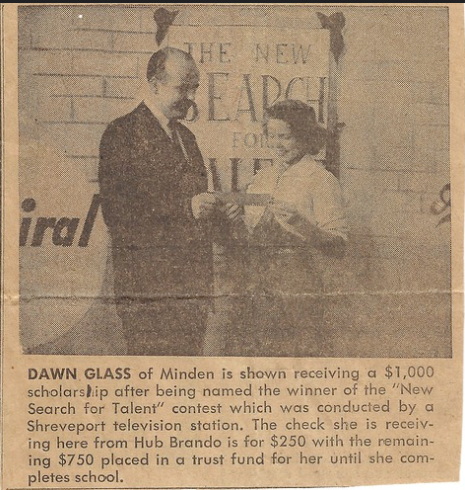 It was during this time, Dawn sang the first jingle for Southern Maid Donut commercials. It wasn't long before she got the attention of local talent manager, ABC Goldberg, who booked much of the talent that played The Bossier Strip.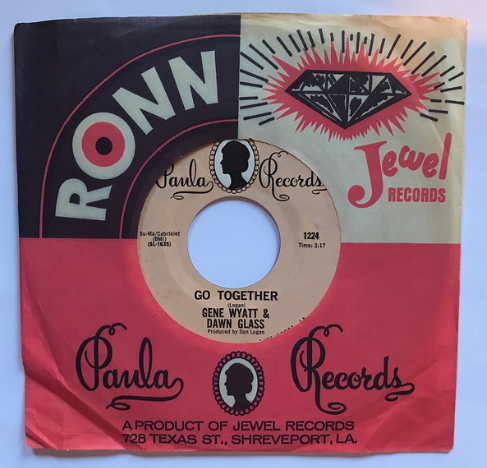 From there, she got the attention of Al Galico, who was over ABC-Paramount Records in New York.  He booked many artists of all genres including country music, which landed Dawn in Nashville, Tennessee.  She recorded "This Is a Dream," which charted on the Billboard Country Charts.  She said they went 'all out' for the recording and treated her like a star.  Soon after she was making records with RCA Records, Chart Records, Royal American Records, as well as for Paula Records, owned by Shreveport's legendary Stan 'The Record Man' Lewis.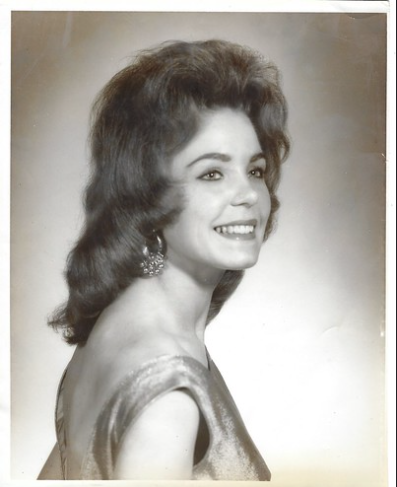 Rod Kettler, out of Waco, Texas, who also managed Merle Travis, managed her career for a while, but it wasn't until she signed with national talent agent, Buddy Lee that her career really took off.   Rod Kettler booked her at some of the biggest venues in North America.  She jokes that people wanted to hear her talk as much as they wanted to hear her sing.  She says they got a kick out of her long-drawn-out way southern way of saying, "Cornbread"!
She learned quick to carry her own weight on the road.  She didn't want to be a burden when traveling on the road.  I believe she could go back on the road today if she wanted.  She takes great care of herself, stays in great shape, doesn't take any medicines or vitamins and still runs about 25 miles a week!  

She headlined at The Crystal Ballroom during the World's Fair when it was in Canada and at the Golden Nugget in Las Vegas.  She was the featured performer at the Grapevine Opry in Grapevine, Texas and Nashville's Centennial Park.  She was the spotlight performer at the Rainbow Room located on Printer's Alley in Nashville. 

Dawn was a regular visitor to Nashville.  Ralph Emory picked her up to bring her to many of his daily morning shows.  Coincidentally, they were taping a segment for the country comedy show called, 'Hee Haw'.  Dawn happened to be in the studio that day, and when one of the 'Country Cuties' didn't show up, Dawn was asked to fill in.  She was the right age, could fit in the outfit and had hair long enough to put up in 'dog ears.  She didn't have a speaking part, but was one of the cuties sitting on the porch for an episode of 'Hee Haw'. 

Dawn impressed Legendary Merle Travis with her voice, stage presence so much that he wrote a letter endorsing Dawn for the role of Tammy Wynette in her biography film, "Stand by Your Man".  He wrote, "I met Tammy Wynette early in her career… I'd never accuse Dawn of trying to sing like Tammy Wynette, but she certainly could.  She's of the proper age, is an absolute professional and being from the south, has the right accent.  This could never be imitated." 

She has worked with a virtual 'who's who' of stars.   Frank Page, the man who introduced Elvis Presley to the world, contracted Dawn to perform shows for KWKH's Road Shows.  She also traveled and performed with The Lawrence Welk Show.
She's recorded a number of professional albums including, "He'll Make a Way," "Precious Memories," and "Sunshine and Lollipops," whose title track was written by Ann Morton.  She's recorded albums with Gene Wyatt and Bill White.  In addition, she's released many singles.  I've found at least sixteen of them on YouTube.
During some of our conversations she told me some great stories of the road. She worked intimately with artists like George Jones and Merle Kilgore. She befriended Johnny Horton and his wife, Billie Jean, who even named one of their daughters after Dawn.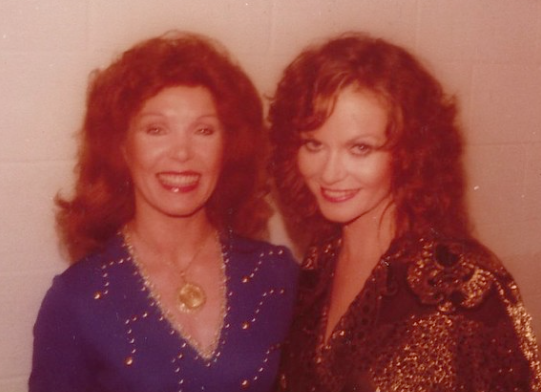 Just a short list of people she has performed with sounds like the roll call at the Country Music Hall of Fame. She has memorabilia and photos with Jimmy Dean, Jeanne C. Riley, Claude King, Slim Pickens, The Five Jets, Hank Thompson, Johnny Cash, June Carter, Mother Carter, Johnny Horton, Owen Perry, Joe Perot, Bud Christian, Donna Ray, Hank Snow, Curly Fox, Charlie Davis, Tommy Tomlison, James Burton, D. J. Fontana, Kent Gill, Tillman Franks, David Houston, David Bailey, Linda Davis, Shoji Tabuchi, Jerry Wallace, Blackie Guidry and Billy 'Rock and Roll' Buddy, to name a few. Her favorite recording artists are Merle Haggard, George Jones and Marty Robbins, who she said knew how to flirt with an audience.

Dawn regularly performed on the Bob Hope Birthday Show. She was on the verge of becoming a break out star, when fate had different plans. She was in California, on the way to Hawaii when her mother fell ill and she decided to come home to Dubberly to take care of her. That's just how Dawn is. She never looked back. She knows what is important and family came first.

Dawn has never stopped entertaining.  She has been the patient representative at Minden Medical Center since 1980, where her job is to take care of patients.  George French III, former CEO of the Minden Medical Center said it this way, "The Hospital is high-tech, but Dawn is high-touch."  George added, "Dawn has touched the lives of thousands of people." 

Dawn does everything in her power to help others and her word is as good as gold.  She has gone into surgery for children, promised she'd be there when they wake up and even gone so far as to arrange a rare surgery with a doctor in New York when it looked helpless for one patient.  Her interaction saved his life!  One of Dawn's legacies will be the genuine care and concern she has for the patients, especially the children, of Minden Medical Center.  The hospital can be a scary place for children and she wants to take away the anguish and fear.  She calls each one and follows as long as they are in the hospital. 

Sometimes, the parents aren't able to be with the children, so she gives each child something to hold on to throughout their hospital stay.  Whether it is a stuffed animal, blanket or a 'hug pillow', it is theirs to keep.  For a while, the patients received a 'Mindy Lamb' which was soft stuffed animal.  Those aren't available now, but she says her heart soars when someone stops her in the grocery store to tell her they remember and how much it meant to them.   

Another story I can share, happened a few years ago.  Minden songwriter Jerry Strickland wrote a song called, "Am I Too Old to Be Your Child."  Dawn loved it and Jerry asked her to sing it 'if anything happened to him'.  She promised she would.  Sadly, Jerry died shortly after and true to her word, Dawn touched Jerry's family and friends when she sang the song a cappella at his funeral.

Dawn felt the need to record the song, so she enlisted the help of another Minden native, Bud Christian.  Dawn has known Bud for years.  His mother was a piano teacher in Minden and instilled in Bud the drive to be a professional musician.  Bud bagged groceries at Minden's Dixie Dandy.  Whenever Dawn took a break from the road, he would ask her how to make it as a professional musician.  Bud, who is now an accomplished musician in his own right, used his connections to put the pieces in place for Dawn to record her latest album.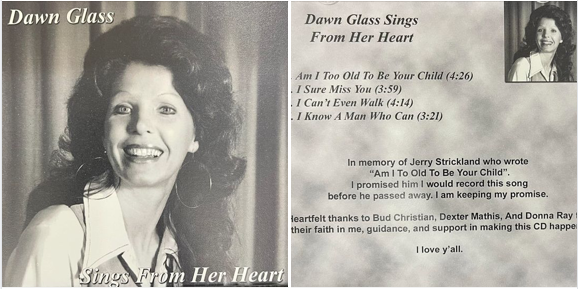 "Dawn Glass Sings From Her Heart," features four songs, including the Strickland penned, "Am I Too Old to Be Your Child."  She recorded her latest album at Dexter Mathis' D & D Studios.  You can purchase a copy at Preferred Recovery Solutions Complete Car Care- Penske of Minden, 1839 Hwy 531.  You can order directly on line at http://Kunaki.com/Sales.asp?PID=PX))4SUM63.
Dawn still has a lot of story to tell. In 2021, she added Grand Marshall for the 2021 Christmas in Minden Parade to her resume!

She is grateful for all she has achieved and believes angels have followed her around to take care of her. She wants to be remembered as someone who made other people happy. She doesn't have to worry about that. She spreads love and happiness everywhere she goes.
If you have a need for a speaker, you would be well-served to see if Dawn is available to share her inspirational story with your group. She has her own sound system and makes presentations at nursing homes, prisons and for business organization.
You can book her to speak or order her newest CD by calling, or texting, her at 318-464-2822.  Her music is also available on iTunes.  To keep up with current happenings, you can follow Dawn Glass on Facebook.  You'll be glad you did!
Johnny Wessler offers historic music tours and presentations of Northwest Louisiana. For more information contact him at:
318-393-3274