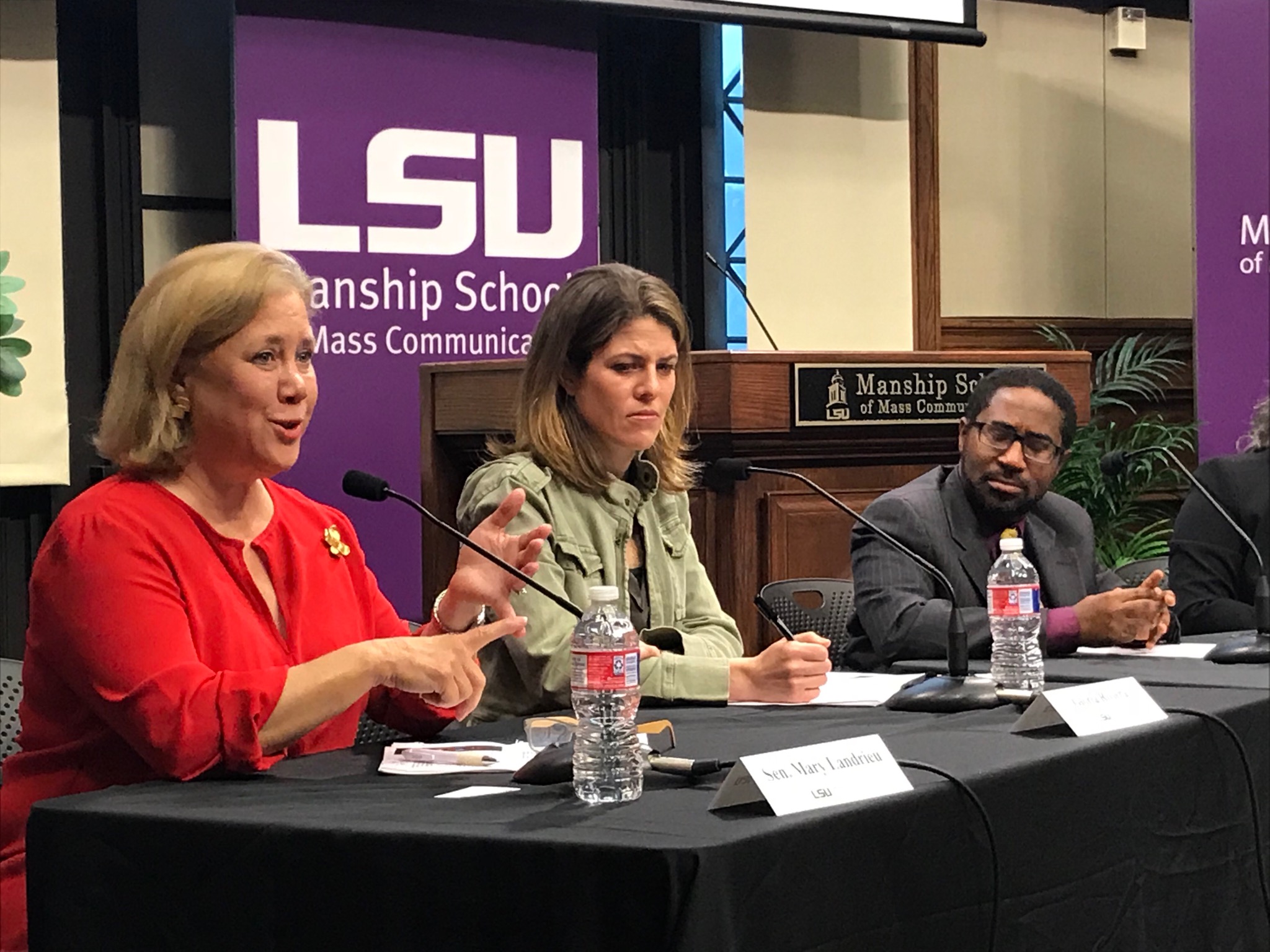 Kaylee Poche and Devon Sanders
LSU Manship School News Service
BATON ROUGE–Former U.S. Sen. Mary Landrieu said Thursday night that she is not sure what she would have done if she had still been in the Senate when fellow Democrats called on Sen. Al Franken to resign over sexual harassment allegations.
"It was a very tough issue because he is known as a very thoughtful, extraordinary advocate for women and women's issues generally," Landrieu said at a panel discussion on sexual harassment.
"I thought a lot about what I would have done, and I'm still not 100 percent sure," she said.
Landrieu made the comments about Franken, who resigned from the Senate in January, while moderating a panel discussion at LSU's Reilly Center for Media and Public Affairs.
She joined journalists, a public relations expert and a sexual harassment attorney in talking about recent high-profile allegations of sexual harassment and how the issue has shaped politics and various industries, especially the media.
Amy Brittain, a Shreveport native and Washington Post reporter who helped document the allegations that led to the firing of television journalist Charlie Rose, discussed the nuances of reporting on sexual harassment.
"In my 7 1/2 years of professional reporting, I have never experienced difficulties like I had in the case of reporting sexual harassment stories," Brittain, an LSU alumna, said.
Referring to the women making allegations, she said, "You obviously treat the individuals with sensitivity, but you have to repeatedly ask them very difficult and personal questions about sensitive topics that sometimes they haven't discussed in years."
According to Brittain, in order for a sexual harassment story to be published, journalists need to ask victims for written evidence, travel records, witnesses and other forms of verification.
Brittain said she even asked one of the Rose accusers to draw a picture of the layout of one of his properties, which she later compared to an actual photo of the building.
"That's not because we're seeking to poke holes in someone's story," Brittain said. "But when reporting this, knowing the level of scrutiny we're going to be facing, the story has to be bulletproof."
Rose co-anchored "CBS This Morning," contributed to "60 Minutes" and had a talk show on PBS. Both networks fired him last November after eight women made allegations including inappropriate phone calls, groping and nudity.
Rose apologized for his actions and said he had helped his female co-workers professionally throughout his journalism career.
Sadie Wilks, a public relations instructor at LSU's Manship School of Mass Communication, recounted her own experiences with men who had helped her professionally but later made inappropriate comments.
"I've had plenty of experiences where people promoted me and told me how awesome I was at my job," Wilks said. "Then a few months later or a year later, you get, 'I can put my hand on your knee now, right? I've earned that support from you.' It was an eye-opening experience to see how someone could be so supportive of my career and then turn around and treat me with such a lack of respect."
The panel discussion came at a time when sexual harassment and gender discrimination are being debated in the Louisiana Legislature and elsewhere around the country.
A Louisiana House committee and the state Senate rejected bills last month that would have required companies with state contracts to pay men and women equally, something already required of state employers.
The Senate also refused to pass a bill that would have prevented employees from being fired for asking about what their coworkers earn.
But a Senate committee last week did approve bills that would beef up anti-sexual harassment policies and training for all state employees.
Gloria Riviera, a correspondent for ABC News and activist for Press Forward, an organization focused on stopping sexual harassment within newsrooms across the country, also shared her personal experiences of gender discrimination.
Riviera recounted an instance in 2003 when reporting in Baghdad. She needed a translator to interview an Imam of a local mosque in the area. Instead of asking the questions she had prepared and given to the translator, the translator asked his own questions, disregarding Riviera's completely.
"It could have had nothing to do with the fact that we were in Iraq," Riviera said. "It could have been anywhere. But the fact that he was fluent and I was not, in the local language, meant that he was able to do as he pleased and really devalue and dismiss me as a woman and a reporter."
"I just don't believe that would have happened to one of my male colleagues," she added.