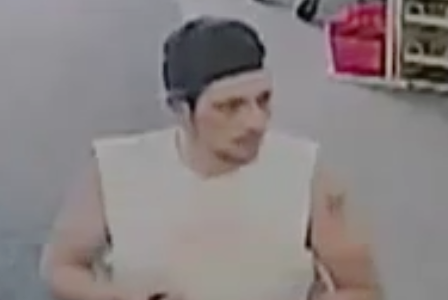 BOSSIER CITY — Bossier Sheriff's Office detectives are asking the public's help in identifying a suspect who they say stole vibrators and a pleasure ring from a store in Bossier City Friday.
Surveillance footage from CVS Pharmacy at the 4800 block of Airline Drive in Bossier City shows a man entering the store just after 4 p.m. April 21.
Detectives said the man went to the "Family Planning" aisle after entering the store, picks up a few items, and then walks around with a Wahl deep tissue percussion therapeutic massager valued at $41.99, a Trojan vibrations ultra-touch intense personal massager valued at $24.99 and a Durex pleasure ring valued at $14.99.
The man then reportedly took the items into the restroom, but when he exited the bathroom and left the store, he did not have any merchandise visible on his person.
Store employees found opened empty boxes in the restroom where the man had just left minutes prior, deputies said.
The man is described as a white male, 20s to early 30s, regular build and height, with dark hair, light goatee, and a tattoo on his left upper arm. He was wearing a white sleeveless t-shirt, dark shorts, light-colored running shoes, and a dark-colored ball cap. Detectives have no description of his vehicle.
Anyone with information on the identity of the man, is asked to contact Bossier Crime Stoppers at 318-424-4100 or the Bossier Sheriff's Office at 318-965-2203.