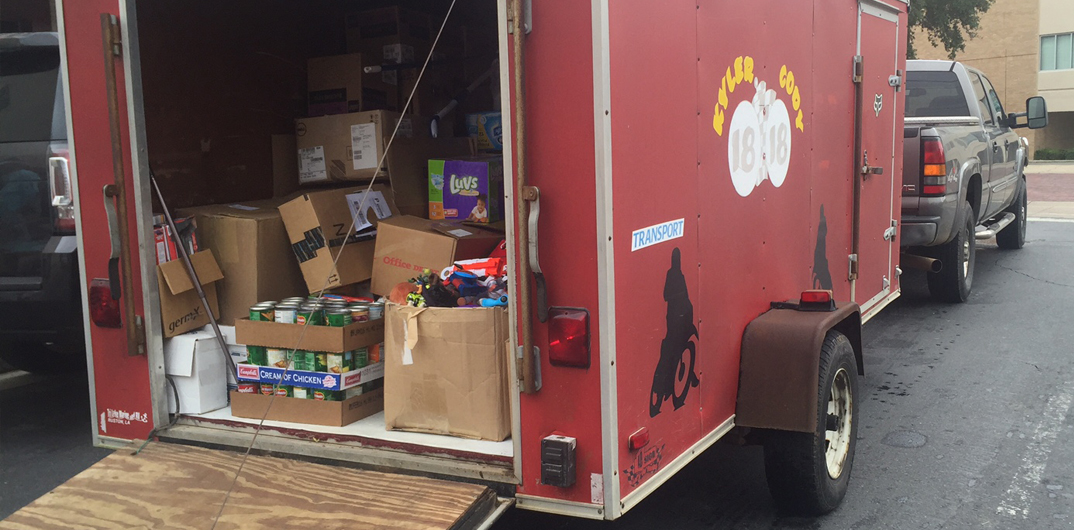 Supply drives are going on all around the area to help those affected by flooding in south Louisiana.
Rep. Gene Reynolds, District 10, began taking in supplies at his office over the weekend and is still accepting donations. He headed to Baton Rouge Wednesday to First United Methodist Church with a 15-foot trailer full of supplies in tow.
"When Rita hit, Martha and I made several of these trips down there, because I know what they're going through," he said. "It's not going to be over Wednesday, and it's not going to be over Saturday. It's going to take a long time to survive this. I know what they're going through, especially since Rita and Ike. That's the reason I'm doing it."
He took in cleaning supplies, canned goods, water, paper towels, toilet paper, trash bags, gently used clothing, diapers and pull ups, bedding, toiletry items, activities for the children such as coloring books and crayons as well as many other items.
Reynolds and his wife, Martha, will stay in Baton Rouge through the weekend to help where they can. He and another legislator, Rep. John Schroder, District 77, will be barbecuing and cooking to help feed workers, volunteers and those affected by the floods.
"When we were cleaning up, the Red Cross would come in and cook burgers, and while you took a break from all the cleaning, it was really nice to have a hot meal instead of just a sandwich," he said.
He says they will make these trips as often as necessary, because someone helped them. The Reynolds had a beach house on Holly Beach and when Hurricane Rita hit, it cleared Holly Beach of everything. They lost everything on the beach, he said.
In light of that, the main supplies he is asking for are things such as mops, brooms, bleach, mold killer, rubber gloves, anything those affected can begin cleaning their homes with.
Sen. Ryan Gatti, District 36, has been taking in supplies at his office in Bossier as well. While his focus remains on school supplies, he has taken in hygiene products such as toothpaste, toothbrushes, bath soap, wash clothes, towels, feminine hygiene products, cleaning supplies and all the things people need to survive. Hygiene kits including these items would be helpful, he said.
"We're strategically collecting things we know will be used," he said. "Whatever God puts on your heart to donate, bring it to us."
Gatti is asking for the following school supplies: crayons, markers, pencils, pens, composition notebooks, loose-leaf paper, binders, glue sticks, folders, pencil bags, hand sanitizer and backpacks.
"Families just bought them; they're expensive," he said. "They're ruined, and it's very hard for a family to buy that again. We've had several backpacks with everything in it donated."
He says the easiest way to donate is for those who have children and have bought school supplies already, take the school supply list they had and buy as much as affordable on that list.
For those who wish to donate money, Gatti respectfully requests that any monetary donations be made by going online, purchasing these items and have them shipped directly to the two churches that have become relief centers.
Gatti says he's also collecting Bibles to take down south.
Families are in shelters across the south, and children are going to need activities to keep them occupied as flood relief continues. Both Reynolds and Gatti are asking for donations of crayons, coloring books, puzzles and games to help keep the kids busy.
Some of the biggest needs, Gatti says, are baby items such as diapers, baby wipes, formula, baby food, bottles, sippy cups, plates, children's utensils and pacifiers. And for those who can afford it or have one in good shape, a Pack-n-Play. Bedding is also going to be important, such as sheets for the Pack-n-Play, blankets and pillows.
The senator says one load was taken down south Wednesday, and another will go Friday and Monday.
Reynolds and Gatti will continue to take in supplies as needed for as long as needed.
"We have some of the most generous people in Louisiana," Gatti said. "Minden is known as the nicest city, but it's more compassionate. Webster Parish is really a unique place when it comes to giving and compassion."
Donations can be dropped off at these locations:
Rep. Gene Reynolds
736 Main Street
Minden, LA
Sen. Ryan Gatti
2123 Shed Road
Bossier City, LA
(Monday through Friday 8 a.m. until 5 p.m. and Saturday from 10 a.m. until noon)
Smith's Marine, 1616 Shreveport, Road, Minden
Office Furniture Source, 730 Bert Kouns, Shreveport
BPCC on Highway 80, Bossier City
Elm Grove Middle School in carline or at office
Dennis Bamburg/Allstate Insurance 1814 Jimmie Davis Highway, Bossier City, LA 71112
For those who wish to purchase items online, ship them to:
Bethany Church Warehouse
0877 Reiger Road
Baton Rouge, LA 70809