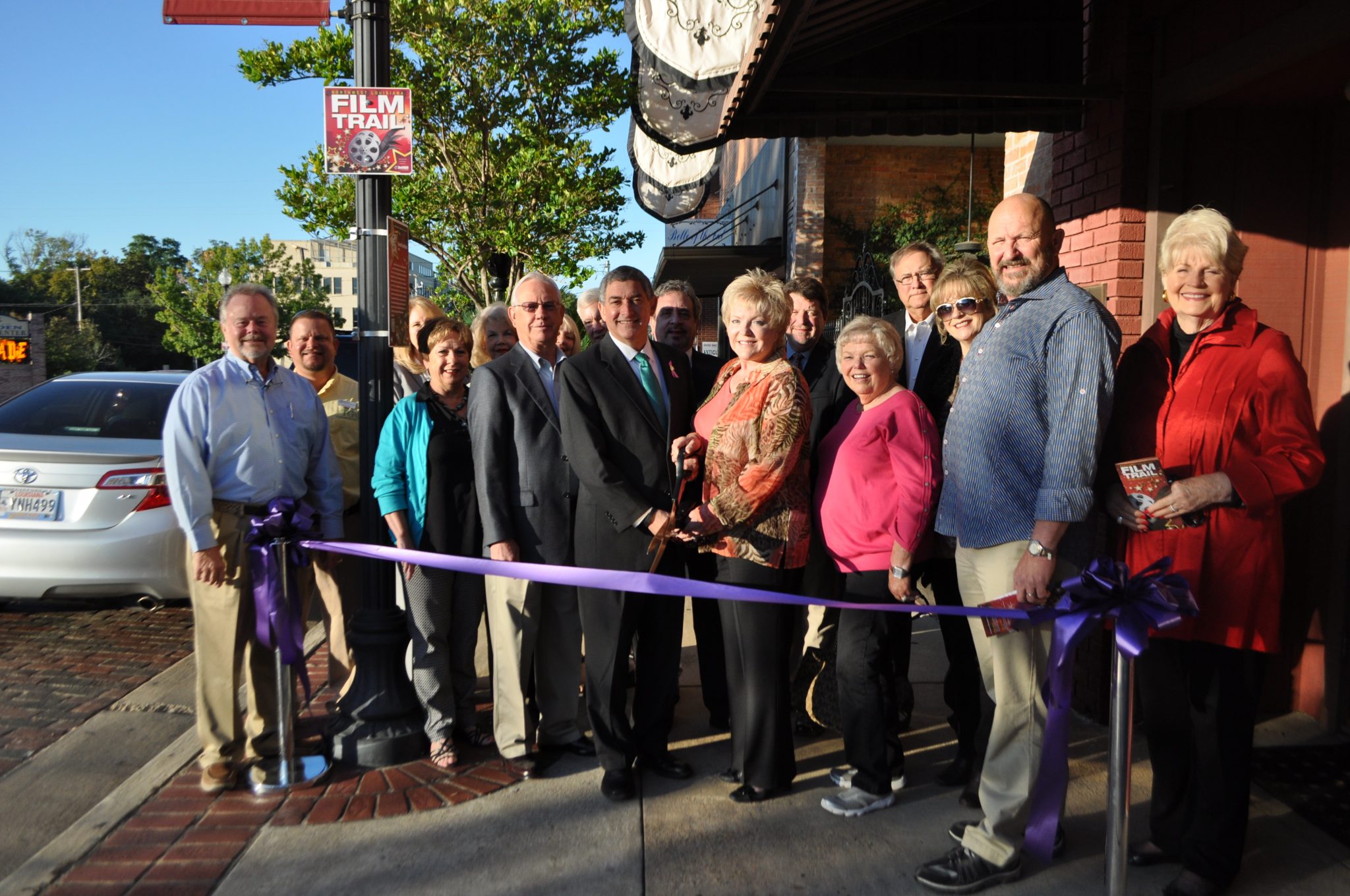 At the end of each year, it is time for the Webster Parish Convention and Visitors Commission to reflect on the year's accomplishments and determine the objectives for the New Year. As we reviewed 2015, there were numerous activities that were significant in making 2015 another very outstanding year for tourism in Webster Parish. Here are some that are noteworthy:
On Jan. 16, The Webster Parish Convention and Visitors Bureau hosted the Louisiana Office of Tourism Travel Exchange Familiarization Tour named "Faces of Fame, Film & Fable" Jan. 15-17, 2015. Destinations include Shreveport, Minden and Monroe/West Monroe. This tour will also be for group tour operators. Registered guests for the tour include China Silk Tours of New York, Eagle Custom Tours of Sedona, Arizona, Gunther Charters of Maryland, Significant Living Travel of California, Tour Trends Ltd. of Maryland, and WestWorld Tours of Canada.
Great news! In February of 2015, our office was contacted by WestWorld Tours of Canada. We hosted 54 Canadian guests on January 7, 2016. They specifically requested a Mardi Gras party at Easley Studios Courtyard and a visit to Second Hand Rose Antiques to meet Millie Rose. The group absolutely loved the small town charm of Minden, the Mardi Gras party, the Dorcheat Museum, shopping at Second Hand Rose and being entertained by Millie Rose. They promised to tell their friends in Canada to make the trip to Minden for a great time. WestWorld Tours has already sent positive comments to our office and plans to schedule more tours in the future. To see more about their experience and the many great things happening in Webster Parish, check out our Facebook page: Webster Parish Tourism.
In May, we hosted travel writers for a familiarization an Adventure Tour. This tour was sponsored by the Louisiana North Marketing Coalition and targeted at "adventure" travel writers. The writers traveled north to Muddy Bottoms ATV and Recreation Park for a special tour. This was the highlight of their adventure tour of North Louisiana!
In March, began a new advertising campaign aimed towards the growing number of Canadian tourists visiting the area. This venture came in the wake of the newly completed extension of the Interstate 49 to Shreveport, the unveiling of the Northwest Louisiana Film Trail last summer and the completion of the new visitor center at the Germantown Colony. While Louisiana has been a popular destination for Canadian tourists for a number of years, these three new developments have attracted this demographic to Webster Parish for this first time. This is a new market for Webster Parish Tourism and we are so excited to have our first tour group from Canada coming in January of 2016.
Working with publisher Horizon Travel Group, the Webster Parish CVB began a new advertising campaign promoting our parish throughout Canada and was featured in the April issue of Horizon Travel America, a magazine that caters specifically towards Canadians traveling to the United States. Over 100,000 copies of Horizon Travel America were distributed with the Toronto Star and National Post to affluent readers throughout the country.
Also, utilizing the PATH SCREENS located in Toronto, Ontario's downtown underground pedestrian walkway, Webster Parish received 21,600 – 5 second video commercial spots. This two month-long blast in March and April, provided Webster Parish with over 6 million impressions (viewings by pedestrians).
The most exciting component of this promotion was the exposure Webster Parish received when it was featured in a promotional video during the Horizon Travel Show on the dazzling 3,685- square foot ABC Good Morning America Screen in Times Square for a week in March. The video showcased on this world-famous electronic icon with its signature wavy LED ribbons, resulted in over 1.5 million impressions, (viewings by pedestrians).
In April, we began a new digital advertising campaign in a joint venture with the Shreveport Convention and Tourist Bureau. The WPCVB and the SCTB began working on this idea when the two bureaus completed the Northwest Louisiana Film Trail brochure, another joint venture. There is a 20 second spot promoting Webster Parish, there is another 20 second spot promoting Shreveport- Bossier and a 20 second spot promoting the Northwest Louisiana FilmTrail, which includes Minden and Shreveport – Bossier. The videos will be on a 3 minute loop, which means they will repeat every 3 minutes. The spots will be displayed a 46" LCD digital screen display located by the car rental counter and in the baggage claim area between the two baggage claim belts. The new digital campaign will be viewed by pedestrians 1,634,850 times a year.
In July, installed new signage for the Northwest Louisiana Film Trail in downtown Minden. Each of the new signs identifies a numbered location of a movie filmed in downtown Minden and corresponds to the map in a printed brochure. Each location sign gives a brief write up about the movie and has a QR code. When scanned with a QR reader app, available for free online from the App Store, a video opens on your phone or iPad showing the movie trailer and a film clip of a scene from the movie filmed at that location. This is definitely a first in the state and perhaps the US.
In October, we hosted a ribbon cutting at the beautiful new Welcome Center at the Germantown Colony State Museum. The welcome center houses more than 2,000 square feet of a "climate-controlled" designated exhibit gallery to display historical artifacts, a reception area, a gift shop, and handicapped-accessible public restrooms.
According to a recent report from the Jean Doerge, Curator of the Germantown Colony State Museum, the museum has recorded just under 500 visitors from April 2014 to June 2015. That total is from the time the construction was completed and hours were reduced until July 31, 2014. Since August of this year, when the colony returned to normal hours, they have already had 214 visitors this year. That is over 800 visitors since the colony reopened.
In October, we hosted the Louisiana North Movie Familiarization Tour with 7 travel writers with various publications including Editor for TravelingMom.com, the owner of MagsOnTheMove.com, a writer for Louisiana Life Magazine, Senior Editor for Variety Magazine out of Los Angeles, CA, Editor of Forum Magazine and City Life Magazine and writer for the Austin Chronicle. Believe me they loved the Film Trail and new signage in Minden. We have already seen five great articles published so far!
In August, made sales calls in Dallas and Oklahoma City with representatives of the four other cities that make up the Holiday Trail of Lights. As a result the group was invited to return in November to make a presentation of our combined area at an annual Holiday Luncheon in Oklahoma City.
In November, returned to Oklahoma City and made a presentation to an audience of over 50 Group Leaders who schedule tour for retirement communities, churches, senior citizen clubs, and more. We definitely had a wonderful response and anticipate many tours during the Holiday Trail of Light in 2016 and 2017.
As previously reported, our office has been making sales calls and participating in trade shows specifically targeted at the group tour industry. 2015 was an outstanding year for Webster Parish Tourism. We are confident that we will be hosting motor coach tour groups in the upcoming years. It has taken the hard work of so many, money appropriated by the state and numerous donations, to make our parish a significant player in the tourist destination market. We can proudly say, "Mission Accomplished."
Wishing all our readers a Happy New Year,
Lynn Dorsey
Executive Director